A 'Fixer Upper' Timeline: From Waco to Worldwide Sensations
In the early aughts, a pair of young Baylor grads decided to spend their lives together. In 2018, everyone knows their names.
Chip and Joanna Gaines's story began when he brought his truck to the local auto shop and couldn't take his eyes away from the girl he spied in a family photo behind the counter. Eighteen years later, you'd have a hard time finding someone who didn't recognize him or her—and the business they've built together has spread all over the globe. Here's how they got from there to, well, everywhere.
Two years after meeting her, Chip exchanged "I do"s with the woman he told Popsugar he "knew [he'd] marry...just by the picture on the wall." They tied the knot at the Earle-Harrison House, the oldest home in Waco—a place Jo would later describe in The Magnolia Story as "a historic mansion that looks an awful lot like the place where we had our first date." But let's not get ahead of ourselves.
2003: The First Fixer Upper
As soon as they were back from their honeymoon, the Gaineses got to work on rehabbing their first home—which needed a lot of work. Though the duo had experience working together improving properties Chip had bought and rented to local students before reselling, that first personal effort...wouldn't get very high marks by their current standards.
It was "all over the map," Joanna once told us. "The front room had sailboats in it, the kitchen was mustard yellow and French-themed, and the back den was rustic with cedar paneled walls, hanging horns and cow hides. I guess I was testing out my style." Hey, practice makes perfect.
October 2003: The "Little Shop on Bosque" Opens
Chip and Jo decided to take their design ideas public later that fall by purchasing a retail shop at 3801 Bosque Boulevard in downtown Waco.
"In that store, I developed and sharpened my design style and skills, grew as a business owner, and gained much-needed confidence in Magnolia Market and myself," Joanna said.
Those first steps as a business owner were meaningful ones: As Joanna told TODAY 13 years later, "There's an old antique tavern table that was my first purchase for the little shop [in 2003]. I never wanted to sell it because it was the first investment I made in the shop. I've held on to it for 13 years, and now it's finally settled in [the laundry room at the farm] and it's the perfect place to fold laundry and drink coffee."

2006: The Family—and Business—Gets Bigger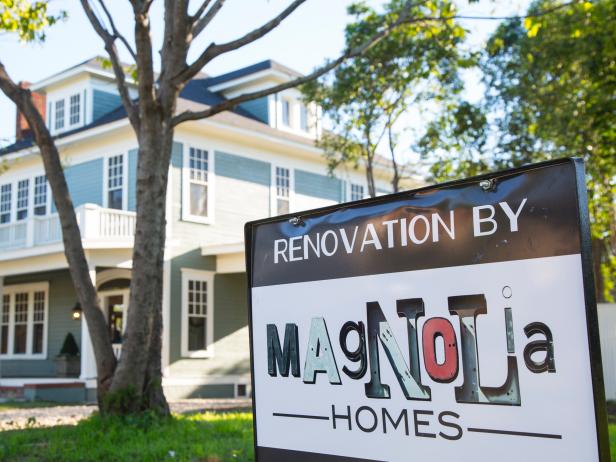 Large Home With Magnolia Homes Sign
"I started a local boutique and partnered with Chip to implement the Magnolia style in the homes he was flipping," Joanna Gaines, co-host of HGTV's Fixer Upper says of her husband. "We later branched out and started renovations in the central Texas area."
Sarah Wilson/ Getty Images
After welcoming their first two children—Drake (in 2005) and Ella Rose (in 2006)—the Gaineses made the tough call to shutter their shop and focus on the renovation-and-construction portion of their work. (The site of the Little Shop on Bosque became, and still is, a landmark for local visitors.)
January 2012: They Catch HGTV's Eye
Chip and Jo's photographer friend Molly Winn sent photos she'd taken of their then-home—a property they'd purchased as a flip and moved into themselves after selling their previous home—to Design Mom, a popular blog. The post featuring Chip's rehab work and Jo's design found its way to a production company that worked with HGTV ... and big things started moving very quickly.
May 2013: The Fixer Upper Pilot Wraps
HGTV viewers got their very first taste of Chip and Jo on a single episode that aired May 23 ... and then the waiting began. Now a family of five with more than 100 projects under their belt, they knew they'd done good work on the home makeover they'd opened up to the cameras. Would audiences agree?
July 2013: Fixer Upper Is a Go
In a word, YES: Chip and Jo shook hands on forging ahead with a full season, and their onscreen adventures—which became an HGTV mainstay when the first season got rolling in April of 2014—quickly became a ratings juggernaut.
May 2014: A Huge Fixer Upper Project
The Gaineses' friend and go-to carpenter Clint Harp has also developed some serious name recognition throughout his years on Fixer Upper, but early on in the series, he was also the subject of one of the show's most ambitious projects to date. Clint and his family were looking for some new digs, and Chip and Jo offered to help. They didn't know how big of a project they were taking on until they were knee deep in a full gut job, nearly a complete rebuild from the ground up. But the end results? Totally worth it.
October 2014: We Heart Chip and Jo
Who would have gone looking for America's sweethearts in Waco, Texas? As the Gaines' fame grew, plenty did—and by the end of the year, local hotels were reporting a tidal wave of new visitors from New York, California and the Midwest.
March 2015: Chip Performs his Greatest Stunt
The season two, "Three Generations, One Fixer" episode opens with a disclaimer from Chip that he does, indeed, do all of his own stunts and that he was in no way goaded into this incredible feat. Three years later, it definitely stands out as one of the greatest and most memorable moments of the entire series.
April 2015: Magnolia Market at the Silos Is Born
Jo's beloved Little Shop on Bosque reopened for business shortly after Fixer Upper hit the airwaves, but it quickly became clear that the Gaineses would need much more room for their new fans. The next spring, they embarked on a bold new adventure: Magnolia Market at the Silos, a 2.5-acre downtown space that housed a huge new retail shop, a bakery, a garden, food trucks, an outdoor event space and more.
Three years later, the Silos welcome more visitors than the Alamo does.
January 2016: Jo's Furniture Collection Hits Stores
After a grand introduction at High Point, North Carolina's International Home Furnishings Market, Magnolia Home Furnishings by Joanna Gaines—with 350 pieces in her trademark combination of global-industrial-French-farmhouse style—made its way into homes all over the country.
February 2016: Magnolia House Opens for Reservations...
... And the McGregor, Texas, bed and breakfast—a property Chip and Jo had originally eyed for clients before deciding to transform it into a vacation property that gives guests the feel of staying at their farmhouse—books up for six months solid in about three hours.
October 2016: The Gaineses Share The Magnolia Story
It was high time for Chip and Jo to give their behind-the-scenes lives and backstory the literary treatment, and readers everywhere agreed: Their first book debuted at No. 2 on USA Today's Best-Selling Books list and proceeded to fly off the shelves everywhere.
October 2016: The Magnolia Journal Hits Newsstands Nationwide
Chip and Jo's adventures in print were just getting started, and they doubled down with a quarterly lifestyle magazine. An initial run of 400,000 copies fell short of public demand, to put it mildly, and the publisher rushed out 200,000 more. A little more than a year later, the magazine's rate base is now 1.2 million copies.
October 2017: Chip Publishes Capital Gaines
Its subtitle: Smart Things I Learned Doing Stupid Stuff. What Chip and Jo call his "semi-humble account of a man on a mission" turns out to be a wise move—and another bestseller.
January 2017: Demo Day on Magnolia Table
When Waco's iconic Elite Cafe closed its doors after nearly a century, Chip and Jo knew they wanted its legacy to continue ... and that they were just the team to continue it. The storied location reopened in February 2018 and is now serving breakfast, brunch and lunch—as Magnolia Table.
November 2017: Season 5 of Fixer Upper Begins
In September of 2017, Chip and Jo broke more than a few hearts by announcing that the next Fixer Upper season would be their last. That said, their need to take some time for themselves can hardly be called surprising: Their businesses now employ more than 600 people in Waco, their shooting schedule has kept them busy for 11 months a year and it's high time for them to spend some time off-camera, especially because ...
January 2018: A Big Announcement
Five seems to be a lucky number for the Gaines family. On Jan. 2, Chip's tweets about that night's new Fixer Upper episode alluded to a big announcement coming shortly ...
... and sure enough, he and Jo announced they were expecting their fifth child this year. Though they've committed to keeping their focus on their growing family first, Chip and Jo haven't shown any signs of slowing down, and we're looking forward to them bringing even bigger dreams to life before we know it.
Tune in to HGTV for an all-new episode of Fixer Upper on Tuesday night at 9|8c. And be sure to check out the new spinoff series, Fixer Upper: Behind the Design, airing Tuesday nights on HGTV beginning April 10.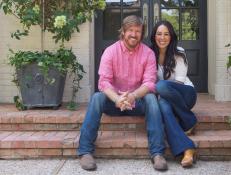 A sizable budget and lofty ambitions allow Joanna and Chip the latitude to work with lots of square footage and create a magnificent dream home for a family of five.