'Fixer to Fabulous' Will Return for a Season 2!
Dave, Jenny, the kids (and Oreo!) will return in Fall 2020.
Good news, y'all: Fixer to Fabulous with Dave and Jenny Marrs will return for a Season 2! After attracting more than 17.9 million viewers in its first season, HGTV has ordered 13 new episodes. The next season will continue to spotlight the husband-and-wife team as they overhaul historic homes in Northwest Arkansas, all while raising five young children and managing their family farm (shoutout to Oreo the llama!). The new season is scheduled to premiere in Fall 2020.
In the meantime, revisit some of our favorite moments from Season 1:
Trash to Treasure
Construction trash can be transformed into design treasures.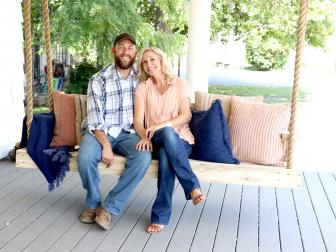 In Fixer to Fabulous, Dave and Jenny Marrs focus on restoring historic homes in their neighborhood of Bentonville, Arkansas. From dilapidated front porches to squirrel invaded attics, there's nothing this husband and wife team can't make fabulous!