6 New Shows Are Coming to HGTV in 2022 and 2023
These freshly greenlit shows are going to be good. Here's what you need to know.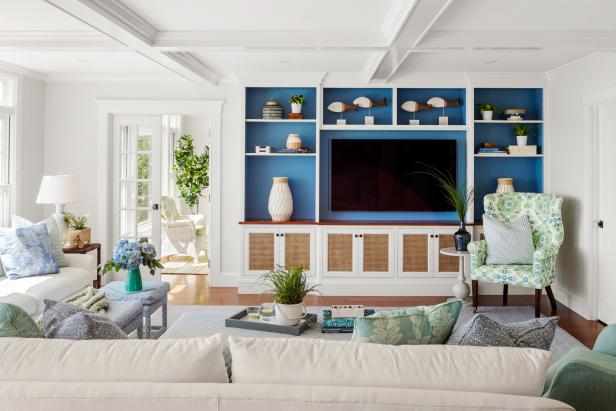 White Coastal Living Room With Blue Entertainment Center and Coffered Ceiling
Bright blue paint behind built-in shelving adds a note of contrast to this white living room with white sofas, a green and white patterned armchair, wicker-fronted cabinetry and upholstered ottomans. Blue and green patterned toss pillows add additional seaside character.
Get excited, because HGTV just greenlit six brand-new shows that are hitting the network in 2022 and 2023. Of course, the new content will be fresh and enthralling, complete with fun twists on classic home design.
"Just when our audience thinks HGTV has told every possible story about home, we create brand-new series with more compelling personalities and fascinating home renovation journeys that our vast viewership wants to watch," says Jane Latman, president, HGTV & Streaming Home Content, Discovery, Inc. "These six new shows will be just as addictive and escapist as our other series, so buckle up."
Expect cool, luxe-for-less designs — you'll get to watch designers renovate a 500-year-old English estate — of-the-moment renos, small town charm (of course) and more. Here's a preview of what's coming down the pipeline.
Designs become living histories in HGTV's new show Revealed. Designer Veronica Valencia dives into her clients' family heritage for renovation inspiration. Veronica and her team will dig deep into each family's unique history to infuse their spaces with techniques and materials that reflect their culture. Influenced by ancestry, stories and heirlooms, each family will receive a one-of-a-kind transformation.
Restoration experts and sisters Kirsten Meehan and Lindsey Uselding work together to rescue Minneapolis houses in their show Renovation 911. The sisters will race to the scene of homes that unexpectedly experienced disaster to assess the damage and develop a plan for restoration. With warmth, humor, empathy and a special expertise, the duo will help clients see past distress and create completely transformed dream homes that are better than before.
Boston-based home renovation experts Denese and Mike Butler know a "Frankenstein" house when they see one. After decades of odd additions and piecemeal redesigns, this type of house is left with a floor plan that just doesn't work for today's family. In each episode of Fix My Frankenhouse (wt), husband-wife team Denese and Mike Butler will work with their dads, master carpenters John Butler and Peter Doyle, to rectify hodge-podge properties. By blending elements of the homes' historical charm with modern design, they'll produce cohesive spaces for homeowners.
Michel Smith Boyd understands the desire for luxury design that doesn't break the bank. In Luxe for Less, Michel uses his clever budget hacks to deliver luxurious homes to his clients. Teaming up with designer Kai Williamson, maker Anthony Elle and licensed general contractor Laura Green, Michel repurposes furniture, repairs appliances and transforms spaces into a high-end dream.
Located on a property that looks like it belongs on the set of Netflix's Bridgerton, HGTV's new show Saving the Manor will follow couple Dean Poulton and Borja de Maqua as they single-handedly renovate an English estate. Sitting on land once owned by King Henry VII, the dilapidated 10-building, 65-room estate dates back more than 500 years. The couple will pour their life savings into fully restoring the property while preserving the buildings' history. Dean, an architect, and Borja, a former real estate agent, hope to transform the estate into vacation rentals and a special event space. Follow along with their journey to watch the epic final reveal.
Small Town Potential takes us to New York's scenic Hudson Valley region as we get a behind-the-scenes look into partners Davina Thomasula and Kristin Leitheuser's design business. Along with Kristin's dad, Don Leitheuser, the couple helps their clients find, buy and renovate properties with promising potential. The team consists of a real estate agent, a builder and a master carpenter — none of whom are afraid to take on full-scale renovations. Together, they'll transform small-town houses into talk-of-the-town homes.