Serene, Minimalist Bedroom
Designer Tara Benet uses contemporary furniture, a subtle color palette and simple accessories to creates a sleek, calming New York City bedroom.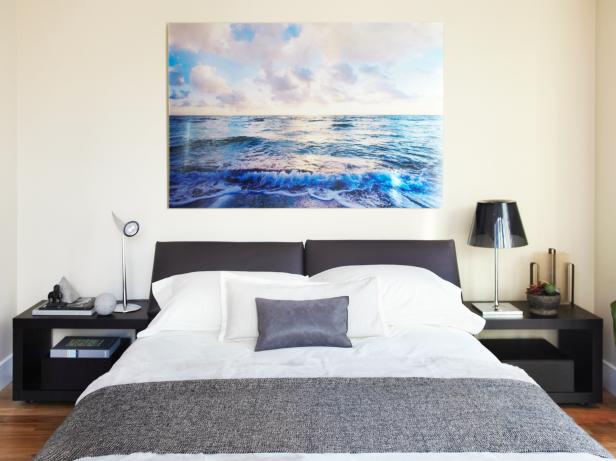 Minimalist Contemporary Bedroom
Sleek, contemporary furniture in a minimalist color palette is used to create a calming, low-key bedroom design. Since the homeowner loves water, designer Tara Benet hangs a ocean-view picture above the bed. It acts as a focal point of the room, while also adding a subtle touch of color.
Clean and simple, this urban bedroom designed by Tara Benet features a minimalist color scheme of gray, white and brown.
We caught up with Benet to see how she tackled challenges and incorporated her clients' goals into this design.
Describe the homeowner's wishlist.
My client wanted the existing carpet and wall coverings removed and to then create an elegant bedroom with a "less is more" aesthetic.

What were the homeowner's design problems?
The large floor-to-ceiling windows left us with very little wall space for my client's furniture and TV. We improvised by installing the TV to the wall left of the bed and using a swivel arm mount for comfortable viewing. We also dressed the column with a floor mirror which was not only practical but really opened up the space. The dresser was then placed under the TV.
What was your biggest obstacle in this space?
Staying true to our minimalist objective while still creating a warm environment for rest and relaxation. This was achieved with a glowing color palette, vivid yet calming art and soft textures.
How does the end result match up with your original vision?
The more I got to know my client the more the space reflected his interests and personality. He is calmed by water and the art that was chosen communicates that.
What lessons did you learn?
New York City buildings have a lot of policies for renovations and deliveries that you only learn once you start working here. There is a ton of paperwork and approvals you must go through, and you learn more about the procedures the more work you do in the city.
What are the "hidden gems"?
The dresser is constructed of blackened bronze and has a solid walnut front. The platform bed has an adjustable leather-padded headboard and the accessories are Chinese antiques.