Rustic, Modern Great Room With Kitchen and Game Nook
Bright colors, interesting architecture and unexpected textures make for a unique great room in this home. Design firm Studio V created a design plan perfect for the fun-loving family that lives here.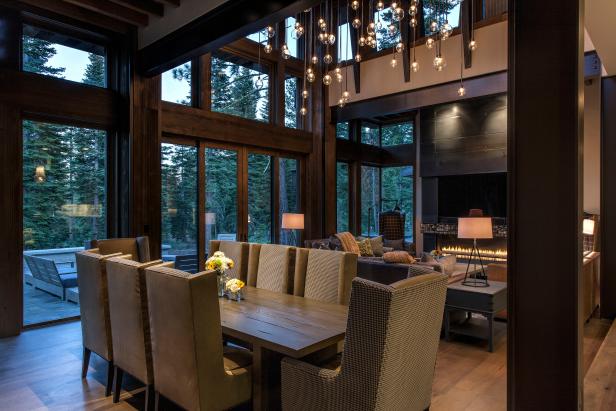 Brown Rustic Great Room With Window Wall
Casual and relaxed but with tons of style, this great room features elegantly rustic furnishings and a wall of windows looking out onto the forest surrounding the home.
What were the main items on your clients' wish list?
The first request from our clients was, "We want this home to be fun." As a second home, they wanted to push the envelope and be bold with the design direction. We were hired onto the project when the foundation was being poured, which is a dream for a designer. This allows us to help shape the project from the inside-out. Our clients provided us with a scrapbook of concept images and had already made the key selection of the Ferrari-yellow Bertazzoni range, which made it easy for us to hone in on the overall modern-vintage aesthetic.
What did you hope to accomplish?
Our main design objective was to stay true to the idea that opposites attract. We fused modern features like the great room fireplace with vintage furniture items. We combined modern appliances in the kitchen with vintage telephone-operator stools. Another goal was to use simple materials in unusual ways. For example, we used chicken wire cabinet fronts in the kitchen and corrugated steel on the fireplace in the guesthouse. This also applies to the color palettes throughout the home: There is a thread of yellow and blue in almost every space, and those colors are opposites on the color wheel.
What makes this home unique to your clients?
This project was a new construction, for which we do extensive research to understand our clients' lifestyle. In this case, they really wanted spaces that the whole family and guests could enjoy. A unique great room concept worked perfectly for them, an alcove we refer to as the game nook. Originally it was planned to include a folding table for family game night, but it ended up being a lounge space that the adults loved. The built-in seating, drink ledges and quirky reading material makes it a wonderful conversation space.
What was your biggest obstacle in remodeling the home?
We encountered several unique challenges, but a recurring challenge was architectural window placement. This was particularly tricky in the bathrooms with regard to mirror placement and privacy considerations. The master bath features a set of corner windows above the vanity. Since the bottom of the windows was only 72 inches above the finished floor, we created a wraparound effect that marries the mirror with the windows.
What inspired the home's style?
The inspiration for the project was the clients themselves. They are such a fun-loving family with a quirky sense of humor. Each space has an unusual twist that makes the home unique to them. They let us push the design envelope and gave us a lot of freedom to do unusual things. We were so fortunate to have clients that not only appreciated our crazy ideas, but encouraged them.
What are you proudest of?
The most rewarding aspect of this project is its unique style. It is difficult to categorize it because it blends rustic, modern and vintage aesthetics. One colleague referred to the interiors as bold. I love this description because we took major risks with the material selections and overall design approach, but in the end, it is still cohesive.
How did you choose the kitchen's metallic backsplash?
We wanted something that felt both modern and vintage. The subway tile applied in a running bond pattern is something that is used frequently in vintage-inspired interiors, so we twisted this concept by ordering tiles in an unusual stainless finish and in an extra-large size.
There are pops of yellow throughout. What is the best way to use bold colors without overwhelming a space?
Bold colors can be a great way to add interest in any space. In this home, we paired the complementary color of indigo blue to offset the intensity of the yellow. We also infused a lot of gray to set the foundation. The result feels layered and rich, but not too serious.
How did you break up the rustic wood feel and add textures?
Metal played a key part in breaking up the rustic wood. We incorporated various metals such as hot-rolled steel cladding on the great room fireplace, a stainless subway-tile backsplash in the kitchen, hand-forged iron column strapping and cabinet hardware throughout. It was about mixing warm materials with cooler materials. Again, the opposites-attract concept. Textiles also play a huge role in making a space feel layered, in both texture and pattern. We combined waxy leathers with patterned velvet and tapestries with plaids.
What makes this project uniquely yours?
Our approach to every project is to make the style unique to that individual alone. As a firm, we pride ourselves on being able to make the dreams of our clients come true. We work in teams, so that the projects remain fresh and don't fall victim to design stereotypes. We know when something is good when we all agree. That's the beauty of a design firm.
What are the "hidden gems" that contributed to the overall success of your design?
This project is a culmination of many "hidden gems," but some of the most impactful features are the custom light fixtures, the interesting mix of materials and the use of color. We wanted each space to feel bolder than the next, so that the homeowners and guests could have different experiences within the home. The combination of these elements created something even better than we could have imagined or predicted.