Tuscan-Inspired Home Designed for Mass Appeal
When creating a home for Homes by WestBay, Tampa, Fla.-based designer Don Sharp knew he had to design a space that made a strong style statement while feeling comfortable to potential buyers.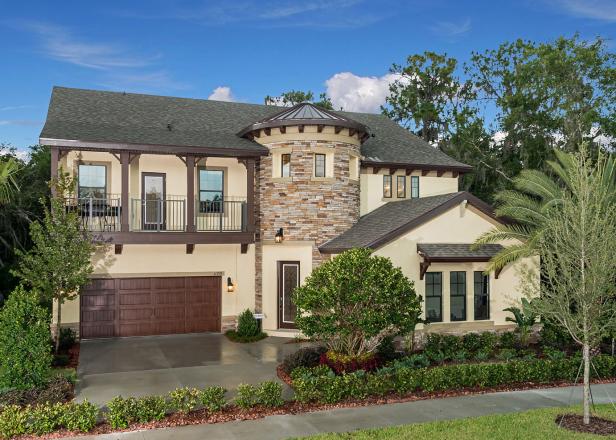 Stunning Home Exterior With Curb Appeal
This traditional home is designed for large families that want to entertain friends and extended family and prefer new trends, designs, floor plans and energy-efficient features.
Home designers often start a new project by talking with the homeowner about their needs and wants. Don Sharp didn't have that luxury when creating a home for builder Homes by WestBay.
Instead, Sharp worked to create a Tuscan-style home that would appeal to many potential Tampa-area homeowners by chosing a layout and features that are universally appealing. He honed his vision for the house by imagining the family members who might fill the rooms.
From rooms to doors to windows, everything in this model home is exactly where it is for a reason: to make the owner's life easier. This down-to-the-detail approach applies to the flow of the home, which Sharp balanced between open-concept and separate spaces by creating a split-level layout.
To create even more flexibility, Sharp introduced dual master suites. This allows future homeowners to locate their bedroom either upstairs or down while providing them an extra-large space to use for a media room, guest suite or more.
I think people find that it's just well thought out.
Interior Designer Don Sharp
The exterior invites potential homeowners in with an Old World-inspired facade. The interior infuses hints of that Mediterranean style into a soft contemporary look with a fresh take on colors and patterns and a wide variety of possibilities.
"I wanted to keep the flavor of the outside very Tuscan with the stone and the wood elements and the different exterior accents," Sharp says. "(The) inside complements the Tuscan feel, but it also has a very contemporary look to it as well, so we have a nice blend there of style."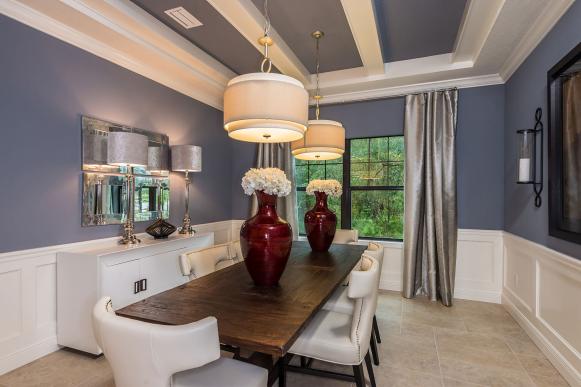 Formal Dining Room Has Contemporary Style
This formal dining room also flexes as a den and home office space since the kitchen has enough space for casual dining. Blue-gray walls are paired with white wainscoting and tile floors to set the scene for a long, wooden table surrounded by curved white chairs.
For further broad appeal, Sharp focused on keeping the living spaces comfortable. He added a wow factor at the home's entry with a grand, two-story foyer and formal dining room but made sure the rest of the home had spaces that felt especially livable.
To help make the home feel less like a model and more turn-key, Sharp created a story and personality for each room.
"The design was inspired for a possible blended family – second time marriage for both – and the style is collected sophistication," Sharp says.
Downstairs, a story of chic, contemporary begins in the dining room and carries into the living areas with rich fabrics, lots of metallic and luxurious finishes. Upstairs, things become more diverse as each rooms takes on its role.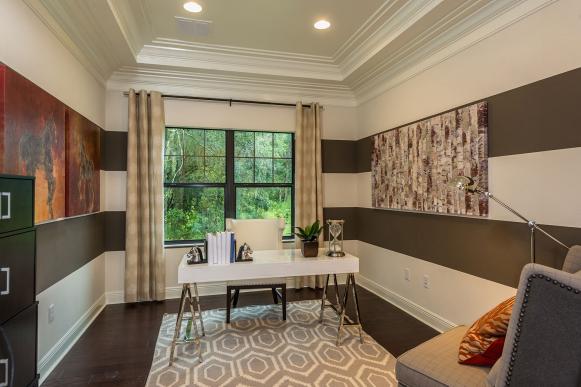 Contemporary Home Office With Striped Walls
Thick gray-and-white horizontal stripes visually enlarge this contemporary home office. A graphic gray area rug grounds the space, while a sleek white desk is paired with a white wingback chair for a workspace.
The bedrooms are inspired by the children's interests in ROTC and radio, the office becomes a sanctuary for the mother and the bonus room transforms into a "boys zone" where only playtime is allowed.