Elegant Penthouse Redesign
Designer Michael Abrams transforms a Chicago penthouse to mirror the magnificent views outside.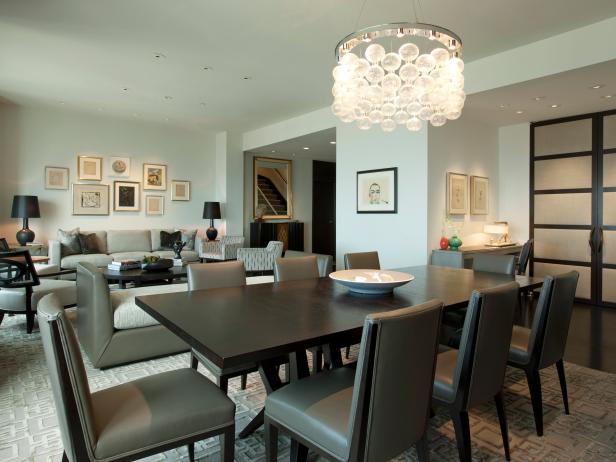 Blue Contemporary Open-Plan Living and Dining Areas
An open layout connects the sleek dining area to the equally-stylish living room in this contemporary penthouse. Details like a dazzling bubble chandelier, gallery wall and soothing gray color palette make this home a beautiful and relaxing retreat.
A couple who loves to entertain went to designer Michael Abrams to redesign their high-rise home so their large living and dining space would flow together and function properly.
Abrams shares how he created a room with a sparkling focal point.
What issue did the design address?
The apartment was originally purchased as a turn-key sale with the intent of a quick move-in. While the furnishings were of good quality, it became evident early on that they did not match the clients' taste. We sold a majority of the pieces and refinished and re-upholstered others. Redesigning the layout was required so the TV was not the focal point of the living room.
How does the end result match the original vision?
The client wanted to retain certain costly furnishings obtained in the sale. However, she quickly realized she did not want to be restricted to a palette that truly did not work. By keeping what worked and deleting what did not, we were able to create a subtle and elegant backdrop for her art collection and the magnificent city views from the 63rd floor.
What are the hidden gems in the design?
Centering the dining space in the very long rectangular room and selecting a magnificent modern crystal chandelier anchored the space. Together, they became a great divide between the formal and informal living areas.