Contemporary Great Room and Dining Room
Designer Jeff Tohl combines the functions of living, dining and cooking into one open great room.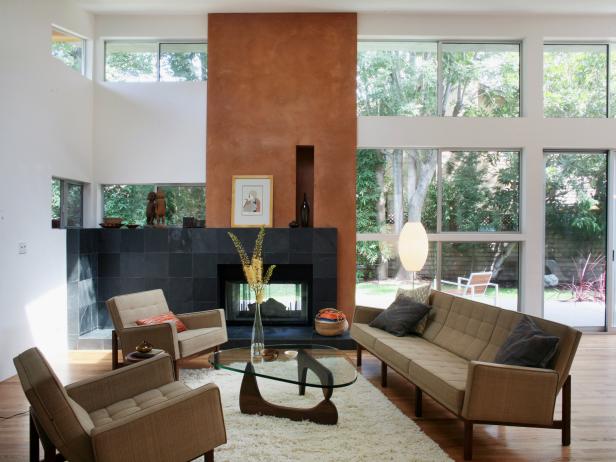 Neutral Modern Living Room With Black Tile Accent
This modern living room is naturally lit by a wall full of windows looking out to the back yard. A neutral sofa with two matching chairs provides seating around the glass, guitar pick shaped coffee table on a shag rug. A horizontal black tile accent wall connects to a vertical brown textured painted wall.
Opening the back wall to the garden and incorporating a breezeway, designer Jeff Tohl of The Architecture Studio Inc., showed how an existing footprint can be improved at a lower cost than an addition.
Describe the homeowners' wishlist.
The clients desired a house that was twice as large as their current home. Since they could only afford to add about 800 square feet, the goal was to create a house that lived big. They also needed a studio apartment for the grandmother that would help her preserve her independence while also maintaining a connection with the family.
What were the homeowners' design problems?
Designing an open plan was the best way to give the residents the feeling of a larger house. To do so, we created a great room encompassing living room, dining area and kitchen. Eliminating the attic and raising the ceiling to the exterior roof line created a large volume that made the room feel grander.
What was your biggest obstacle in this space?
The existing house's small rooms and unique configuration — 10-foot-wide breezeway between the house and garage, little game room behind it and 25-foot-wide side yard — did not lend itself to an expansive open house. By incorporating the breezeway and garage into the house and building the mother-in-law suite along side the original garage, we were able to create a large open-plan great room.
What lessons did you learn?
The lesson was recognizing that you didn't have to do everything in the project — that by keeping it simple you could yield a beautiful solution. Raising the ceiling and adding windows to the back wall opened the room to the yard and gave the house an expansive feeling.
What are the "hidden gems"?
The hidden gem is the wow factor when you walk into the big, open space and see the fireplace and glass wall. Deciding to take the roof form and cantilever it out over the patio eight to nine feet created a semi-covered area and raised the patio up above the yard to create a raised entertaining patio to flow from inside to outside.