Multifunctional Outdoor Oasis
Designer Marc Nissim maximized space in this outdoor area, adding a dining space, fireplace and pond-like pool that are all optimal for entertaining.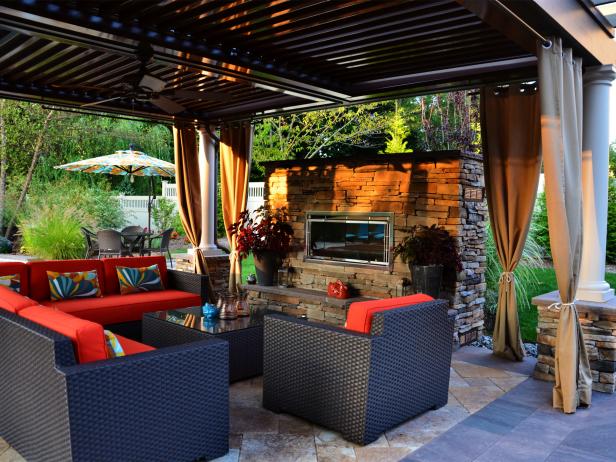 Outdoor Sitting Area and Fireplace
This cozy sitting area has rattan chairs and red cushions with a pergola to provide shade. Vibrant throw pillows accent the sofa and an outdoor fireplace keeps feet warm and toasty.
Despite limited space in a New Jersey backyard, landscape architect Marc Nissim of Harmony Design Group in Westfield found space for an outdoor dining area, a seating area under a pergola with fireplace, curtains, and stone-like "rug" for the feeling of an indoor living room, and a well landscaped swimming pool with waterfall and fire bowl. Best of all, careful attention to lighting makes all the spaces function at night, too.
What were the main items on the owners' wish list?
Dining area, living room, swimming pool.
What was the single largest issue you wanted to address?
The largest issues we almost always run into are a town's regulations or ordinances. In this case, the setbacks off the house, septic field, and property lines made the area tighter to work on than was originally anticipated. Nonetheless, we were able to design a backyard for our clients that had everything on their wish list by carefully designing the space.
What was your biggest obstacle in this space?
Our biggest obstacle was to create three distinct rooms in a tight space while still allowing each space to breathe. By adding height to each space, we were able to visually separate them without losing functionality. The dining area was raised up with the addition of three long steps. The living room has a pergola, columns, and curtains overhead to create a sense of enclosure, and the pool area has a grand patio and waterfall with fire bowl, which acts as a focal point.
How does the end result match up with your original vision?
The original design called for a larger covered roof structure that was connected to the house. Due to our clients' budget and the actual functionality of the structure, we designed a pergola that has a motorized louver enclosure. This gave the homeowners the coverage and privacy that they wanted at a fraction of the price.
What surprised you the most in this project?
This was the first time we were able to blend two different styles in a landscape. We united the contemporary feeling of a walkway off the driveway and upper dining patio with the natural free-form shapes of the swimming pool and waterfall. We solved this problem by placing the living room in the middle as a transitional room, or feature. This room encompasses both contemporary and traditional features to allow for a seamless transition.
What are the "hidden gems" in your plan?
We believe most successful designs must have hidden features that, though they may seem secondary, really tie the entire design together. It's what makes the design feel whole and cohesive. In this design, the location of the fire bowl adjacent to the spa is a perfect example. Another feature is the low-voltage lighting, which allows our clients to enjoy their new space at night. Though larger, the outdoor kitchen and custom gas fireplace are show stoppers, too.