Luxurious Backyard Retreat
Designer Christopher Grubb transformed a typical backyard into a high-end, lavish outdoor living space for the whole family.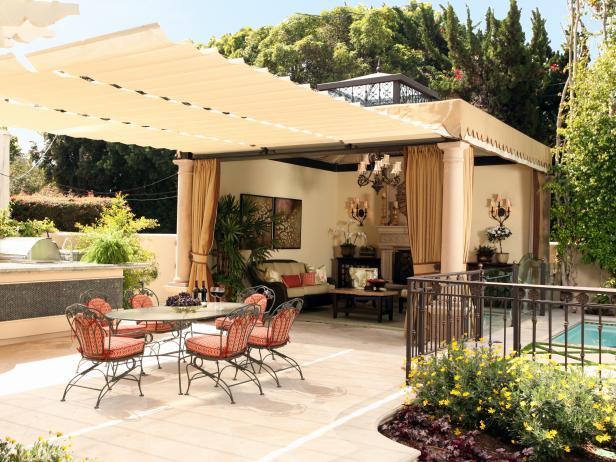 Traditional Patio With Outdoor Living Room and Awning
A large white awning extends out from a luxurious outdoor living room. A traditional metal chandelier illuminates the covered space, complete with sofa, coffee table and a fireplace. Curtains are made to slide, creating a wall to protect the elaborate interior on rainy days. The awning stretches across a dining area with a metal table and chairs for a shady entertaining space.
For this Beverly Hills, Calif., backyard, designer Christopher Grubb and Arch-Interiors Design Group created a stunning outdoor retreat that features a living room, dining area, kitchen and pool.
Grubb shares the challenges and successes of this backyard remodel.
Describe the homeowners' wish list.
The clients had spent a fair amount of time on the beautiful interiors of their home and wanted this outdoor living space to be an extension of the inside. The space was to include a fully functional outdoor kitchen, dining area and covered cabana. They also wished to update their pool and incorporate a grassy area for their children.
What were the homeowners' design problems?
Space planning, including the multifunction needs and access to the pool bathroom and to the front yard.
What was your biggest obstacle in this space?
Precast and tile details required multiple visits to suppliers for consistency of materials. Onsite supervision of the installation of materials was crucial with many mosaics requiring hand-cut details. The installer was excellent, and working together, we were able to come up with an excellent installation solution.
What made the biggest design impact?
The outdoor pavilion was the grandest success. It is open on the sides so it feels like a light structure, but the scale of it anchors the yard and defines it as room for living. The skylight with its iron details adds the feeling of openness as well as an etched-glass railing between the room and the pool. The pleated sheer outdoor fabric hides the structural elements, softens the ceiling and adds elegance.
What are the "hidden gems"?
The holes in the countertop for umbrellas are under-lit for a nice ambient glow at night. The awnings are on airplane cables so that they're retractable, and the special outdoor fabrics for pillows and chairs make the space feel more like a living room than the outdoors.