An Industrial-Chic Rancher Redesign
Architect Jon Kelly Davis remodeled a great room, dining room and kitchen to better fit his family and reflect his love of classic American architecture.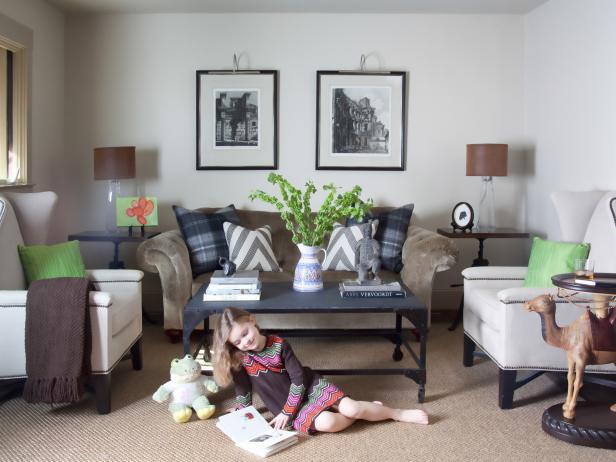 BPF_Original_architect-great-room-remodel_sitting-room-wide-2_h
Although the majority of the great room now has vaulted ceilings, Jon decided to keep the sitting room more intimate. In that room, he left the 8-foot ceiling height as-is, and created a furniture arrangement featuring classic, traditional American pieces accented by a pair of architectural etchings.
While architect Jon Kelly Davis is extremely passionate about his career designing, building and renovating spaces, he's even more passionate about his family. No project reflects this — and his third passion, architectural photography — more than the remodel of his Atlanta 1960 ranch-style home.
"My wife Stacey and I looked at 120 houses before falling in love with this one. When we bought it, we both loved it, but it needed some serious improvements to work efficiently for us and our daughters Olivia and Caroline. Plus, it didn't have enough expansive wall space for me to display my photography. We knew from the start there'd be a renovation involved," Jon says.
Though Jon and Stacey bought the house in 2005, they decided to wait to plan any renovations until after they'd lived in the home for a while. They knew they wanted a kid-friendly layout with plenty of family gathering spaces, plus space to display Jon's photography. Until they lived in the home for a few months, however, they couldn't be sure how they would utilize the rooms on a day-to-day basis. After about 18 months living in the house, they embarked on their remodel, focusing primarily on the great room and kitchen.
Of the home's original layout, Stacey notes, "So many things about it didn't work. First of all, there was a wall separating the existing kitchen from the dining and sitting rooms. Next, the kitchen hadn't been updated since 1960. In fact, the oven was so small you couldn't even fit a turkey in it. Lastly, it felt dark and cramped, especially due to its lack of natural light. The ceilings were just under 8 feet tall, and there was no instant access to the backyard." Drawing on inspiration from his favorite architectural styles, Jon decided to create an open floor plan packed with features, finishes and colors reminiscent of each.
From the get-go, Jon and Stacey decided to set a budget of approximately $75,000 and a timeline of six months. The architect recalls, "We started demo and prayed a lot, especially since I know just how out of control renovation costs can get." In all, the entire project ended up taking eight months and cost a total of $110,000.
Jon and Stacey's extensive to-do list included:
Gutting and reconfiguring their kitchen
Opening the kitchen wall to create an open floor plan
Vaulting 8-foot ceilings and adding skylights
Adding spray insulation throughout the entire house
Reframing the house's rear exterior wall to accommodate pairs of French doors and side lights
Adding 500 square feet of outdoor entertaining space
Re-staining the original hardwood floors
Adding new millwork
Changing the footprint of the kitchen, adding recessed lighting, incorporating skylights into the ceiling
Adding a kitchen island and installing IKEA kitchen cabinets
Since Jon spends his weekdays planning and remodeling homes for clients, and also knows how to do a lot of the work, he decided to be hands-on with a good portion of the home's remodel. "I did a lot of the work myself while Stacey looked after Olivia and Caroline," says Jon. "Overall, I'd say about 20 percent of the scope was made of my own blood, sweat and tears." The architect assigned himself the following tasks: demolition, interior framing and drywall, kitchen cabinet assembly, and framing and setting of exterior windows. Once these were complete, he hung up his contractor hat and let his team finish the remaining scope of the project.
First up on his team's list was vaulting the ceilings and integrating skylights. Although the skylights were essential to keeping the house light, bright and airy, Jon also needed them for showcasing his photography properly. "It's amazing what a difference skylights make in showcasing art," says Stacey. "From the start, Jon really wanted to be able to display his photography with all-natural light so the variation in color would read well. He's so excited to keep shooting new things, framing them and hanging them up."
The skylights were set into the slope of the new vaulted ceilings. "Vaulting ceilings is a pretty tough process to live through," Jon cautions. "It's messy, you have to deal with being exposed to the elements, and all drywall has to be completely removed before extending upwards. While it's a hassle, the end result is worth it."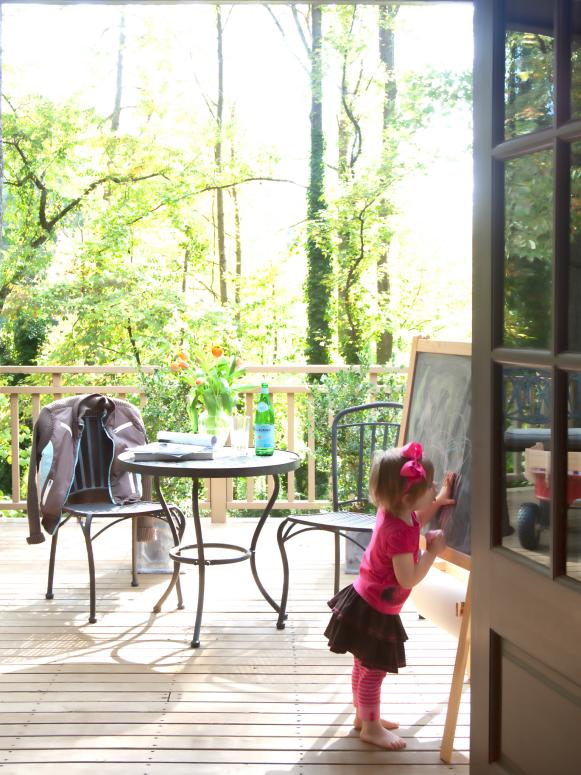 BPF_Original_architect-great-room-remodel_new-deck_v
To add extra play space for the kids and room for outdoor entertaining, Jon added 500 square feet of elevated deck just off the great room. To access the deck from the dining room and sitting room, he replaced windows with two pairs of French doors.
Brian Patrick Flynn
To add extra play space for the kids and room for outdoor entertaining, Jon added 500 square feet of elevated deck just off the great room. To access the deck from the dining room and sitting room, he replaced windows with two pairs of French doors.
Once the ceilings were complete, the rear windows of the dining area were ripped out and replaced with French doors. Just outside the doors, 500 square feet of decking was built for outdoor entertaining. In describing how the new outdoor space gets used, Stacey comments, "It's a dream. Especially when the weather is nice, I can keep the doors open and suddenly the great room feels twice as big. I can sit out there and read magazines while Olivia and Caroline draw on their chalkboard easel. There's room for all of us to gather as a family."
When deciding on an overall direction for his home's architecture and interiors, Jon chose a classic, relaxed American aesthetic indicative both of farmhouse and Napa styles. "I wanted the house to have the welcoming, casual feel of a relaxed American farmhouse. It was important to me that our guests feel like they could walk across the house with their shoes off," Jon explains, adding, "I also wanted it have alfresco appeal, kind of like the look and feel of Napa style."
As far colors were concerned, Jon stuck with classic bungalow colors, opting to have the walls and millwork painted with three different earth tones from Benjamin Moore: Nantucket Gray for the walls, Bennington Gray for the trim and Alexandria Beige for the doors.
Although his remodel was, for the most part, a great experience, Jon did learn first-hand what his clients go through. "I don't think there's anything I'd do differently, but I can honestly say it's probably best to renovate a house while you're not living in it," says Jon. "Having little ones around while a home is covered with dust and packed with tools is pretty stressful."
The architect also thinks it's wise to truly live in a space and see how it's used before redesigning it. He adds, "If Stacey and I would have remodeled before actually living in the house, I don't think the outcome would have been this spectacular."
As the project came to an end, Jon started to think about displaying his photography. His plan was to display his collection in stages, starting with the focal wall of the dining room. "First up, I decided to frame and group some of my European architecture images just above the dining room buffet," says Jon. "This is what I see each morning over breakfast and it's a great way to start the day."
With his home redone, Jon is spending more time with Stacey, Olivia and Caroline, whether it's making dinner together, enjoying breakfast while the kids color, or entertaining friends in the sitting room and out back on the deck. With so many potential Kodak moments to capture around the house, it's likely the photographer may quickly run out of photography display space sooner than he thought.
Interior designer Blair Blincoe turned her San Francisco apartment from a bachelor pad into a coastal-inspired home with a stellar view of the Golden Gate Bridge.