Sophisticated Masculine Bathroom
Designer Katheryn Cowles shares how she created a custom bathroom while working within a budget.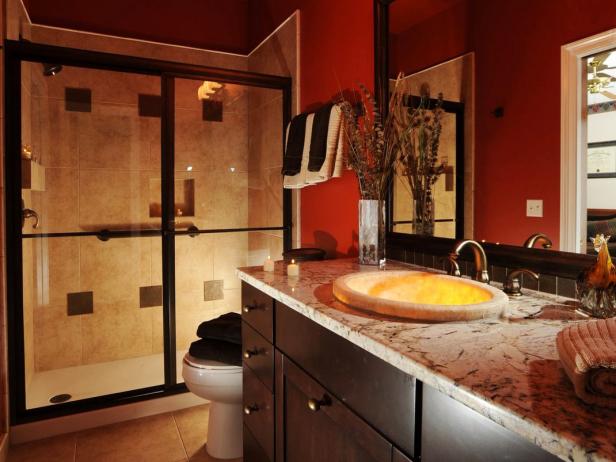 Dark Red Masculine Bathroom
The walls in the bathroom are painted red to create a background for the neutral vanity and shower. Large tan tiles are used to create a walk-in shower, while smaller bronze tiles are inset between them to add interest.
For this Florida bathroom remodel, designer Katheryn Cowles worked within a $14,000 budget to completely overhaul the outdated space.
We spoke with Cowles to find out about the goals and challenges she faced during this transitional bathroom remodel.
Describe the homeowner's wish list.
Updating the overall design was a must. We replaced the one-piece acrylic tub and shower with a walk-in shower.
What were the homeowner's design problems?
Working within the client's budget was a challenge that we solved by incorporating several budget-saving features, including semi-custom cabinets and applying a frame over the existing mirror.
What was your biggest obstacle in this space?
Adding the zing to this otherwise ho-hum bathroom was a challenge. The Linkasink mosaic sink was a happy find acquired along with the bronze patina tiles from a tile company that was relocating. These items were able to be incorporated within the allotted budget.
How does the end result match up with your original vision?
I had specified the same red wall paint for the ceiling. I don't know what I was thinking the day I did the specifications. Red paint is super reflective and needs to be carefully incorporated when designing a small space. Definitely, do not do it on the ceiling. The ceiling is now a creamy white.
What lessons did you learn?
Again, the red that will never again be specified for the ceiling.
What are the "hidden gems"?
The red wall paint makes everything pop. The mosaic onyx lavatory and the bronze tile appliquéd in the shower and as a backsplash at the vanity are all features that make the design of this small bath.