Light, Airy Arizona Home Inspired by French Interiors
With an objective of avoiding the dark, Tuscan-style designs common in Arizona home interiors, designer Christopher Coffin turned to French styles for light and airy inspiration for this Phoenix home.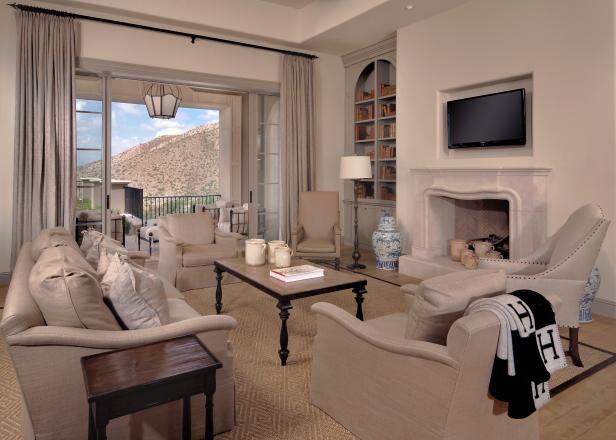 Traditional Living Room With Calm, Neutral Color Palette
This traditional living room opens up to a cozy covered patio that boasts sweeping views of the landscape beyond. A neutral color scheme unites the two spaces with a sense of relaxed sophistication.
Michael Baxter | Baxter Imaging LLC
Tired of the Tuscan design featured in many Arizona homes, a pair of Phoenix homeowners approached designer Christopher Coffin wanting something different.
"They wanted to avoid all that canterra stone and dark features in the home that you were seeing so much of," Coffin says.
Coffin took great care to make every inch of the home bright and airy while still honoring its continental European architecture. Instead of the Tuscan style that the homeowners had tired of, he turned to French styles for inspiration.
The inspirations that we used for the interior were a lot of photos of architectural elements out of France
Interior Designer Christopher Coffin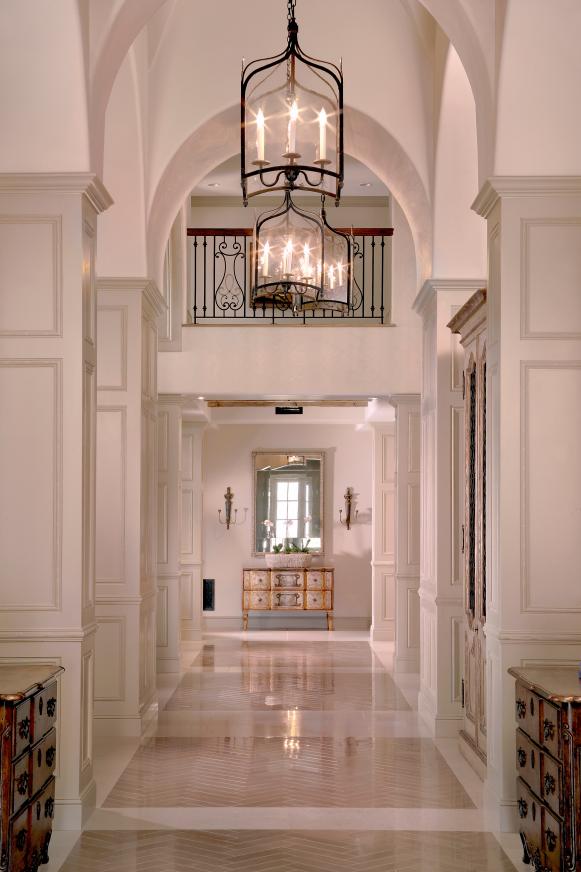 Columns and Arches Create Grand Feel in Traditional Hall
Stately columns are connected with graceful arches in this grand hallway. Lantern-style pendants illuminate the space, giving the floors a lustrous appeal.
Michael Baxter | Baxter Imaging LLC
This influence is most evident in the main hallway. Inspired by a French fashion advertisement, Coffin infused luxurious touches throughout the space — one that is often overlooked by homeowners and designers.
The hallway features limestone flooring tile laid in a herringbone pattern, ornate ironwork and antique furnishings. The result is a stretch of elegance the homeowners can enjoy everyday.
"I love the way that hallway looks as you go down that main hallway with the lanterns overhead and the antique chest of drawers at the end," Coffin says.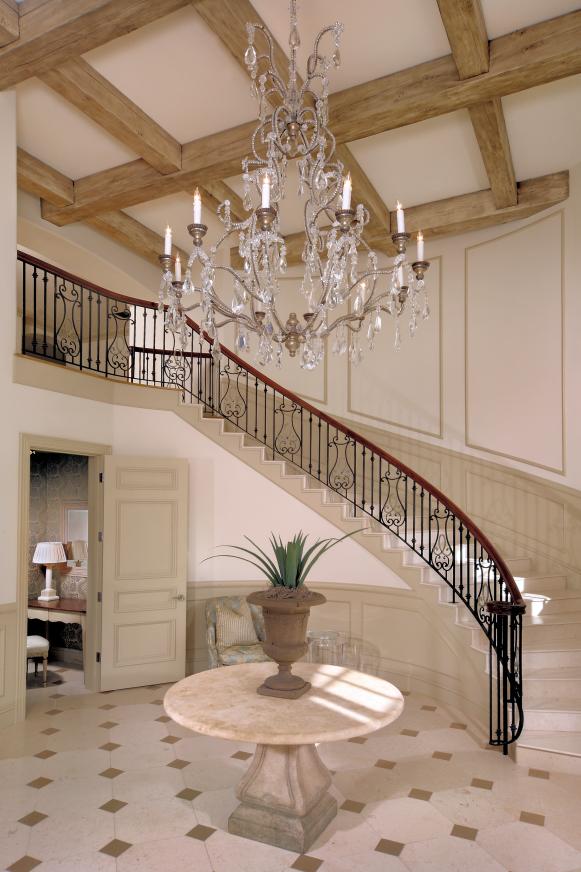 Elegant, Expansive Foyer With Mediterranean Flair
This breathtaking foyer was designed to have an open and expansive feel. Two-story ceilings and a light, breezy color palette help accomplish that, while an elegantly curved staircase and a crystal chandelier give the space a sense of sophistication.
Michael Baxter | Baxter Imaging LLC
Though the finished design is seamless and thorough, the project itself did not flow so effortlessly. The entry posed a problem when the curved staircase had to be closed off. Originally designed to be a floating staircase, Coffin had to find a solution for the dead space underneath.
"In other parts of the country, it's common in your entry to have a coat closet," Coffin said. "In Arizona, nobody ever wears a coat, so what I created was a phone room."
Set up with internet, a working landline and sound-proof walls, the space offers the perfect nook to work in peace.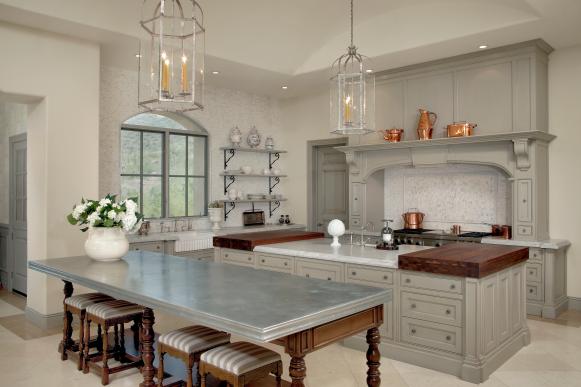 Traditional Kitchen Boasts Two Islands
This spacious kitchen features two islands — one topped with Carrara marble and butcher block and the other topped with zinc. The zinc-topped island provides an easy spot for dining, while the other provides storage and prep space.
Michael Baxter | Baxter Imaging LLC
Coffin's attention to detail and thoughtful design is evident throughout the home. The floors in the entryway and kitchen are clad in the same limestone as the main hallway. Walls throughout the home are painted shades of off-white, and wood accents add warmth in every space.
"As you go from room to room I tried to keep kind of the same colorations throughout," he says. "It was all basically keeping that shade range consistent throughout the house that made it so fluid."
Those efforts paid off with clients who were more than thrilled at the end result.
"I mean we had it down to the toothbrush in the bathroom," Coffin says. "when you make your clients cry, you know you've done your job."