Transform a Pop-Up Play Tent Into a Haunted Playhouse
Give your kid's pop-up play tent a monster makeover just in time for Halloween.
Pop up some monster fun this Halloween with this DIY haunted tent playhouse. Not only is this monster tent the perfect way to help your kids enjoy the mild fall weather, but you're sure to enjoy making it just as much as they enjoy playing in it. Follow our steps to a T or branch out and create a custom creepy creation all your own.
We're sorry, there seems to be an issue playing this video. Please refresh the page or try again in a moment. If you continue to have issues, please contact us here.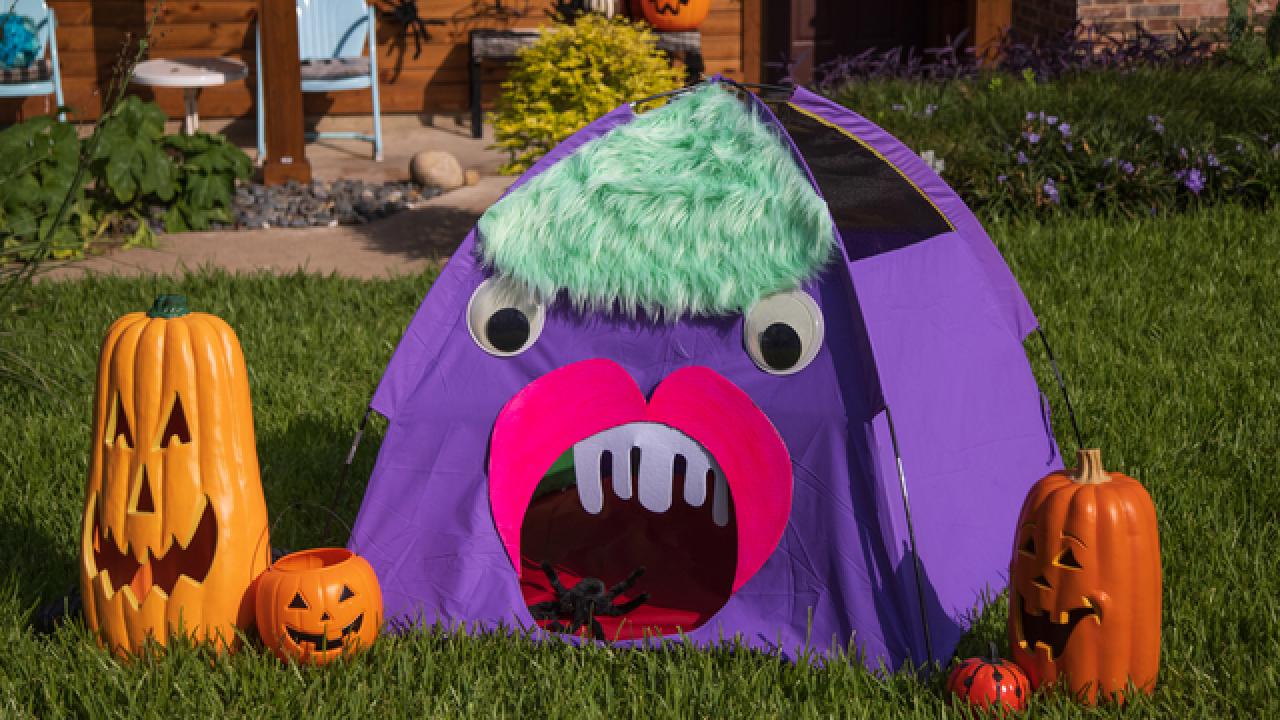 pop-up play tent
purple craft paint
paintbrush
scrap cardboard
marker
scissors
pink craft paint
stiffened white felt
hot glue gun + sticks
hook-and-loop tape
faux fur
(2) large googly eyes
To make the construction of your monster tent much easier, set the tent up beforehand (Image 1). Once complete, coat the entire exterior of the tent with purple craft paint and let dry (Image 2). The end goal is to have an even purple surface, which may take multiple coats to achieve.
On a large piece of cardboard, draw an upper lip shape large enough to fit exactly around the top of the play tent's entrance, then cut out using scissors (Image 1). Evenly coat the cardboard lips with pink craft paint and set aside to dry (Image 2).
On a piece of stiffened white craft felt, draw a set of monster teeth. Cut out the teeth and hot glue to the backside of the lips (Images 1 & 2). Position them to hang over the tent's opening once attached, trimming the teeth if necessary.
For some ferociously fuzzy monster hair, measure and cut a piece of faux fur to cover the top portion of the tent's front. The easiest way to accurately do this is to eyeball it and trim off any excess.
Attach Mouth, Eyes and Hair
Use hook-and-loop tape to attach the lips, eyes and hair (Images 1-3). This allows for easy removal and storage (Image 4). Rather than separating the two sides of the hook-and-loop tape, cut it to size and stick it to the tent first. Once complete, peel off each individual piece's paper backing and stick on the facial features one by one. To ensure a tight fit, reach one hand into the tent to press from the other side.
Once your monster tent is complete, position it in front of your house with some spooky jack-o'-lanterns for tiny trick-or-treaters to enter at their own risk, or simply pop it up in the backyard for haunted hideout fun that will last until the very last leaf has fallen.