Vegetable Crudites With Herbed Cream Cheese Recipe
For a healthy appetizer at your next party, arrange vegetable crudites on a platter with a delicious herbed cream cheese on top.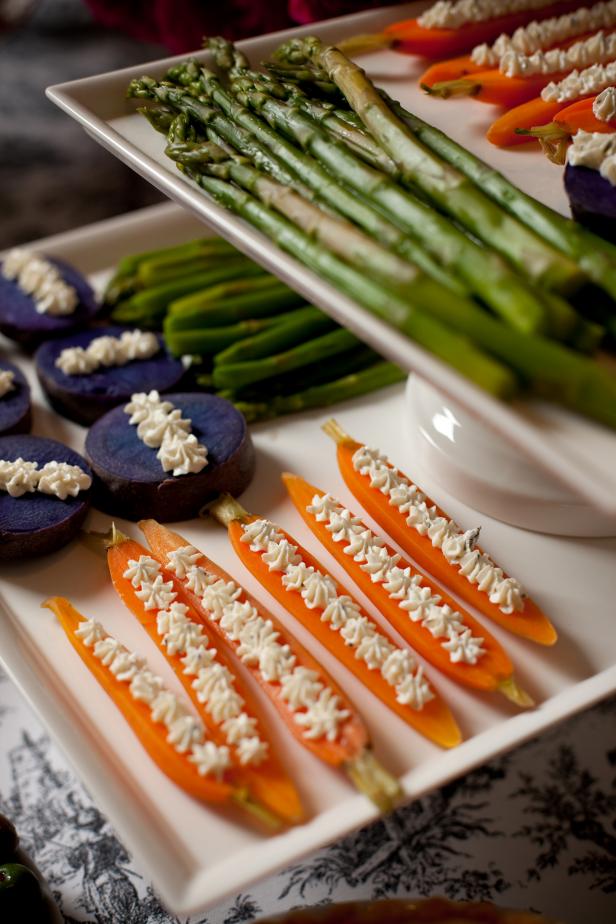 French-Themed Baby Shower Recipes
Host a fabulous French-themed baby shower with these petite treats.
1 bunch carrots
1 pound asparagus
1 pound small purple or red potatoes
any other vegetables of choice
3 cups herbed cream cheese

1. Bring a large pot of water to boil. Trim the ends of the asparagus and place into boiling water. Blanch for 30 seconds. Drain and immediately rinse under cold water.
2. Boil the potatoes until tender, then slice into 1/4-inch thick rounds. Let cool.
3. Slice the carrots in half lengthwise and set aside.
4. Arrange the vegetables in single layers on large platters. Spoon the cream cheese into a pastry bag fitted with a pastry tip, or a freezer bag with the corner snipped off and pipe the cream cheese onto the vegetables.