Guide to Stocking Your Bar
No home bar is complete without liquors, spirits, beer and wine, but there's more to a well-stocked bar than alcohol. Get our full list of garnishes, mixers, tools and glassware.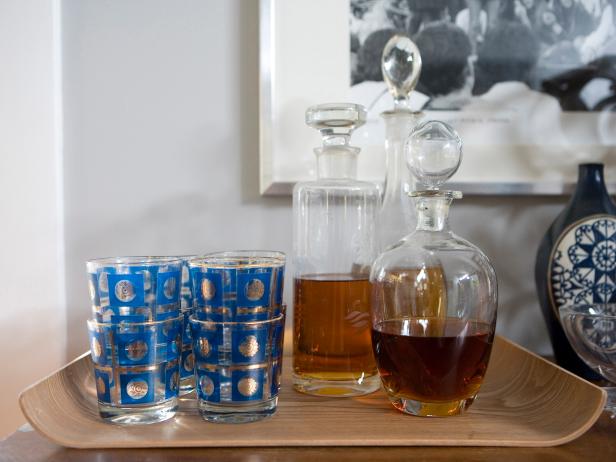 Retro Serving Station With Tray and Glassware
You can unify a shelf display by function, too. Mary Carol Garrity, author of Feather Your Nest: It's All in the Details and the owner of Nell Hill's, an accessories emporium in Atchison, Kan., likes to turn a shelf into a bar or a serving station. "Take out the shelf above to create more room, then top a tray with pretty cut-crystal decanters and glassware," she suggests. Design by Emily Henderson.
Gin
Vodka
Rum (light and dark)
Tequila
Whiskey (scotch and bourbon)
Beer
Wine (white, red and champagne)
Brandy and cognac
Orange juice
Lemon juice
Lime juice
Pineapple juice
Grapefruit juice
Tomato juice
Peach nectar
Apricot nectar
Mango juice
Passion fruit juice
Cranberry juice
Cherry juice
Grape juice
For coffee, dark roast types work best as a mixer.
Salt
Sugar
Citrus fruits (lemons, limes, oranges)
Soft fruits (cherries, strawberries, apricots, peaches)
Chocolate
Nutmeg
Olives
Chiles
Cherry tomatoes
Mint
Cinnamon sticks
Grenadine
Fruit syrups (pineapple, peach, apricot, strawberry and banana)
Orgeat
Sirop de gomme
Soda water
Tonic water
Lemonade
Cola
Ginger ale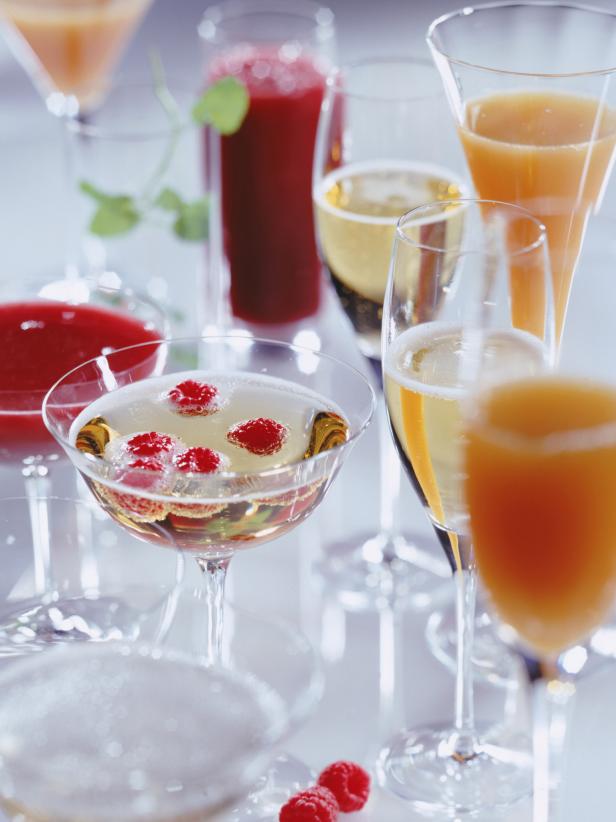 Stylish Cocktail Glassware
An important part of planning the bar is thinking about the type of glassware that will be used to serve each drink. While traditionalists recommend a different glass for red and white wine, you can keep things simple by using a multipurpose glass for both. You might also try searching for unique and vintage glassware at flea markets and garage sales to add to your collection; don't be afraid to mix and match stemware for an eclectic look. For large parties, we recommend renting glassware. It comes perfectly polished, and there's no need to clean before returning.
Martini glasses
High-ball glasses
Old-Fashioned glasses or tumblers
Wineglasses (all shapes)
Margarita glasses
Heavy-based Collins glasses
Heavy-based Rocks glasses
Hurricane glasses
Tulip-shaped champagne flutes
Shot glasses
Brandy/Cognac glasses
Beer mugs
Essential for a classic martini
Bar Spoon
Doubles as a measuring spoon and a stir stick
Bartender's Handbook
Unless you're a walking encyclopedia of cocktail recipes
Bar Towels
Keep your space clean
Bottle Pourers
A must for mixing spirits
Bottle Stoppers
For when screw-top bottles annoy you
Cocktail Shaker
Don't even think about stirring every mixed drink.
Corkscrew/Wine Opener
It isn't always about style — ease of use is more important.
Cutting Board
It should be large enough to be useful but small enough to store easily.
Electric Blender
Definitely comes in handy for many cocktail recipes
Ice Bucket
Perfect for small gatherings, but think ice tub for anything bigger.
Ice Crusher
Normal ice cubes are too big for most cocktails.
Jigger
This is a must if you can't measure liquids accurately.
Juicer
Look for one that is easy to use.
Margarita Rimmer
Beats using a wet paper towel
Martini Pitcher
For those best-stirred-and-not-shaken drinks
Mixing Glass
Don't play the guessing game.
Muddler
Make sure it's long enough.
Napkins and Coasters
Useful for soaking up weepy drinks
Paring Knife
For cutting fruit garnishes
Rubber Spill Mat
Sure makes cleaning up a bit easier
Strainer
Don't do with your hands what you can do with a nice strainer.
Swizzle Sticks
Go for a variety in size, color and shape.
Sword Picks
For garnishes