Stainless Steel Countertops
Industrial-chic stainless-steel kitchen counters lend a sleek and shiny note to contemporary kitchens.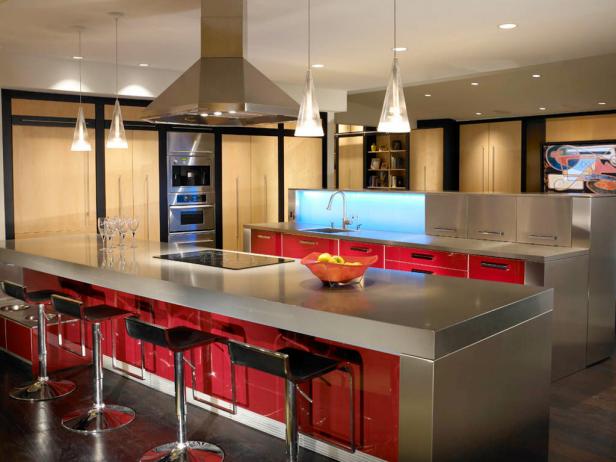 Stainless-Steel-Kitchen-Countertops_s4x3
Steve Johnson and Bradford Fox designed this kitchen's two colossal islands to anchor a 1500-square-foot open space. One island boasts a CaesarStone quartz countertop, the other stainless steel to complement the red lacquer and maple Poggenpohl cabinetry. Cool touch: The translucent glass backsplash changes color on demand. Photo courtesy of Poggenpohl Atelier Inc.
Transform your kitchen from ho-hum to Top Chef-worthy with a stainless-steel kitchen countertop.
While this cool metal surface lends a sleek note to contemporary kitchens, stainless steel's shiny surface also provides a nice visual counterpoint to both traditional and clean-lined modern cabinetry.
A favored surface of professional chefs thanks to its hygienic and durable qualities, the industrial feel of stainless steel countertops have won over consumers for a variety of reasons. Stainless steel can be installed without seams; it's easy to clean and disinfect; it's impervious to heat; and it's 100 percent recyclable (or repurposeable).
An added bonus: sinks and splashes can be integrated into the countertop for a solid, cohesive look and feel.
Crisp, clean and low-maintenance, commercial-style stainless steel kitchen counters are also available in various finishes and textures (think satin, matte or brushed). Though light-weight, the price per square foot of stainless steel is comparable to concrete and solid-surface countertops.
Other Kitchen Countertop Materials
More Kitchen Countertop Ideas