Marble Kitchen Countertops
Few kitchen surfaces rival the elegance, beauty and luxury of marble kitchen counters.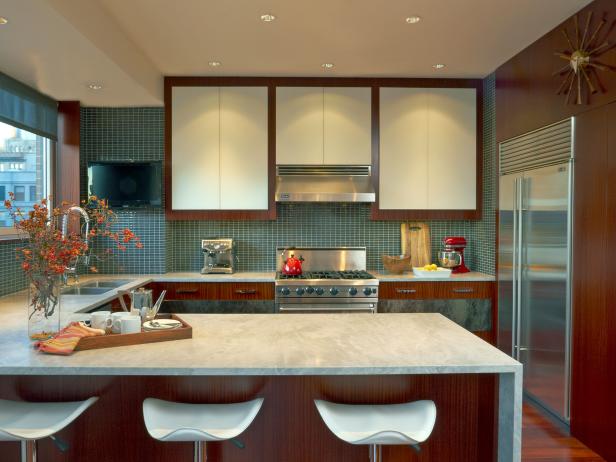 Marble-Kitchen-Countertops_s4x3
To create a sense of openness for this apartment kitchen, designer Andrew Suvalsky repeated the wood tones used elsewhere in the apartment, punctuating them with acid-etched mirrors and gray marble. Low-back stools ensure the countertop's strong horizontal line isn't interrupted, and that the space remains open and sleek.
There are few kitchen countertop surfaces that rival the elegance, beauty and luxury of marble.
While marble kitchen countertops are likely one of the priciest countertop materials available, some grades can be on par with a high-end granite or quartz when it comes to price per square foot. Nonetheless, the sculptural quality and timeless appeal marble adds to the kitchen is something some homeowners consider priceless.
If the cost of marble seems prohibitive, try using the material on smaller or lower-traffic surfaces, like a kitchen island, pull-out slab or even as a backsplash. Using marble on a smaller surface can also give peace of mind to homeowners worried about stains, or marble's porous qualities.
Like granite, marble kitchen countertops can actually add value to your home. Even better, marble ages gracefully, its one-of-a-kind veining acquiring a patina over time. Polished marble gives a glossy, reflective finish; honed marble gives the appearance of a flatter finish.
Other Kitchen Countertop Materials
More Kitchen Countertop Ideas