Updating Kitchen Countertops
Replace old surfaces with brand new countertops or learn how to improve old ones with these ideas for updating kitchen surfaces.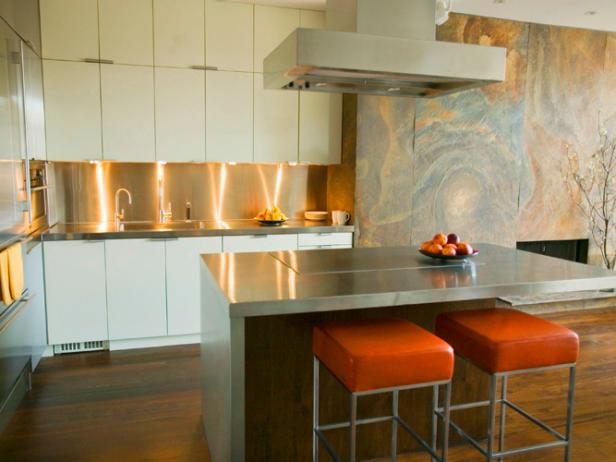 Contemporary Kitchen with Stainless Steel Countertops
Stainless steel lends a modern, industrial look to this stylish kitchen designed by Andreea Avram Rusu. Orange leather barstools add pops of color and coordinate well with the opposite multi-color stone accent wall. Simple white cabinetry adds to the sleek, modern feel of this space.
By:
Caroline Shannon-Karasik
If a walk through your kitchen area makes you feel like you are taking a trip back to the '70s, then it may be time to reconsider your decor. In addition to the cabinets and wall colors, you will also need to consider updating your kitchen countertops.
Kitchen Countertops: Beautiful, Functional Design Options
See All Photos
Modern kitchen surfaces are available in a wide range of textures, colors and materials, including granite, Formica, glass, stainless steel and ceramic tiles. Granite is a durable, timeless and scratch- and heat-resistant countertop surface. It is easy to clean and solid throughout, making it the perfect option for a heavily used kitchen area.
Stainless steel is another top countertop choice that can be used to update your kitchen countertop. Since it's a metal and nonporous, it doesn't have to be sealed and is naturally antibacterial, making food preparation and cleanup a cinch. On the other hand, wood countertops can also be a beautiful way to update a kitchen countertop, serving as both a functional and decorative surface area. These countertops can be made from a number of wood varieties, including oak, maple and cherry lumber.
If you wish to simply update your countertop by resurfacing the one you already have, then you may want to consider painting it or using ceramic tiles to change out the overall look. Flat latex paint comes in a variety of colors, and ceramic tiles can be used to create one solid design or a mosaic pattern. Be sure to sand down the countertop before applying new materials to ensure a better end result.
More Info on Updating Kitchen Countertops
More Kitchen Countertop Ideas