Tiled Kitchen Countertops
Budget-friendly and easy to install, tiled kitchen countertops are a top choice for the do-it-yourself kitchen project.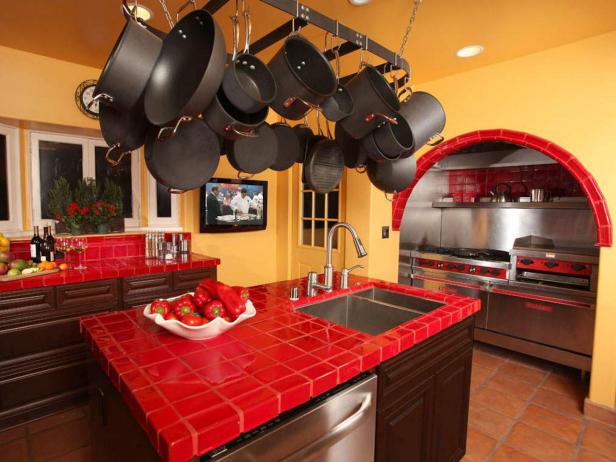 Bright Southwestern Kitchen
Vibrant yellow walls and red tile make this Southwestern kitchen a fun place to entertain.
By:
Caroline Shannon-Karasik
Tile countertops are a popular choice for people who are seeking a versatile and budget-friendly surface. Tile countertops are easy to maintain and clean. The surface is heat- and stain-resistant, and they're available in a wealth of colors, materials, sizes and patterns.
Coordinate tile choices with your kitchen design by choosing a matching color style or pattern that pairs well with your overall theme. Kitchen counter tiles are available in a variety of materials, including ceramic, slate and granite. Use one consistent color and pattern throughout your design or consider mixing up patterns with solid tiles to create a checkerboard design.
You might also want to consider incorporating a few of your countertop tiles into the design of your backsplash in order to help the two areas mesh well. For example, a countertop that has been tiled white with a mix of patterned tiles might blend well with a backsplash that mixes in tiles made from the same pattern choice.
Tile countertops are easy to maintain and clean. Simply wipe down countertops with a mild soap and soft cloth. Consider keeping a few extra tiles on hand in case one chips and needs to be replaced.
Other Kitchen Countertop Materials
More Kitchen Countertop Ideas