Maximum Home Value Kitchen Projects: Countertops and Sinks
Countertops set the tone for the entire kitchen, so using stylish, updated materials easily adds major value to your home.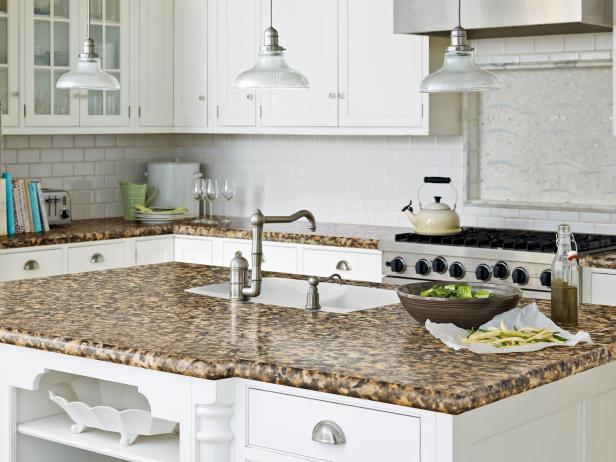 Imitation Granite Countertop in Traditional White Kitchen
Countertops continue to define a kitchen's style — but they don't have to be a budget-buster. This granite look-alike from Wilsonart is actually laminate but unlike previous laminate countertops features a more realistic, larger stone pattern and rounded edge for a high-end granite look at a fraction of the price. Image courtesy of Wilsonart
Granite and solid surface are the most popular choices for counters, but there are many options: quartz, stainless steel, concrete, marble, slate, limestone, soapstone, wood, tile and onyx, to name a few. The key is to choose a material that fits with the style and price point of your home. For instance, if you own a $200,000 home, marble countertops are too much. But if you've still got laminate, upgrading is a no-brainer.

Whatever material you choose, take into account durability, maintenance and cost. Prices range from $15 per linear foot for laminate to $300 per square foot for some natural stones.
Likewise, the kitchen sink, faucet and backsplash should match the style and look of the overall countertop remodel. Functional features like a pull-out spray faucet, built-in water filter or hot-water dispenser also add value.
Not just granite. Buyers like the elegant, earthy look of natural stone counters. Although granite is still the most popular material, many homeowners are gravitating toward other stones like marble, limestone and soapstone, which offer a wider range of colors and a more upscale look.

Those looking for less maintenance are choosing materials that are resistant to stains and scratches, like quartz, concrete and solid surface.

Bacteria busting. The fewer seams you have in counters, the less likely water and bacteria will seep into the cracks. Likewise, the less porous the material, the more sanitary it is. Stainless steel and solid-surface counters are not porous and offer a seamless look.

Sinks with style. From vessel to trough, kitchen sinks come in all shapes and designs to fit your style. Undermount sinks (versus the traditional top-mount) are popular for their modern design, while the trendy seamless sink -- i.e., sink and countertop melded together into one piece -- offers the ultimate sleek look.

Smart sinks. Modern kitchen sinks are highly functional, with multiple work zones, drain trays and built-in preparation boards. Some homeowners are installing a smaller second sink in the kitchen island to add extra workspace.
Even if marble countertops are all the rage in Better Homes and Gardens, you shouldn't automatically go out and invest in them. Every kitchen remodel should be based on your home's price point and what's standard for your neighborhood."The biggest mistake people make is remodeling in a manner not proportional to the home," Sellers says. "If you spend $50,000 and you have a $200,000 home, you'll get an unbelievable kitchen, but the rest of the house doesn't match. So when the buyer looks at the kitchen, it doesn't have as positive an effect as you hoped it would get."
On a Budget: If your budget limits you to laminate, look for an attractive, modern pattern. Many styles look like natural stone.

Mid-Range: Replace laminate countertops with a modern material such as granite, solid-surface or quartz. For added class, mix and match different materials. For instance, you can have a granite counter with a butcher-block inset for chopping.

Also, evaluate the "kitchen triangle" -- the placement of the sink, range and refrigerator, and the surrounding counter space. If you need to and can afford it, reconfigure the kitchen to ensure the shortest distance between the three, suggests Sellers, but that's a major remodeling job. A good mid-range option would be to add an island to create more workspace.

High-End: If you don't already have one, build a functional island with a second sink and storage space. If you have granite counters, consider upgrading to concrete or wood, which are durable and offer a unique look.
Follow these style and trend tips to update—and make buyers fall in love with—your kitchen.