10 Blue-tiful Kitchen Cabinet Color Ideas
I've found myself saying the same thing over and over lately as we make improvements to our new home: paint is a miracle worker! Changing a color on even the smallest of details can really pack a punch indoors and out. So naturally, as I was looking for remodel ideas in the kitchen, I decided a quick cabinet color refresh would be our next project.
Ripping out built-ins or even swapping out the door faces can be expensive, so we're going to tackle a weekend update with just a simple paint swap. Blue hues in the kitchen are very on trend right now, so I've rounded up a few inspirational favorites that have me ready to whip out that paintbrush and add some much needed drama to dinner making!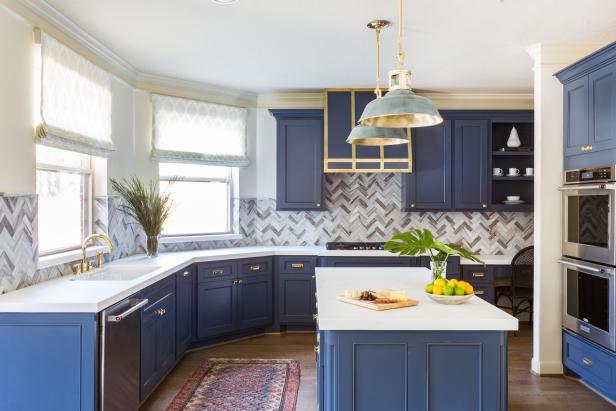 Blue and White Transitional Kitchen With Shades
This formerly dark and uninteresting kitchen gets a whole new life with beautiful blue cabinetry, delicate pendants and roman shades with a subtle graphic print. The backsplash is the star of the room: gray tiles in a chevron stripe.
Now this is a statement color! Not your average navy, cobalt wakes you up as soon as you step foot in the room. It feels like a piece of Lichtenstein artwork and takes this modern kitchen to the next level of cool.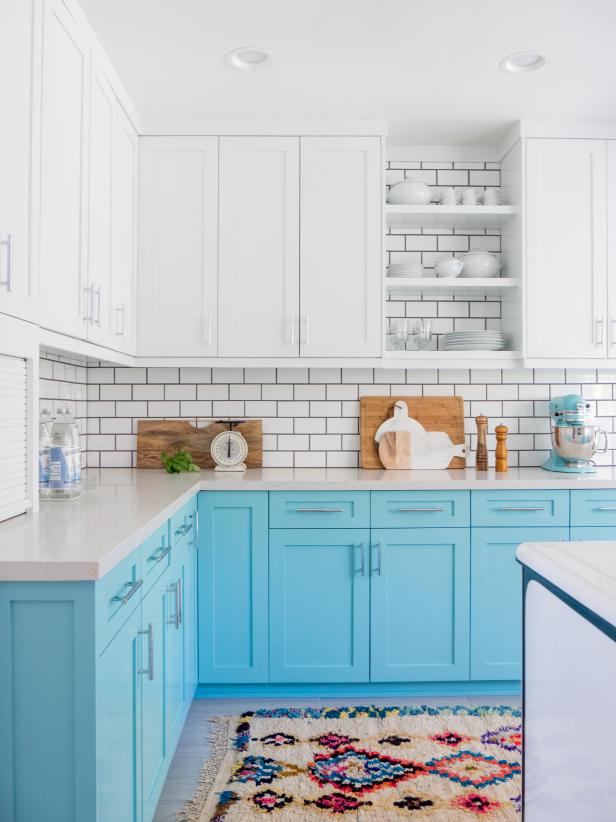 Blue and White Kitchen With Colorful Rug
A colorful rug lifts the palette of this simple kitchen to rainbow levels, paired with its sky-blue lower cabinets and cloud-like upper cabinets and backsplash.
Reminiscent of surfside cocktails and lazy days in the sand, this eye-catching cabinet color makes everyday a vacation day.
Giving the island its own unique splash really brings focus to the center of the room. Keeping the cupboards in the same color family makes for an effortless look that's still intriguing without looking busy.

Painting everything a dark, blue-ish black is definitely a bold move, but somehow this space is more inviting than intimidating. Bright natural light and high ceilings are a must to pull off this gorgeous look.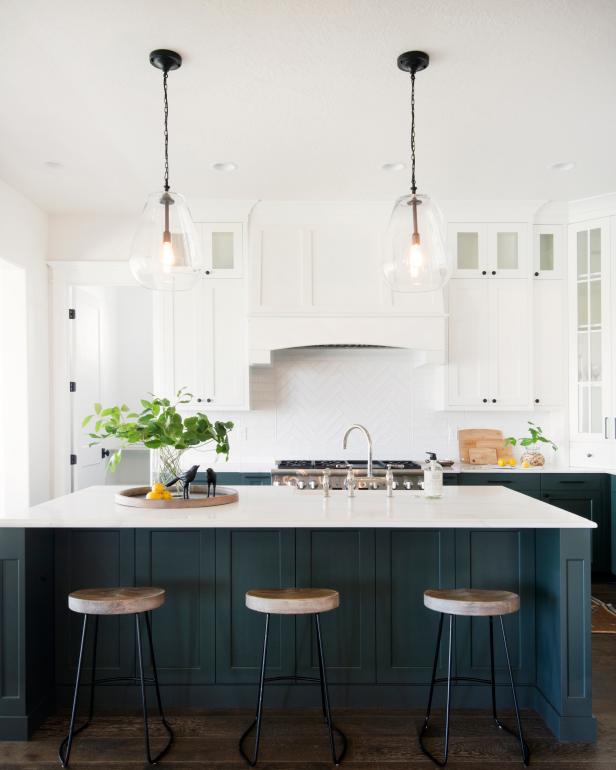 Green and White Chef Kitchen With Tray
Petite-frame barstools tuck neatly beneath the overhang of this kitchen island. Their wood-and-metal construction is a handsome contrast to the island's dark green.
Allison Corona Photography
I've seriously been eyeing a dark emerald hue for my own kitchen update. Deep navy-infused greens feel more sophisticated than the traditional forest lodge shade. Black hardware and white upper cabinetry keep the room from feeling too heavy.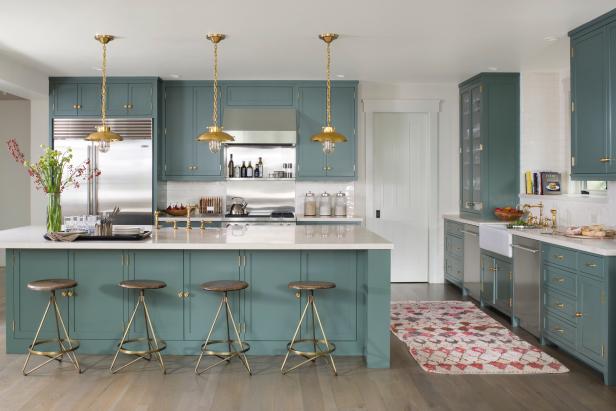 Blue and White Transitional Kitchen With Gold Pendants
This charming kitchen sparkles with pretty color pairings (love the pinks and reds of the rug and the blue-gray cabinets) pulled together by a trio of gold pendants above the island. Clean-lined barstools are the perfect friendly and so-stylish finishing touch.
When dealing with both upper and lower cabinets, it's often a question of should you only paint half or do you go all the way? This is proof that a full wash of dark sea foam is not overwhelming but inviting!
If you're going for high impact, add in the texture with tile. The unexpected placement under the island bar makes for award-winning, restaurant-quality style at home.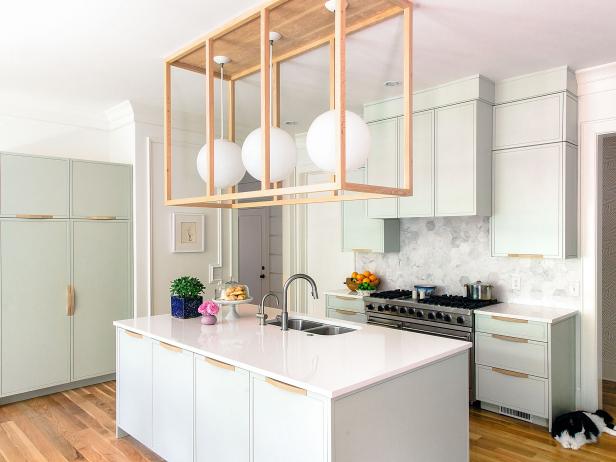 Pastel Kitchen
I don't think I've ever been so excited to walk into someone else's kitchen. The Blehm's family kitchen is full of new and innovative ideas. The soft mint-green cabinets were the first breath of fresh air. The color, formerly only used as complimentary, has made a comeback and has been reinvented as a neutral foundation color in unexpected spaces. That refreshing color coupled with classic white counters and marble backsplash feels simultaneously both nostalgic and brand new. The island lighting is a magnificent display of creativity. Angela Blehm upgraded three simple spheres by designing a custom cage constructed from white oak. It's a one-of-a-kind solution and an amazing focal point for the kitchen. The natural texture of the wooden cage along with the cabinet pulls, adds just enough warmth to make the family's gathering spot feel even more approachable and inviting.
This retro color takes an unexpected turn when paired with soft hexagonal tile and crisp wood accents. I love how the patterned backsplash makes the door to door mint seem fresh instead of outdated.
Complementary colors in a similar color palette are both daring and delicate in this gorgeous kitchen. The key to success is that the entire upper area is in the same color, including the window frames and doors, allowing the butcher block island to still stand strong in the scene.
Who knew that we'd be swooning over taupe-ish greys? Once considered a blasé color of choice, I'm starting to see more of it pop in in homes, lending a cozy look when paired with brass and wood details. Zillow even named this blue-based neutral as the color of choice for kitchens in 2018.