Engineered Stone Kitchen Countertop
Most often made of quartz mixed into resin, this surface is elegant and low maintenance.
Quartz countertop reminiscent of exotic crocodile print transforms an island into a dramatic focal point. The surface is created using a cutting-edge embossing technique. Shown: Motivo, in Crocodile. Photo courtesy of Caesarstone - The Original Quartz Surface
Those who love engineered stone say it's like natural stone only better: It has greater consistency, it's harder than granite, it comes in bright, modern colors, and it never needs to be sealed. Surface appearance ranges from flecked to even-toned, and dozens of colors are available, including vibrant, modern shades. Most engineered stone countertops are composed chiefly of quartz, though they can be formed from other materials including granite, marble and semi-precious stones.
What is it? Most engineered stone is composed of 93 percent natural quartz particles mixed with pigments and resins.
Considerations When Choosing Engineered Stone Countertops
Thickness, Overhangs and Edges. Slabs are available in half-inch, three-quarter inch, and one-and-a-quarter inch thicknesses. Thicker sizes are more expensive. Choose from at least 15 countertop edge options, from bull-nose to beveled. If you're worried about chipping, go with rounded edges.
Stain and Heat Resistant. Knocking over a cup of coffee—or a carafe of red wine—is no problem with stain-resistant quartz countertops. Even oils and acids won't cause staining or etching. Favored in commercial kitchens, the nonporous surface inhibits bacteria growth and won't scratch. Another benefit? If damage occurs, a section could be replaced with a similar-looking piece—which is not the case with natural stone. While quartz is heat-resistant, manufacturers recommend placing a trivet under hot items to avoid potential damage.
Smart Engineering. A relatively recent addition to the countertop world, engineered stone is considered by many an ideal melding of nature and technology. Most engineered stone is composed of 93 percent natural quartz particles mixed with pigments and resins. (Granite only contains around 40 to 60 percent quartz.) The end result is dependent on the specific pigments used as well as how finely ground the quartz is.
Maintenance. Wipe the countertop with a soft cloth and warm water daily. Mild household cleansers are suitable. No sealing, waxing or polishing is necessary.
The Bottom Line. Stylish quartz lends a certain pizzazz to almost any kitchen. Like natural stone, the cool surface is ideal for baking centers where dough is rolled out and kneaded, though it suits all areas of the kitchen.
We're sorry, there seems to be an issue playing this video. Please refresh the page or try again in a moment. If you continue to have issues, please contact us here.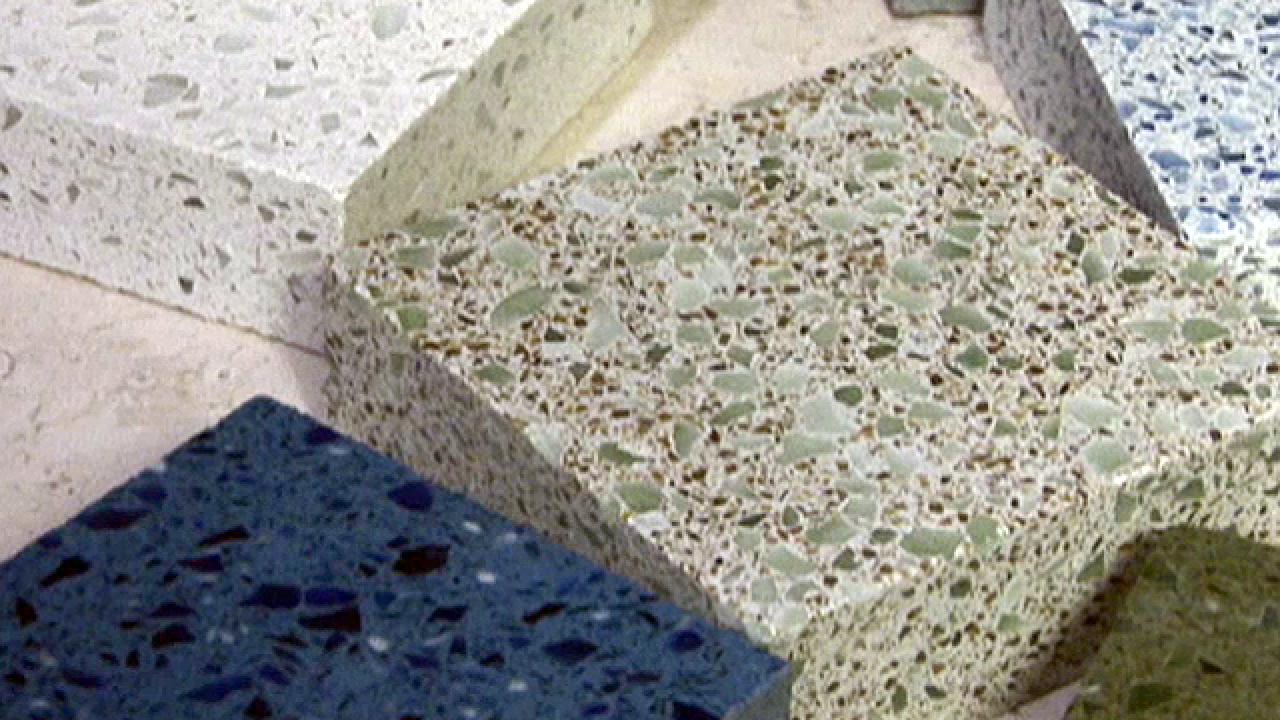 This affordable surface comes in textures that mimic marble, granite and other pricier materials.