Choosing Kitchen Countertops
Granite or laminate? Quartz or concrete? Get tips on how to find the right kitchen countertop surface for your kitchen remodel.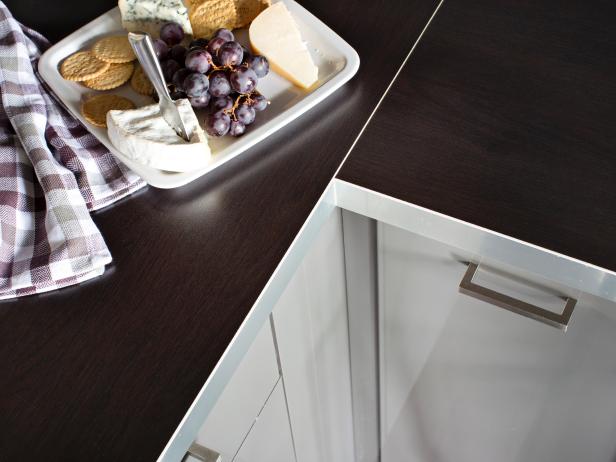 Choosing the right kitchen countertop can be challenging. But before splurging on such a big update — often one of the most expensive portions of a kitchen remodel — see below for some of the top kitchen countertop materials to help you select the right one for your space. When it comes to selecting a surface that's best for your kitchen counter, it's important to look beyond both popularity and affordability.
Countertops set the tone for the kitchen, so choose materials and a look that not only reflect your style, but also are in line with how you use the kitchen.
Granite, for instance, has reigned supreme in the kitchen design world for years. For many, though, the price tag is a budget-buster, despite the claim that it adds to the resale value of your home.
Fortunately, the look of granite (or stone like marble) is possible to achieve for less— whether through intricate textured laminate patterns; engineered stone surfaces like quartz; or solid surfaces that can be molded to your specifications to include features like an integrated sink or backsplash.
Choosing the right kitchen countertop can be tricky (and expensive!). Before splurging on such a big update, check out the pros and cons of the top kitchen countertop materials to help you select the right one for your space.
For a more unique look and feel, other kitchen countertops worth considering are stainless steel for added commercial appeal, woods like butcher block to add warmth, or glass (or recycled glass) countertops for a statement-making addition to the kitchen. Zinc or bamboo countertops are more recent, unique additions to the countertop repertoire.
Concrete is another kitchen countertop idea that's gained popularity in recent years. Consumers can personalize the material, and create an artistic effect by adding glass or shell remnants.
Here's a summary of workspace surfaces and how they stand up in the kitchen environment. Keep in mind, countertops may dictate the kitchen design and are sometimes chosen before cabinetry.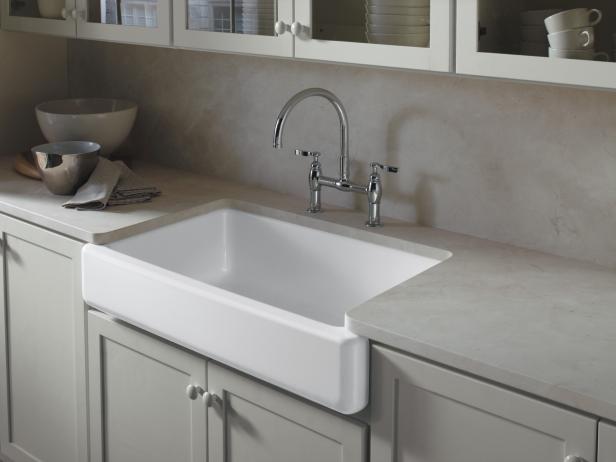 Kitchen-Countertop-Materials_s4x3
Kohler's apron-front cast-iron sinks (shown in white) come in a variety of colors, including new neutral tones Dune, a soft sandy shade, and Suede, a dark hue that pairs well with granite countertops. "Apron-front sinks have never gone out of style," says interior designer Christine Baumann. "They add a timeless focal point to any kitchen. From a practical standpoint, they're deep enough to hold large pots and platters for easier cleanup — a shorter person can even benefit from better access to the sink." Christine notes that because of their visual weight, apron-front sinks are best suited to medium-size or large kitchens. Image courtesy of Kohler
Riding a wave of popularity for the last several years as the surface for countertops, granite is available in several grades, generally 1 through 5 (ratings depend on where you buy it), patterns, colors and thicknesses. Depending on what you choose, a slab can cost you anywhere from $25 per square foot for modular pieces of very basic stone purchased at a home center to upwards of $1,000 per square foot. Thickness can really drive up the cost. If you want granite on a budget, you might consider a three-quarter-inch thick slab rather than an inch-and-a-half slab, where you're more likely to get your money back at resale.
Dramatic, high-status countertop option and tends to improve home resale value
Hard surface is both heat- and scratch-resistant
Low-maintenance
A natural material with timeless appeal
As a porous material, granite must be sealed occasionally to maintain its surface
Expensive
Inproper sealing can allow permanent stains
Larger than tile, but thinner than slab, modular granite is another countertop option of special interest to DIYers. Easier to install than slab granite, modular granite tiles are larger than regular granite tiles. Modular granite is also less expensive than slab granite and easier for homeowners to install themselves.
Less expensive than regular granite
Easier to DIY
Scratch-resistant like regular granite
Might not work with non-standard countertops
Can more easily crack than slab granite
Has visible seams
Limited style options
Can be difficult to find
May not offer the same home resale value as slab granite
These small tiles are equivalent to ceramic tiles, making them easier for DIY installers. This is the least expensive of the granite options.
Less expensive than slab granite
Variety of colors and patterns
Durable
Suitable for DIY installation
Does not have the same seamless, sleek look of slab granite, with visible grout lines
Does not enhance home resale value as much as slab granite
A twist on popular polished granite, honed granite gives a soft, matte finish instead of the traditional glossy look. Like polished granite, honed granite is just as resistant to scratching, chipping, cracking and heat, making it one of the most durable kitchen countertop options around.
Wide variety of colors and styles

High resale value

Durable
Requires resealing more often

More prone to staining

Higher cost than polished granite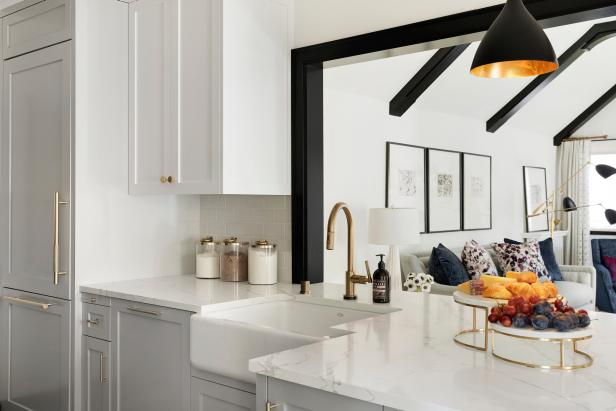 Farmhouse Sink a Classic Touch in Tudor Home's Contemporary Redesign
A beautiful farmhouse sink is attended by a satin-brass faucet in this attractive, contemporary kitchen. Shaker-style cabinets and quartz countertops are graceful in white and gray. The designers changed the kitchen layout to add a dishwasher in the stove's former location. The island peninsula is accommodated by the enlarged cased opening to the living room, which has been painted a stark black to contrast against white walls.
Spacecrafting Photography
Often considered as an alternative to granite, quartz surfaces are a popular choice for kitchen countertops. More durable and long-lasting than granite, quartz is one of the hardest materials in the world, making it a viable choice for a kitchen countertop.
Because quartz countertops are manufactured, the color and pattern possibilities are limitless — including varieties that are almost identical to granite or marble. Brands include Cambria Quartz, Silestone, Avanza, CaesarStone, LG Viatera and DuPont Zodiac.
Perhaps one of the biggest benefits of quartz surfaces is that they are stain- and heat-resistant, making them easy to maintain. The non-porous quality of quartz also makes it highly resistant to mold and bacteria contamination.
Samples and delivered product the same (what you see is what you get)
Mid-range cost
No sealing needed
Non-porous
Resistant to stains and scratches
Seams can be more visible
Color and pattern consistency can look artificial
The surface, frequently referred to by the brand-name Formica, is plastic-coated and available in a range of colors—including surfaces that resemble granite. If your budget is tight and you're doing a quick-and-dirty kitchen overhaul, this is a solution within reach. You'll have to weigh the resale pros and cons: Does your home value require granite? (It's not a bad idea to check out real estate comparables.)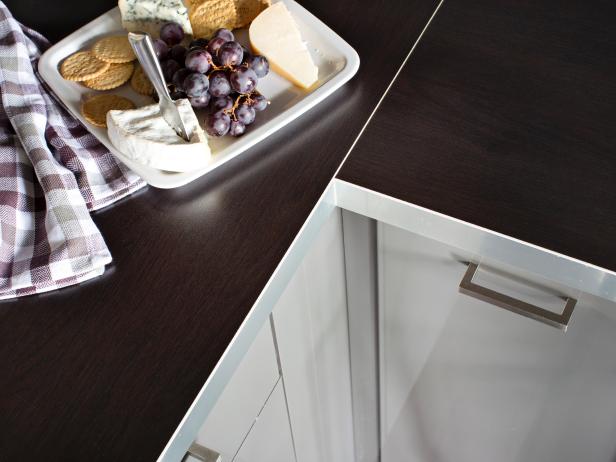 Durable Countertop
To save on budget and keep with the gray color scheme of the kitchen, I opted for ready-made, dark charcoal wood-look laminate countertops, which only came to $360, versus the average of $6,000 for custom gray-toned solid-surface countertops. Not only do they introduce a new texture to the kitchen, their durability also makes them easy to care for.
Easy to maintain
Wide variety of styles available
Inexpensive
Easy to install
Not long-lasting
Hard to repair
Susceptible to burns and delamination, especially from water damage
Highly stain and bacteria resistant, soapstone is a non-porous natural quarried stone that's available in a range of gray tones from light to dark, all with subtle veining. Unlike other natural stones, it doesn't require annual sealing but regular applications of mineral oil will help to disguise any surface scratches, add sheen and deepen the stone's color over time. These pewter-toned countertops are ideal for historic renovations. They darken over time and require regular maintenance with mineral oil applications, but people like the smooth feel and rich character.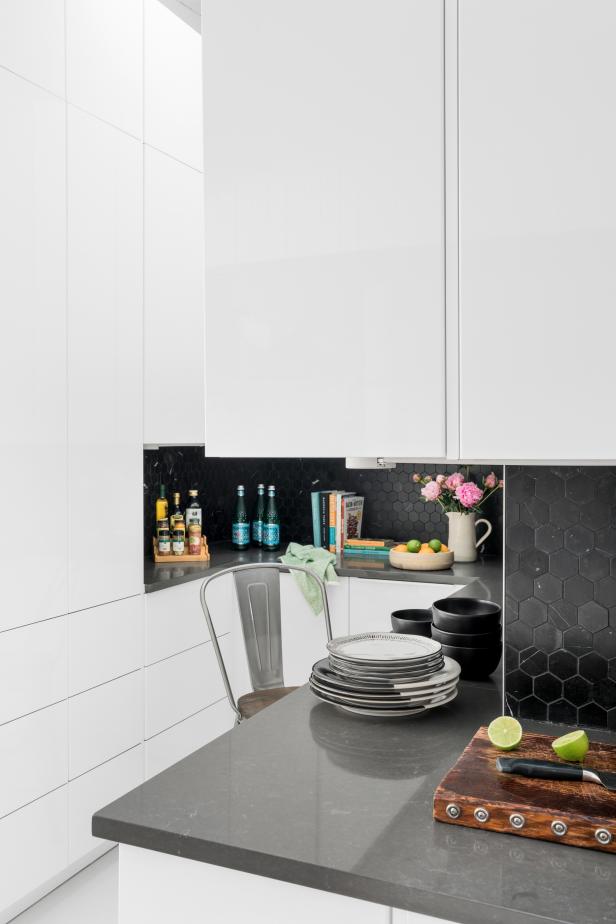 Light and Dark Balance
Nearly every surface in this butler's pantry is bright white, a huge help in keeping the space feel extra open and cheerful. For contrast, the countertops are a dark charcoal soapstone and the backsplash tile is black marble mosaic in a midcentury modern hexagon pattern.
Works in modern, rustic and traditional kitchens
Low-maintenance
Non-porous
Durable
Does not require sealing
Stain-resistant
Because it is relatively soft, you should not cut directly on soapstone or drop heavy objects on it.
A creamy travertine countertop lends a classic Old World look to this neutral kitchen designed by Lisa Stanley. If you don't fill and seal its pitted surface, it can trap food and bacteria and absorb liquids, which makes it more high maintenance than other countertop surfaces. Despite the maintenance, this material is one of the most aesthetically pleasing choices and brings a warm, inviting feel to any kitchen design style.
Moreland Properties, a member of Luxury Portfolio International
Durable

Can be installed in slabs or tiles

Eco-friendly
Porous

Reacts to acids like citrus juice, and can stain

Must be sealed regularly

Because it absorbs water, can lead to bacterial growth

Easy to scratch

Can be damaged by heat
You can lay it on the floor, wall and yes, countertops. You can also re-cover an existing surface, which appeals to DIYers. And with a wide range of colors and textures available in tiles today, options are seemingly endless. But remember, tiles do crack. And perhaps the biggest downside: tiles require grouting.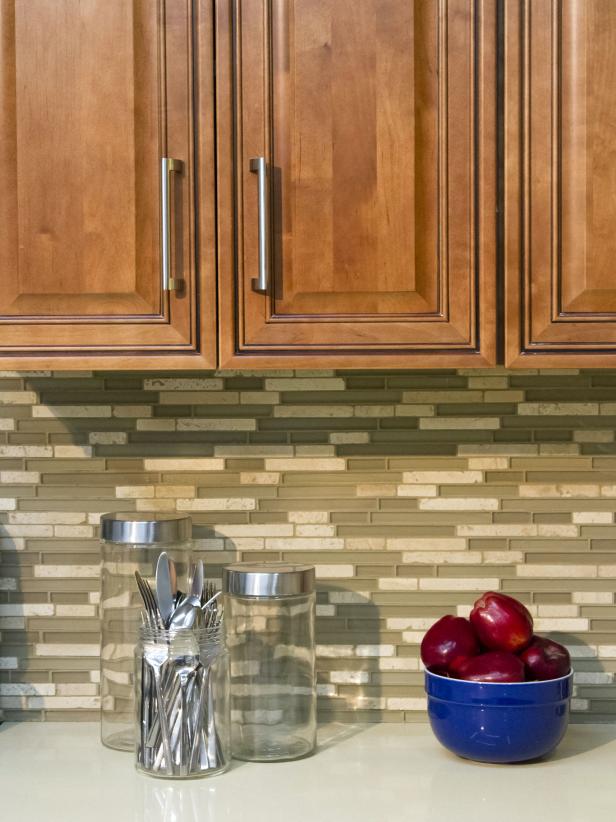 Traditional Kitchen Cabinets and Mosaic Tile Backsplash for HGTV Star by Tiffany Brooks, Boris Eckey, and Jeribai Tascoe
On HGTV Star Season 8, designers Tiffany Brooks, Boris Eckey, and Jeribai Tascoe transform the home of Giovanna and Eric Lawrence by adding brand-new kitchen cabinets, a new backsplash, and new countertops. For the backsplash, a mix of glass and ceramic tiles were used to add dimension, and a vivid blue bowl from One Kings Lane adds a dash of modern color to the countertops.
Durable
Heat- and moisture-resistant
Stained grout
Uneven surface
Tiles can be scratched and chipped
Otherwise known by the popular brand-name Corian, solid surfaces offer the same seamless look as engineered stone. But Corian is not as resistant to stains and can scratch, something to keep in mind when considering solid surfaces.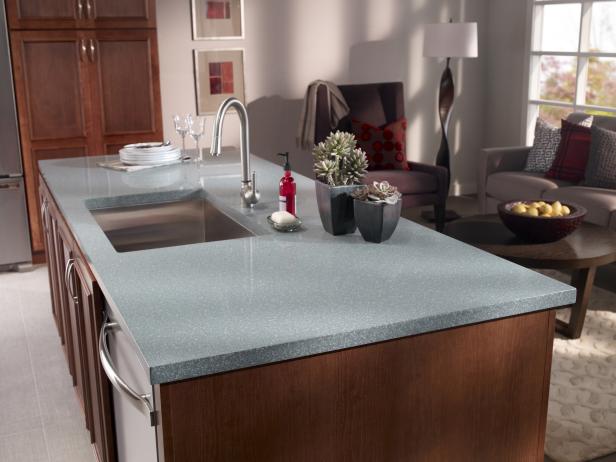 Corian-Kitchen-Countertops_s4x3
Nonporous solid surface countertops are durable and easy to maintain, with no sealing required. Today's designs take style to the next level by mimicking materials such as granite, quartz, concrete and glass. Sharp knives and hot pans can sometimes damage solid surface countertops. Image courtesy of DuPont Corian®
Durable
Plenty of color and pattern options
Can be damaged by heat
Easily stained and scratched
This industrial-strength surface provides a sleek finish in modern kitchens. It's easy to clean with soap and water, and it takes hot pans, no problem. But stainless steel can scratch and dent, so you can't cut on stainless. Plus, it's a costly surface. You might decide to use stainless in just part of your kitchen, like a dining area or by the range.
Durable
Stain- and heat-resistant
Easy to install
Environmentally friendly, recyclable material
Hygenic surface
Can be scratched and dented (go with higher gauge stainless to avoid)
Can lend a cold look and may not work in traditional kitchens
Can increase the noise factor in the kitchen
Mention marble and you will easily conjure visions of gorgeous sculptures and luxurious pillars. The feeling of elegance is no different when choosing a marble countertop, a perfect fit for a classic kitchen design.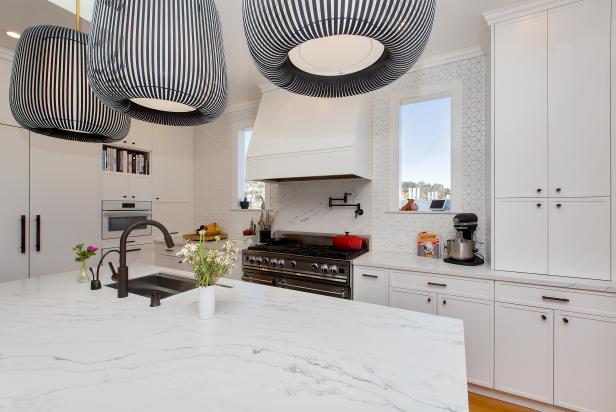 White Kitchen With Gray Striped Pendants
The ribbing of the gray pendant lights is a strong focal point in this all-white kitchen and picks up the veining in the marble countertops.
Marble comes in a variety of beautiful textures and colors, including beige, creamy white, black, and slate gray. Consider using a gray-toned marble countertop in a kitchen with white cabinets and a white subway-tile backsplash for a seamless and cohesive look throughout the kitchen.
Marble can be pricey, so you may want to consider a more budget-friendly option, like Carrara marble. Not only does this marble have the look of its pricier brother, but its various color and texture options can disguise unsightly chips and stains that are common to the soft nature of traditional marble.
It is important to clean natural stone countertops, like marble, with a mild liquid detergent and water. Be sure also to seal marble annually. If your kitchen is prone to heavy traffic and food preparation, then a high-maintenance marble countertop might not be the best option for your kitchen surface.
Marble countertops have, however, proven beneficial to bakers who prefer a cold surface for rolling out bread and cookie doughs.
Beautiful, classic, high-end look
Great work surface for bakers
Variety of texture and color
Natural material
Can increase property value
Expensive
Must be sealed regularly
High-maintenance
Stains and scratches easily
Very heavy
With its translucent beauty, a glass surface leaves a distinct impression when it is used in any area, including the kitchen.
Much to many people's surprise, glass countertops come in a variety of textures and colors. Many surfaces are embedded with materials that allow for a mix of browns, blues, greens and other colors that suit your kitchen color palette.
Other countertops are made from recycled glass. Recycled glass is not only an eco-friendly option, but it can be made to emulate granite countertops, using a mix of colored glass pieces. Recycled glass countertops are available in tiles, concrete and resin, depending on the material that will best suit your kitchen area. Glass countertop tiles are a good choice if you are seeking a do-it-yourself option that will add a bit of flair to your current countertop.
Regardless of the glass countertop you choose, installation can be pricey. If budget is a concern, consider using a glass countertop as an accent, in conjunction with another surface, rather than throughout the kitchen.
Available in wide variety of styles, colors and textures
Durable
Heat-resistant
Non-porous
Heavy objects can cause cracks or chips
Higher cost of installation
You might think concrete is better suited for sidewalks, but the truth is that one-of-a-kind concrete kitchen countertops can create a unique cooking space. Concrete countertops work well in kitchens ranging from modern to rustic, making them a versatile option for a number of kitchen designs.
White Chef Kitchen With Lantern Pendants
We built a custom hood for the range and wrapped it in shiplap to match the island. Other features included concrete countertops and AGA appliances.
Concrete can be formed with an "organic," natural feel, with a down-to-earth quality that is not common to stainless steel, laminate or other synthetic countertops. Each concrete countertop is handmade. If you know how to stain concrete, the countertop can incorporate almost any color. Textures, and even patterned imprints like floral designs, can also be added. Concrete countertops can also be embedded with stones, seashells and other items that appeal to you.
These countertops are also fairly eco-friendly, making them an appealing choice to homeowners focused on environmental issues. Concrete countertops can even incorporate recycled glass, wood chips and other repurposed materials.
Maintenance is fairly easy; concrete countertops should be waxed every six months and sealed annually. Certain food and drink products, like lemon juice, wine, ketchup and other dye-heavy items can stain concrete countertops, so be sure to clean spills immediately to avoid staining.
Can be tinted with color or stained
Fairly easy to maintain
Eco-friendly
Extremely durable
Require proper sealing and resealing
Fairly expensive
This natural stone material is good for countertops because it is non-porous (unlike marble, concrete and granite) and thus resists stains. Resistant to heat and chips, slate is also durable. The material has some subtle veining and comes in gray, dark gray and also shades marked with pink, blue, purple, brown, black, red and green tones. Slate also tends to be more affordable than marble and granite.
Versatile
Requires less maintenance than concrete, granite or marble
Beautiful, with subtle shades of color
Non-porous
Hard, durable and heat-resistant
Comparatively affordable
Like a tree in its natural environment or an elegant coffee table centerpiece, a wood countertop can provide a finished look to a wide range of kitchens. Rustic kitchen areas will benefit from an unfinished, natural wood countertop, while classic kitchens will pair beautifully with a finished wood, like teak countertops.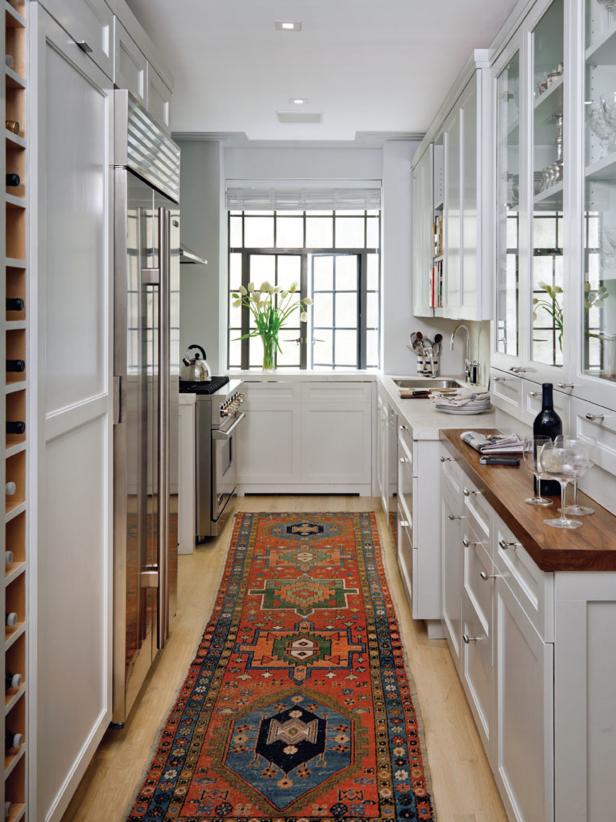 Tribal Rug Pops in Traditional White Kitchen
To refine a kitchen and its occasional disorder, tall cabinets in crisp white provide necessary storage for optimum functionality. Choose pops of color for delicious intrigue, like this vibrant carpet runner.
Wood countertops can be both functional and decorative. Functional ones, like a butcher block, are ideal for food preparation. Decorative countertops are often installed to provide a more luxurious finish. Once sealed, wood countertops are sanitary for chopping meat, and hot pots and pans can easily be placed on the surface because wood countertops are heat-resistant.
Wood countertops can be made from a number of lumber varieties, including oak, walnut, maple and cherry. Consider staining your countertop with food-safe blue, green, red and yellow stains for a unique surface.
Teak wood is a beautiful choice for a kitchen countertop. It is durable and withstands moisture well, plus it has an eye-catching beauty. On the other hand, reclaimed wood is a top choice for accenting a country-inspired kitchen design.
Treat wood countertops with mineral oil every month. Stains can be sanded out; just be sure to re-oil the area to protect the surface.
Add beauty and warmth
Variety of wood available:

maple, birch, teak, cherry, oak

Compatible with many design styles

Recyclable
Must be regularly sealed to prevent staining
May need refinishing to combat wear and tear over time
More easily damaged than stone or tile
The eco-friendly choice, recycled countertops come in a variety of sustainable materials, including concrete, glass, paper, composite and plastic. Usually a mix of pre- and post-consumer products, recycled countertops are available in a wide range of colors and textures.
Do not off-gas VOCs (volatile organic compounds) into your home

An environmentally-friendly choice

Durable

Easy to clean
Do require resealing to protect the surface

More expensive than products like Formica or travertine

Professional installation is generally required, which adds to the cost
Get tips on how to find the right cooktop, fridge and more for your remodel.