12 Ways to Make a Banquette Work in Your Kitchen
Swap out your kitchen seating for this cozy alternative.
Adding a banquette to your kitchen is one of the easiest ways to create a warm and cozy spot for the entire family to gather for daily meals. They're also a perfect solution for smaller kitchens or awkwardly-shaped spaces in your home. Banquettes come in all shapes and sizes, and they work with a variety of design styles. Here, we've got 12 tips for getting the most out of a kitchen banquette.
1: Get the most out of a corner.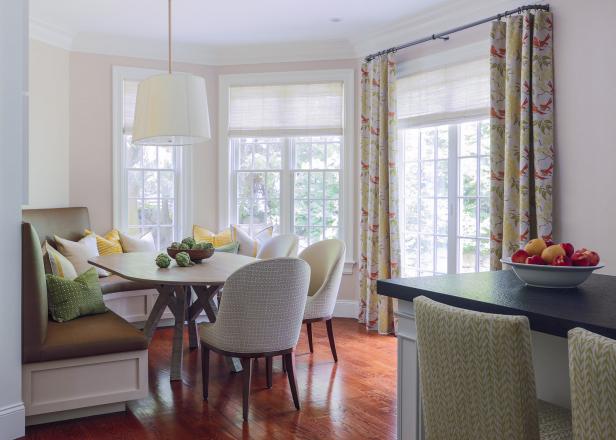 Transitional Breakfast Nook With Banquette
Mornings are cheery and bright in this breakfast nook with its warm, welcoming color palette and gracefully curving banquette. The accent pillows pick up the yellows and greens of the curtains.
In general, banquettes are made for corners. Even if you have a corner in your home that is not at a 90-degree angle, you can still manage to add a banquette. Mixing in traditional dining chairs is a great way to get more seats around your table.
2: Take advantage of an unused wall.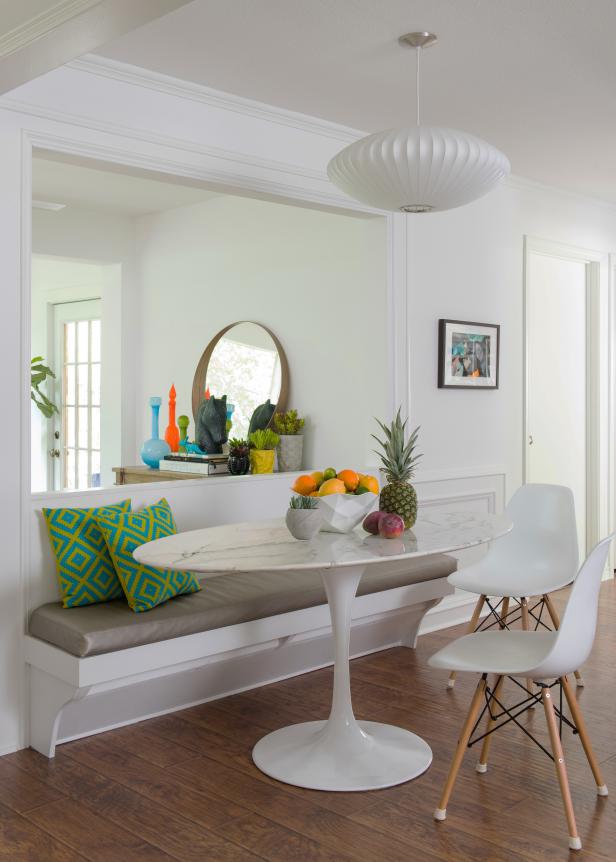 Charming Banquette Seating
This dining space maximizes charm, just off the kitchen. Built-in banquette seating accommodates more people in a smaller space. A large chandelier adds elegance without distracting from the calm, stylish design.
Sometimes you can fit a banquette into your kitchen by adding it to an unused wall. This small, floating banquette adds extra seating and creates an additional spot for kids to do their homework or enjoy an afternoon snack.
3: Create a booth-like banquette.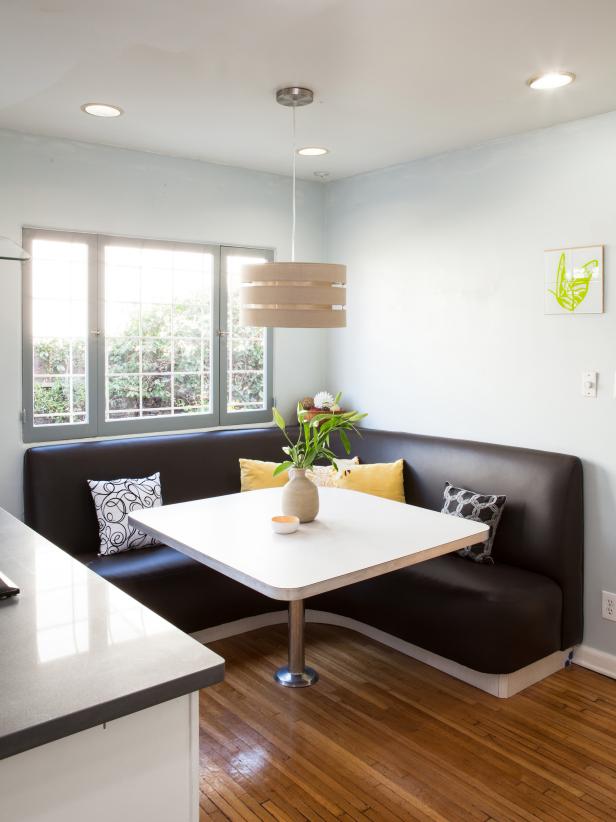 Retro Breakfast Nook With Black Banquette
Team Drew transformed this breakfast nook with a fresh coat of paint and layered lighting on HGTV's Brother vs. Brother. They opted for an L-shaped banquette with graphic throw pillows to serve as seating around the cool retro dining table.
From:
Brother Vs. Brother
Use a banquette to create your own at-home booth. Choose a vinyl seat fabric and restaurant-style table to complete the look.
4: Or, try a built-in banquette.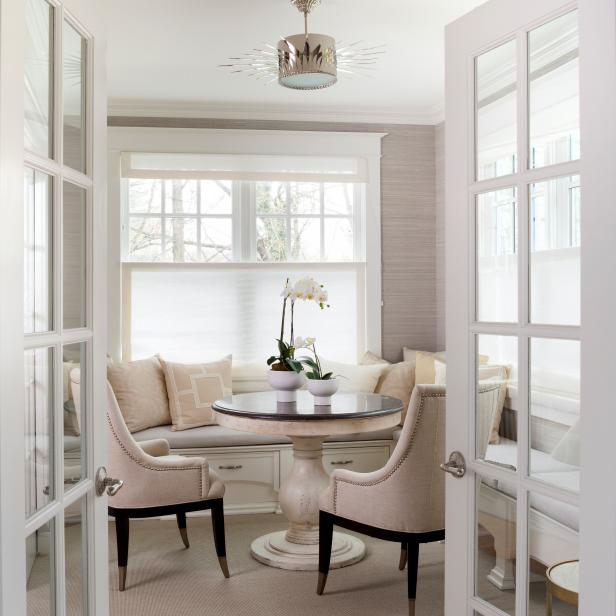 Sun Room with Banquette Seat
The window seat of this dining nook is decorated with a mix of throw pillows adding beautiful style and color. The remainder of the circular, dark wood dining table is surrounded with stylish upholstered chairs.
Banquettes also look nice with a built-in style that goes wall-to-wall in a room. Much like a built-in bookcase, a banquette can really pull a space together. Here, a bench cushion and lots of pillows make this spot extra plush and cozy.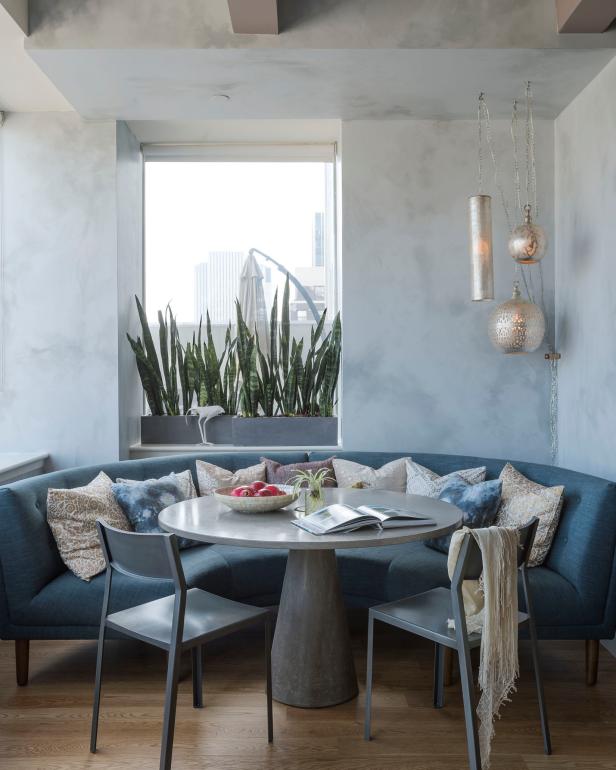 Contemporary Dining Nook With Banquette
Moroccan style silver pendants cast a warm glow over this cozy dining nook. A navy blue banquette lined with an eclectic array of pillows warms up the cool-toned space.
Banquettes don't always need to be casual. Here, a glam, round banquette would be a showstopper in almost any space. You definitely need more room to allow for a bench this large, but if you have the room (and a larger family!), this is perfect for you.
6: Don't be afraid of a super-long banquette.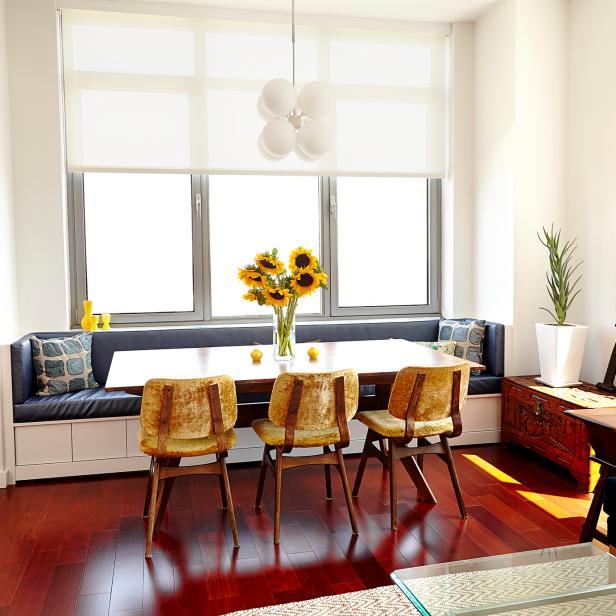 Custom Banquette Offers Seating & Storage
This custom banquette gives the illusion of a separate dining area in a small but open space. Additional storage is cleverly inserted underneath the seating.
While most banquettes tend to be a bit shorter to fit into smaller spaces, that doesn't mean you can't go big, too. This one fills the entire back wall; however, it pairs perfectly with a longer, narrower dining table.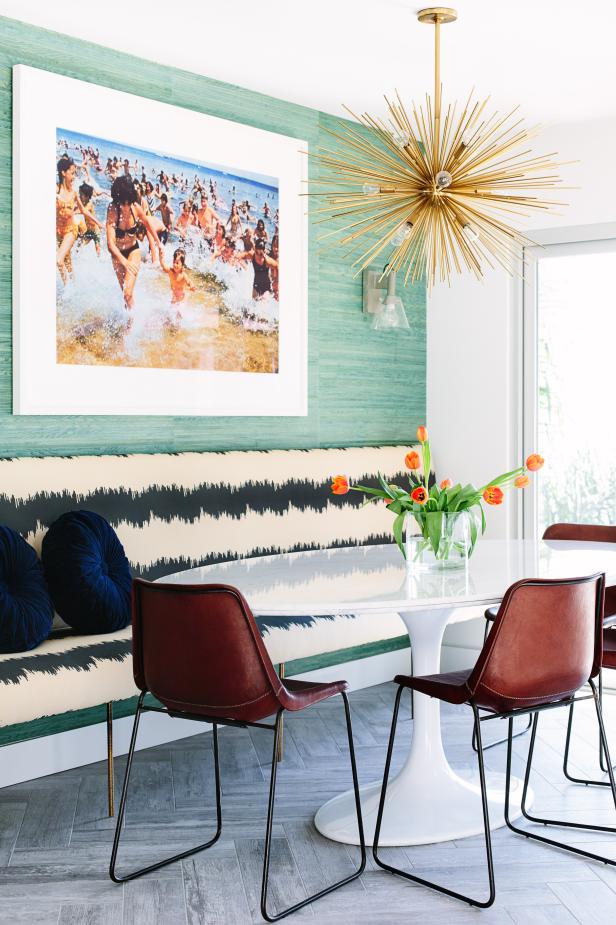 Eclectic Dining Room With Black-and-White Striped Bench Seat
This fun dining room features a white midcentury modern table paired with brown leather chairs and a gold starburst chandelier overhead. Green-blue textured wallpaper provides an accent wall for a black and white striped upholstered bench seat, while a framed beach photograph hangs above.
If you want to make a splash with your banquette, use a bold fabric. If you choose a brighter color, consider a simpler pattern, or go super bold and choose a graphic fabric that will really make a big statement in your space.
8: Get inspired by your favorite restaurant.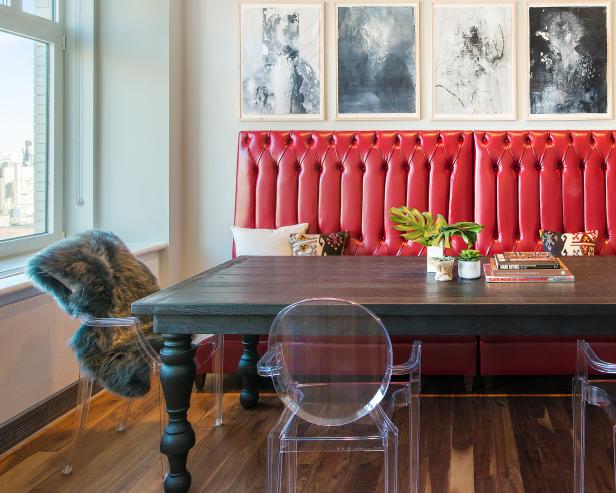 Wood Dining Table With Red Banquette
A wild mix of seating including lucite ghost chairs (one with a fur throw) and a red banquette brings eclectic flair to this dining area.
You'll often find booths in older restaurants, and it's easy to create the same look in your own home. This red banquette could be right out of your favorite eatery. Don't be afraid to use tufting or the bold, red hue to create the same vibe in your own space.
9: Build a banquette into your kitchen island.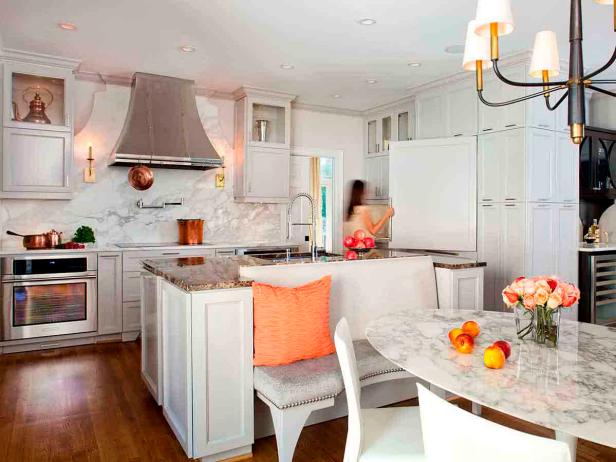 Modern White Kitchen Banquette Dining
This transitional eat-in kitchen features a stylish banquette and marble kitchen table for quick mealtimes. Peach accents liven up the white kitchen, adding fresh style to this timeless space.
Again, if you're short on space, try building your banquette into your kitchen island. This bare-boned banquette is essentially a simple bench with a cushion, but it works great with the oval table in keeping a narrow footprint within the space.
10: Try one in a tiny space.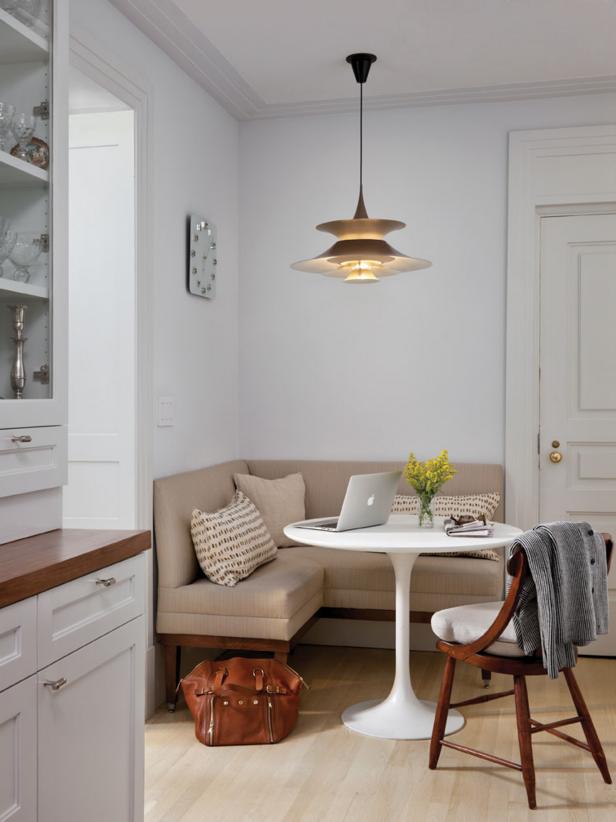 White Transitional Kitchen with Banquette Seating
Banquette seating makes perfect use of this transitional kitchen alcove as a modern pendant light hangs over a simple tulip table.
Even if you just have a tiny amount of space in your kitchen to set up a breakfast nook, a banquette could still work nicely. Here, an awkward corner between two doorways is the perfect amount of space to fit an L-shaped banquette. Because of the tight fit, you may not be able to leave additional chairs there permanently, but you can easily pull a few out if you have guests.
11: Create extra storage.
Fresh, Contemporary Kitchen With Banquette Seating
The kitchen receives a fresh update with a gray and white color palette that is super chic. The custom banquette is perfect for enjoying breakfast with family, including the furry family members.
Another benefit that's often overlooked with banquettes is extra storage. This design features a built-in pet food and water station at one end with additional drawers in the bench to fit bulk supplies or unused items.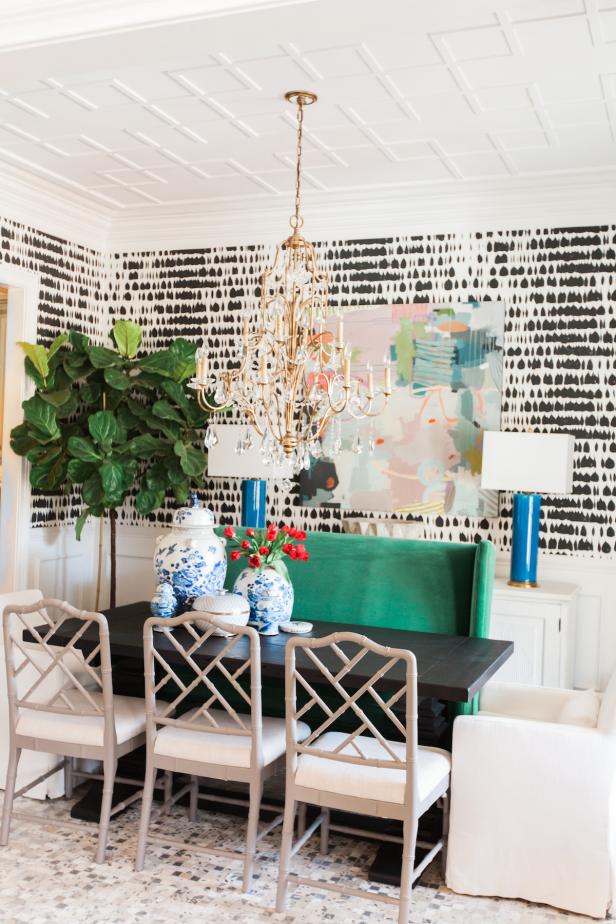 Black and White Eclectic Dining Room With Green Sofa
Bamboo chairs and an upholstered banquette make sure there's plenty of seating around the narrow table. Their mismatched style continues the playful chemistry of the room.
While built-in banquettes are a great option, you can also create the same look with a standard sofa or loveseat. This velvet setee is paired with traditional dining chairs and an armchair, which work together to create a stylish and inviting space for a family meal.