Now Viewing
16 Ways to Maximize Your Pantry Space
When cupboards are a jumbled mess, finding ingredients can take as long as cooking dinner. Why waste precious time rooting around for paprika or penne? Keep even the smallest pantry organized with these clever storage tips and smart, space-saving products.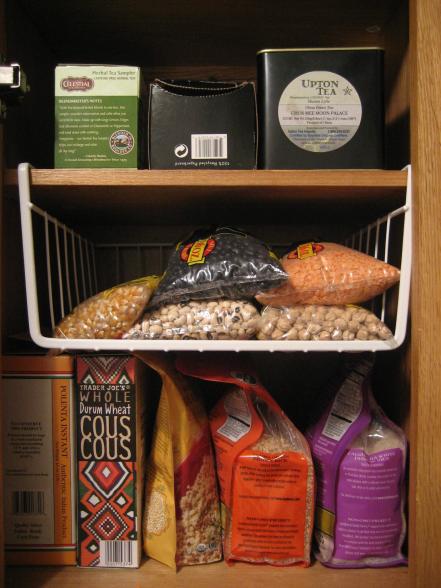 Tidy Tova, TidyTova.com
Go Above and Below
A tip from professional organizer
Tidy Tova
: Max out your vertical storage by adding
undershelf baskets
. They instantly multiply your cabinet's capacity and create designated areas for different types of ingredients.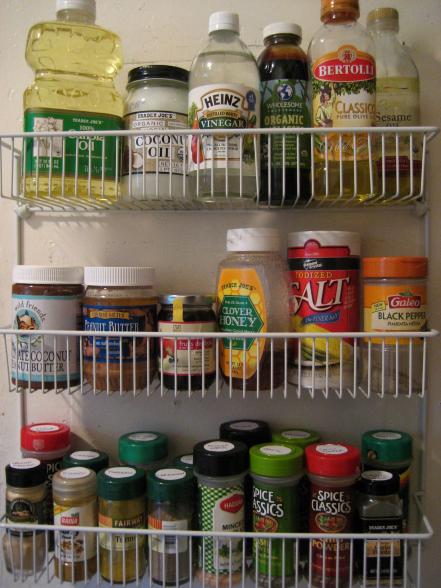 Tidy Tova, TidyTova.com
Open the Door to More Storage
Take full advantage of the backs of cabinet doors by installing wire racks, suggests
Tidy Tova
. Keep spices, oils and often-used condiments here so they're handy.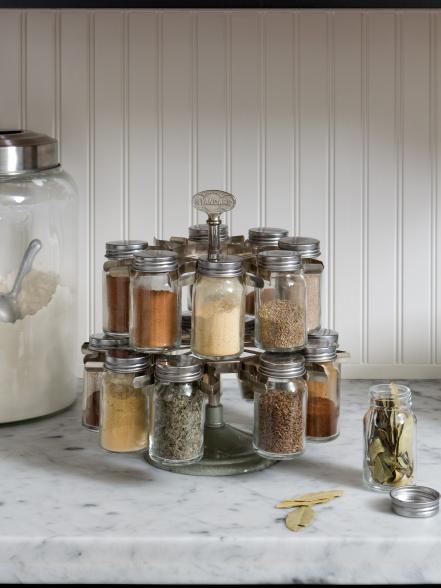 Jules Frazer, SugarShoots.com
Put Your Stamp on Spice Storage
Not enough room in the cupboard for all of your spices? Put them on display! Stylist
Janna Lufkin
and organizer
Elizabeth Goodsell
discovered that a vintage stamp holder perfectly fits the small jars.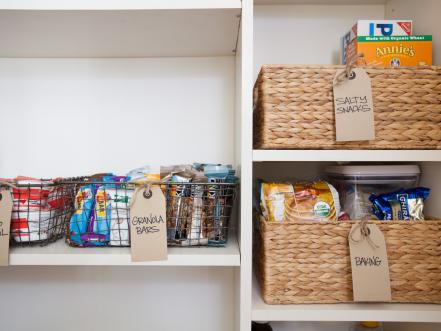 Michelle Drewes, MichelleDrewes.com
Sort by Category
Gathering like items guarantees you'll be able to find what you need, advise the organizing pros behind
Neat Method
. Start with basic groups like baking, breakfast, grains and snacks.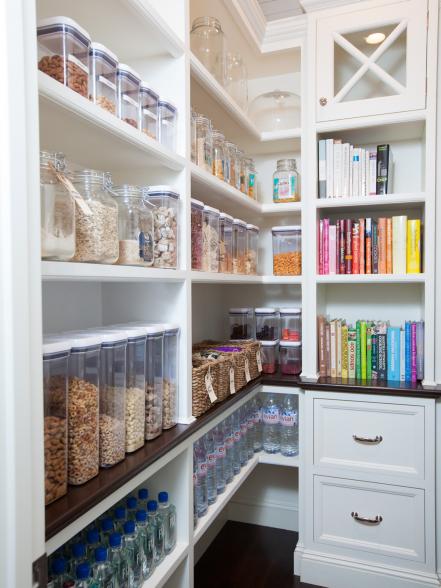 Michelle Drewes, MichelleDrewes.com
Pick a Clear Winner
The
Neat Method
pros can't get enough of OXO containers. "They help you use the full height of your shelf, ensure food stays fresh, and did we mention they're dishwasher safe?!" To track expiration dates, apply stickers to the bottoms.
The Home Edit, TheHomeEdit.com
Add a Base Layer
Here's a trick for making the most of deep shelves from Clea Shearer, cofounder of
The Home Edit
: Line up boxes and jars of food on top of a bin, basket or serving tray that's not in everyday rotation. "Pull out the whole container to access anything in the back," she says.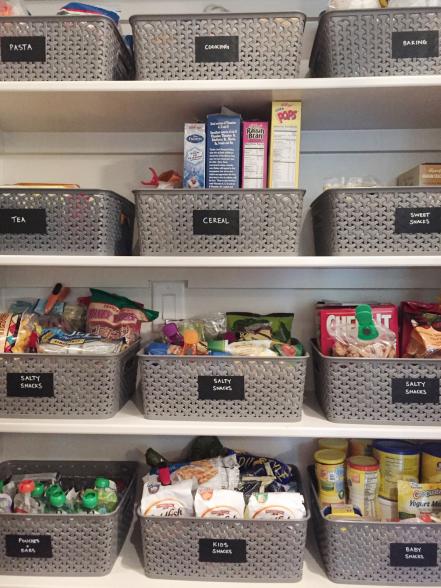 The Home Edit, TheHomeEdit.com
Think About the Kids
Put children's snacks on the bottom pantry shelf, Shearer suggests. This makes it easy for them to help themselves without accidentally knocking over, say, a nearby bag of flour.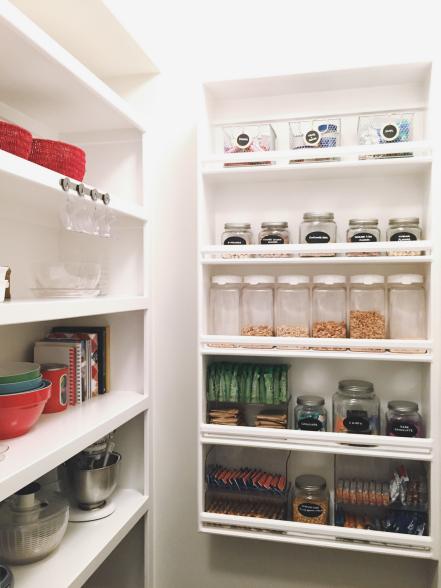 The Home Edit, TheHomeEdit.com
Cut Out the Excess
Save space by throwing out packaging, advises Shearer, who recommends transferring items like granola bars and wrapped crackers into labeled bins. Or, shop in the bulk section when possible to skip cardboard boxes altogether.
11 Magnolia Lane, 11MagnoliaLane.com
Build a Snack Station
A narrow strip of wall space is the ideal spot for single-serving bags. To create her
custom holder
, Christy at 11 Magnolia Lane glued curtain hooks (minus the rings) to a strip of painted wood.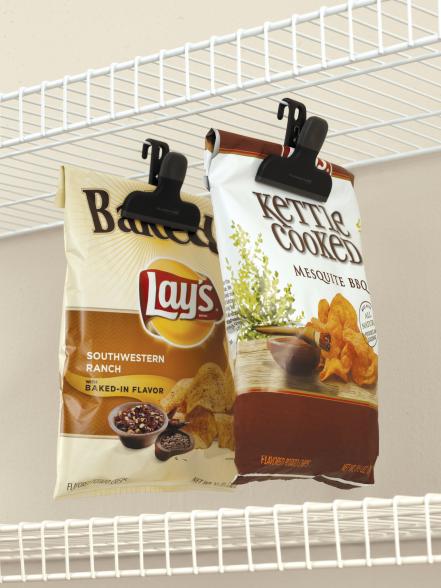 Rubbermaid
Hang in There
Open bags of chips or pretzels always getting lost on your shelf? With Rubbermaid's
hanging clip
, snacks can dangle freely — and avoid getting crushed to oblivion.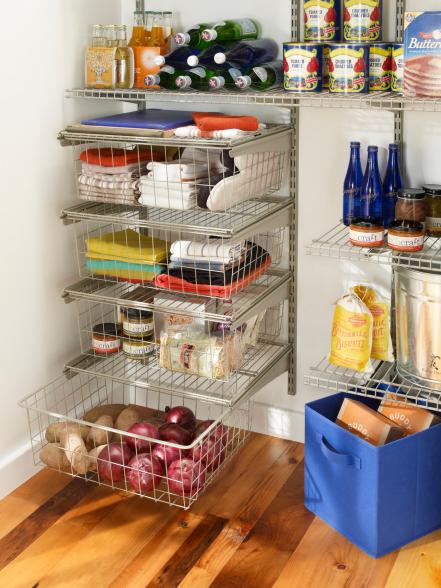 ClosetMaid
Go for High Visibility
If you're redoing your pantry, choose wire shelving and drawer bins, like these from
ClosetMaid
. They let you see exactly what's located where, even on high, hard-to-reach spots that solid shelves would obscure.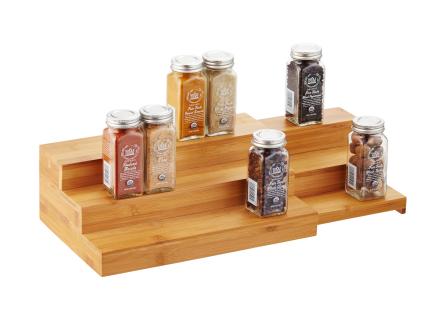 The Container Store
Take It to the Next Level
To squeeze every last square inch out your cupboards — and still be able to easily access what's in back — install a tiered shelf, like this bamboo option from
The Container Store
that expands to fit the width.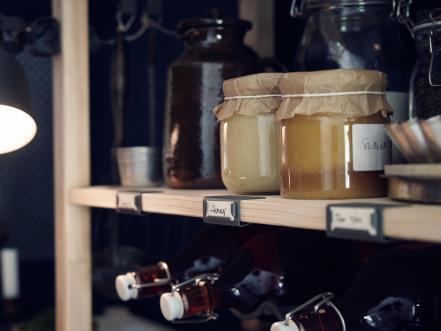 Ikea
Give Each Place a Purpose
Designate a specific spot for the items you buy most so there's no question where things go when it's time to unload your grocery haul. Ikea's
Ivar labels
slip right onto the front of shelves.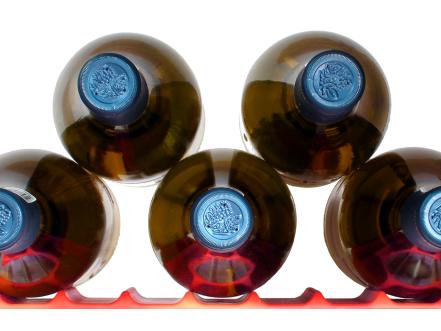 Cooks Innovations
Corral Beverages
Sometimes bottles and cans won't store upright. If that's the case, turn to the
Fridge Monkey
, a rubber mat with a series of grooves that keep stacked cylinders from rolling away.