Now Viewing
Clever Uses for Everyday Items in the Kitchen
We're always looking for ways to make space in our kitchen, from storing utensils to keeping pot lids organized. But did you ever think about creatively repurposing objects from around your home to help you out?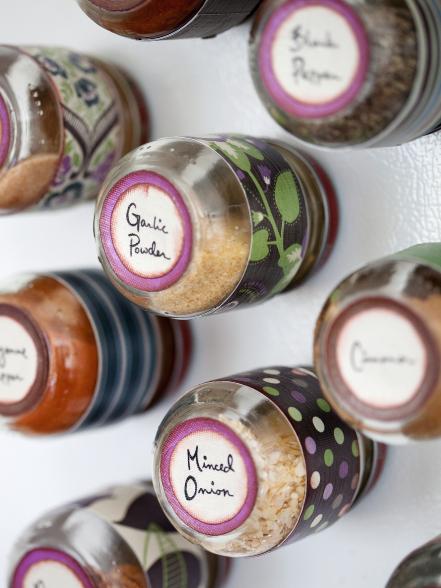 Photo courtesy of Lauren Davison
Magnetic Spices at Hand
From parsley to cinnamon, it's easy for spices to take over your cupboards. To fix this problem,
Lauren Davison
repurposed baby food jars and turned them into magnetic spice jars that easily attach to the side of the refrigerator. "They're a great way to keep clutter out of your cupboards, save time while cooking and add a touch of personality to the kitchen," she says. "Plus, it's easy to find the spice you need and see when you're getting low." Want to make your own? See Lauren's full tutorial and get
step-by-step instructions
.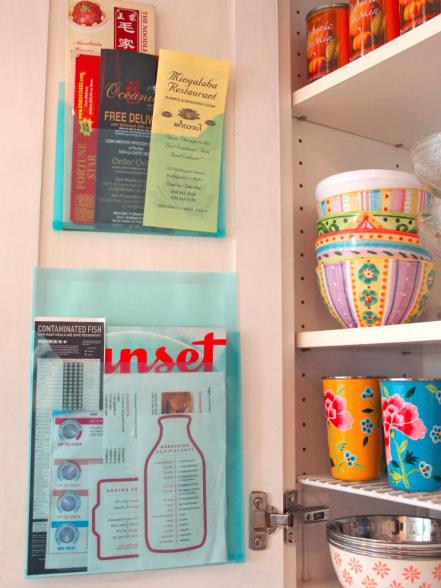 Photo courtesy of Cristin Bisbee Priest
A Clearly Neat Menu Organizer
No more stacks of menus stuffed in a junk drawer or hanging on the side of the refrigerator! It's possible to keep these tidy and organized (along with coupons and new recipes to try). Simply adhere any clear folder or plastic sleeve for paper documents to the inside of a cabinet or pantry door. Or, place one on the wall by the phone — the look is clean enough to keep in plain sight. Photo courtesy of
Cristin Bisbee Priest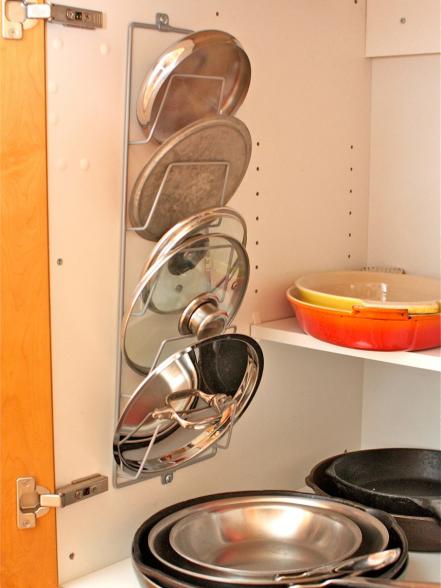 Photo courtesy of Aimee Wimbush-Bourque
Magazine Rack for Pot Lids
Getting all those pot lids in line is a snap with this organization idea from
Aimee Wimbush-Bourque
. Just screw a metal magazine rack into the back of a cabinet door and arrange lids by size. The sleek design not only makes it easy to find the right lid but also opens up some additional cabinet space, too.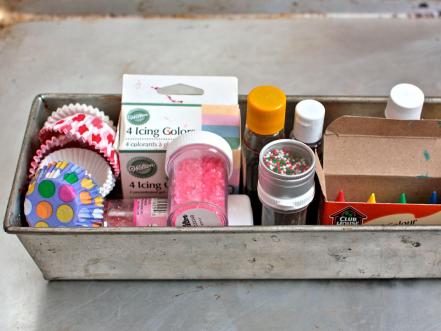 Photo courtesy of Aimee Wimbush-Bourque
Loaf Pan for Small Cooking Items
No need to shell out for new storage containers when you already have some in your cabinets.
Aimee Wimbush-Bourque
thought outside the box (literally!) and came up with this simple display for smaller cake-decorating supplies. An old loaf pan is a chic alternative to plastic containers, and it's easier to pull items from — no lid required!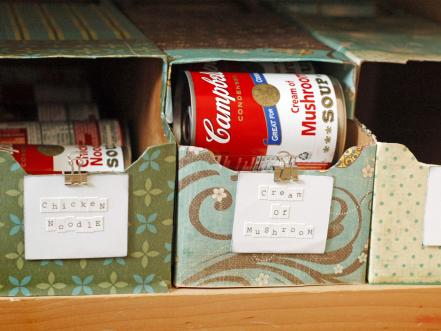 Photo courtesy of Amy Williams
Soup-er Recycled Storage
Are your canned goods getting lost in the shuffle? If you're tired of toppling towers of cans in the pantry, try this eco-friendly idea from
Amy Williams
. Take an old cardboard soda box, coat it in Modge Podge, and then cover it with decorative paper. Cut an opening in the back to restock cans so the older ones rotate to the front.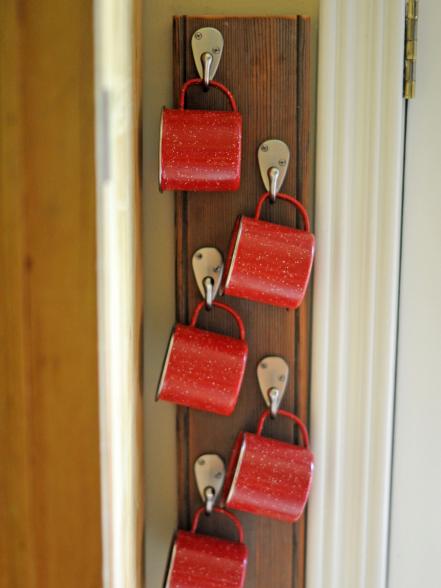 Photo courtesy of Ginny Sheller
Hang Your Cups
To encourage her kids to drink more water,
Ginny Sheller
had her husband craft this space-saving mug rack. To make, turn a coat rack on its side, or screw individual hooks into the wall, and assign each little one their own personal hook based on their height. What's even better: They won't reach for a new cup each time they get a drink.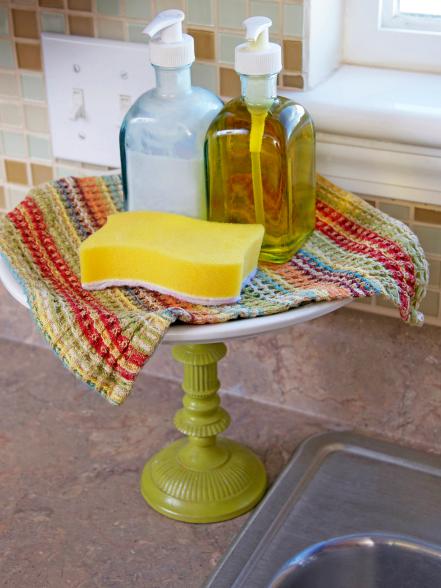 Photo courtesy of Natalie Wright
An Elevated Soap Dish
Take dish and hand soaps to new heights by placing them all on a cake stand next to the sink. If you don't have an old stand you're willing to part from your pastries, try creating one like
Natalie Wright
did, by gluing a plate atop a wide-based candlestick. It adds an elegant touch to the sink area, while freeing up counter space.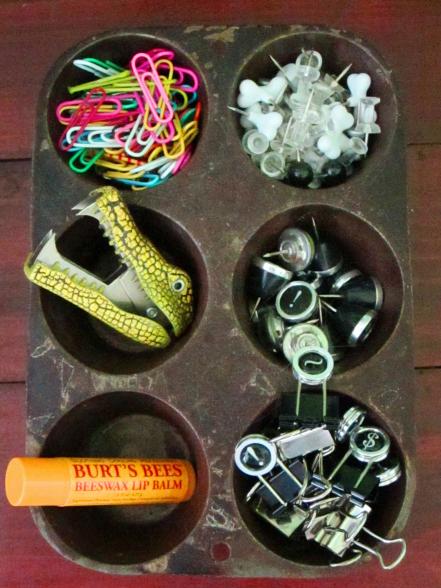 Heather Dutton
Goodbye, Junk Drawer
Whether you've accumulated more muffin pans than you bake with or have found some great antique versions at rummage sales — like this one featured on
Vintage Indie
— it's time to put them to use. A tray placed in a junk drawer can separate odds and ends in a snap — and keep them in place. Or, slide one onto a cupboard shelf to organize teeny baking supplies, like food coloring, toothpicks and sprinkles. Photo courtesy of
Heather Dutton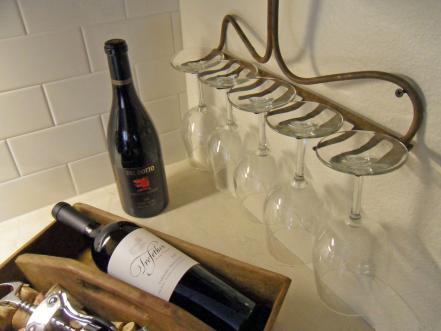 Photo courtesy of Dana Pugh
Rustic Wine Glass Holder
Juxtapose elegant glassware with this rustic, utilitarian idea from
Dana Pugh
. Simply remove the handle from any metal rake, and then anchor the head directly to the wall with screws. Flip each glass upside down and slide the stem between two prongs. Or, instead, use the rake to hang spatulas, wooden spoons or other kitchen utensils.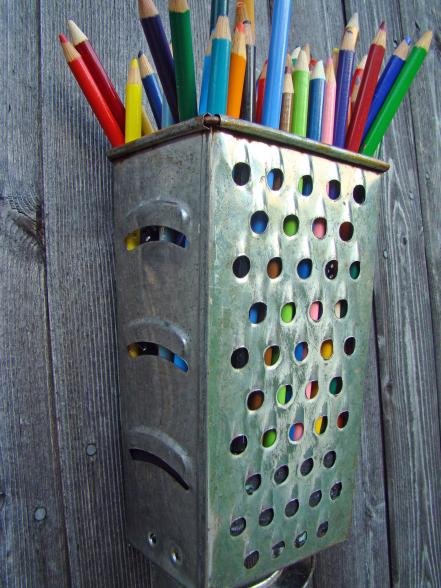 Alicia McDonald and Jamie Ritter
A "Grate" Pencil or Utensil Holder
Save precious countertop real estate with this holder for pens and pencils or small kitchen utensils. Take an old box grater (you'll want one with dull enough openings to prevent cuts) and fill the opening at the top with floral foam cut to fit snugly inside. Loop a wire through two holes on one side of the grater to form a hook, then flip it and hang on the wall. Photo courtesy of Alicia McDonald and Jamie Timmer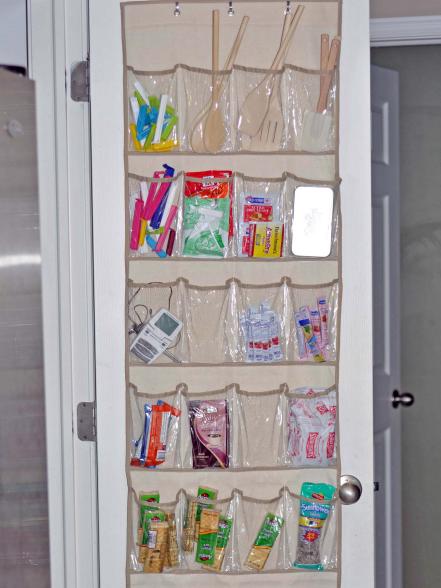 Photo courtesy of Laura Witt
Shoe Organizer for Utensils
Free some space from countertops or cabinets with this sleek idea: Take an over-the-door shoe organizer from any home goods store and hang it on the pantry door or any other door in the kitchen. (The versions with clear plastic pockets are best, so contents are easily visible.) Then slip wooden spoons, spatulas, small appliances or snacks into the slots. Photo courtesy of
Laura Witt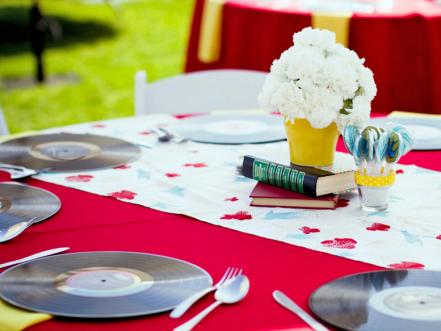 Photo courtesy of Jessica Velarde Photography
A Retro Spin on Place Settings
This idea from
Green Wedding Shoes
will instantly jazz up a birthday party or a fun dinner at home. Just take an assortment of old vinyl records (you can pick up a variety for a dime at a flea market) and set them as place mats or chargers for serving dishes. Or as an alternative, use the album jackets instead. Photo courtesy of
Jessica Velarde Photography