About HGTV Urban Oasis 2023
Get to know the colorful and classic Craftsman bungalow full of local Louisville charm.
Keep in mind: Price and stock could change after publish date, and we may make money from these affiliate links.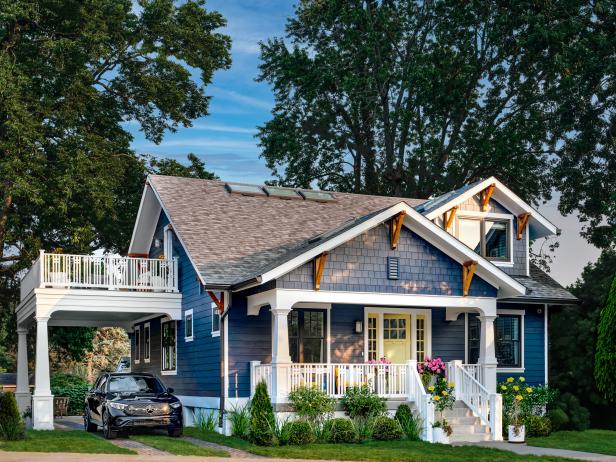 Timeless Style
HGTV Urban Oasis 2023 maximizes intown living with thoughtful details including the addition of an expansive carport built in the porte-cochère style. Porte-cochères, or "coach gateways," are typical of 18th and 19th century mansions and provide vehicles a space for arriving and departing with cover from the elements.
It's been over a decade since HGTV first started transforming urban spaces into stylish, functional and escape-from-the-city homes. Every year, we search the country high and low for the perfect home to renovate and restore into the ultimate metropolitan retreat. For 2023 (and our 14th home), we're heading just outside of Louisville, Ky., a southern town that has everything to offer – a thriving art scene, incredible restaurants and breweries, the famous bourbon trail, and of course, the Kentucky Derby.
Louisville is a big, small town, and the HGTV Urban Oasis captures the energy of the city through its nods to local culture and colorful, comfortable spaces that act as a relaxing escape from the hustle and bustle of the city.
Brian Patrick Flynn, Interior Designer
Built in 1924 and coming in at just under 1,900 square feet, the original floor plan of HGTV Urban Oasis 2023 hosted four bedrooms and one bathroom. Sticking with the same footprint, the design team kept the four bedrooms and added another full bathroom and powder room, as well as a multi-functional loft space and second-floor outdoor patio. More on that in a bit.
First, let's dive into the locale. Louisville has over a dozen distinct neighborhoods, and HGTV Urban Oasis 2023 is located in the Germantown district. The area received its moniker from the influx of German immigrants who first settled in the neighborhood in the mid-1800s, and now it's a chic combo of old with the city's only vintage arcade, a 60-year-old German restaurant and top-notch vintage clothing shops, as well as new: innovative restaurants, of-the-moment craft beers and live music venues. And the locals wouldn't want you to forget that it's also famous for having a mix of fun dive bars – tons of which are within walking distance of the house.
While our home is a decidedly adorable bungalow, Germantown is known for its shotgun and camelback houses. Fortunately, the Craftsman style embraced by the design team blends in seamlessly with the surrounding architecture, all of which gain popularity in the early 1900s. For a fresh take on the Arts-and-Crafts architecture, the exterior features eye-catching navy blue trimmed in white. Hello, curb appeal.
Designer Brian Patrick Flynn didn't stop there. With a little crowdsourcing help on social media, he selected a buttery yellow shade to freshen up the original front door and painted the front porch ceiling haint blue – a true nod to the home's southern heritage. Folklore has it that "haint" is derived from "haunt," and the blue hue would ward off any ghosts or evil spirits. Additionally, many think the shade deters birds and insects from nesting. Today, haint blue ceilings are classic part of southern homes, and whether or not they keep away spirits or flying creatures, they definitely add beloved color and beauty to homes.
In another nod to the home's origins, Flynn wanted to use popular historic colors from the 1920s. Mustard and burnt sienna would have typically been used on a home's exterior at the turn of the century, but might have felt dated to the modern eye. (Plus, then we wouldn't have the standout navy blue exterior!) Instead, he pulled the classic color palette inside to the living room. Custom-designed built-ins in mustard and contemporary sofas in burnt sienna set a warm, neutral scene for displaying curated accessories, including equestrian-patterned curtains – a fun hint to the Louisville locale.
We wanted this house to have the sophistication that comes with a timeless southern home, but we also wanted to crank up the new factor a bit.
Brian Patrick Flynn, Interior Designer
Bold yet timeless pattern is found all throughout the home, and it all has a story to tell. Checkerboard, buffalo check and plaid make their appearance over and over again. Not only do they have a timeless quality to them, but the beloved prints also have a menswear aesthetic associated with the Kentucky Derby and the iconic attire worn on the big day. Upstairs in one of the guest bedrooms, Flynn chose a whimsical updated toile with botanicals and animal silhouettes. "We love the palette," said the designer, "It has a lot of colors that you'd find in a historically accurate Craftsman."
What's more, the house is layered with Louisville culture: horses, baseball and bourbon. In the loft area, the famous Louisville slugger has a major moment complete with a bat and apparel display. Additionally, the design team was inspired by Rabbit Hole Distillery, a local craft bourbon maker, so they created a one-of-a-kind industrial mural in deep teal surrounding the space. One step into the guest bathroom and no one will be in doubt of the home's location. The horseshoe wallpaper brings in the city's most famous attraction: Churchill Downs.
What home in the south is complete without a welcoming front porch, right? We can definitely check that one off the list. However, Flynn and his team took it one step further in Louisville with a dreamy patio over the carport. Block detailing – a little influence from renown Arts-and-Crafts architect Frank Lloyd Wright – on the railing is reproduced from the front porch, interior stairway and the back porch, where we have one more surprise. Tucked into the back corner of the yard is an utterly Kentucky bourbon moment. Reclaimed oak barrels get a new lease on life as a bar top table and coordinating barstools – the ideal outdoor hangout.
The house is a beautiful haven that pays homage to its historic roots and the city it calls home. And we can't wait for the thoughtful, curated design to inspire your own design story – and maybe even a trip to Kentucky.
Enter for Your Chance to Win