Master Bathroom From HGTV Urban Oasis 2012
Glass and matte marble surfaces set a contemporary tone in the spa-style master bathroom.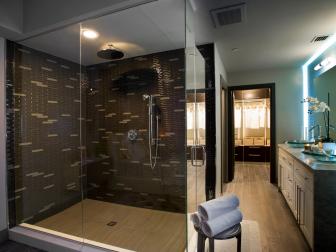 A glass-enclosed shower with man-made stone tile flooring marks the entrance to one of the apartment's most captivating spaces. The shower's tiled walls, set in a pattern custom-randomized by interior designer Linda Pumpa, lend visual interest.
Browse Master Bathroom Photos
The open layout of the master bedroom allows you to see right into the master bathroom, so I wanted to make sure that the space was equally as beautiful and visually appealing. I did this by using a variety of textures and different surface materials but keeping them in the same color tones as the bedroom.
Interior Designer Lindsay Pumpa
2012 Urban Oasis Master Suite Tour
Brian Patrick Flynn gives a tour of the contemporary master suite in the 2012 Urban Oasis in Miami Beach, Florida. A canopy bed, pendant lights, and a walk-in shower make this bedroom and bathroom in the maser suite glamorous.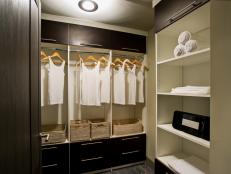 A pairing of dark and light surfaces in the master closet echoes design elements found throughout HGTV Urban Oasis 2012.