This New HGTV Show Is Guaranteed to Make You Cry Happy Tears
'One of a Kind' premieres Tuesday, March 19 at 10p|9c.
Attention, renovation lovers: there's a new show in town that you're going to love. One of a Kind, starring Grace Mitchell, has earned that title for a reason. The 8-episode series taking place in Fort Worth, Texas highlights Grace's fun, unexpected and, most importantly, personal home designs. She makes it a point to tell every family's story in their home. What does that mean exactly? What if I told you Grace recreated the night sky from when her clients met with a fiber optic ceiling in their dining room? Yup, she goes THAT hard.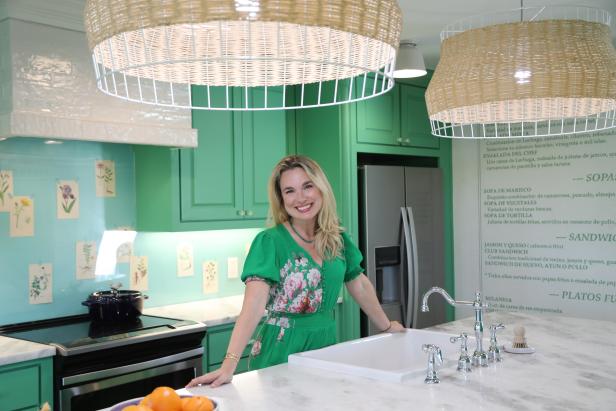 After the renovation, Grace posese in the fully remodeled kitchen, which features a custom backsplash created with pages from Mandy's grandmother's gardening books, wallpaper made from a blown up print of Alex's parents' family restaurant's menu, and a fully functional island complete with a sink, oven, and trash compactor as seen on One of a Kind.
"Anyone can have a house that's catalog pretty, but a home should tell the story of the family that lives there," said Grace. "My team and I take boring, outdated homes and give them personality and style." And boy she isn't lying! In the premiere episode, Grace builds the family their very own ice cream parlor after learning that they have roots in the ice cream industry. Not only that, but she turns the couple's love notes into wallpaper and finishes cabinets in the new office with custom photography of special places they've visited.
Along with her loveable crew, Grace truly creates one of a kind designs based on homeowners' personal stories, family histories, and individual passions. Sometimes her ideas are so thoughtful, you'll find yourself crying and wondering, why am I crying watching HGTV right now? I promise it's a happy cry though!
One of a Kind premieres Tuesday, March 19 at 10p|9c. Visit Grace's Instagram for a peek at her unique style!