Go Inside the Designs of Erin Napier in the Second Season of HGTV's 'Erin'spired'
In the latest installments of Home Town's digital companion series Erin'spired, Erin Napier offers insider insights on the designs seen in season four of Home Town. For fans of Erin as a designer, these are special extras that you won't see on TV.
A year or so ago we introduced you to Home Town's digital companion series, Erin'spired – the exclusive bonus series that offers a deeper dive into Erin Napier's distinctive sense of style – a style that meshes a genuine artistic sensibility (Erin has experience as a graphic designer) with a solid knowledge of American architecture and home styles – and always with a respect for the historic attributes and context of the individual home being updated.
It's a special series offering more of what Home Town's fervently design-centric fans want to see, and it does so in quick, easily digestible bites – five to eight minute videos that encapsulate key design considerations and sources of inspiration from one of the show's featured renovations. The initial installments Erin'spired featured the homes of season 3, just as the original TV series was catching big traction with viewers and fans across a wide spectrum. Now we're thrilled to be able to continue with more of a good thing — Erin'spired Season 2, — featuring homes from the fourth season of the parent TV series Home Town.
With the second series, we've got more designer secrets and germinating ideas, more strategizing with designers Blake and Amanda and more heretofore unseen moments not seen in the actual Home Town episodes. Here's a taste of what you can see in the new chapters of Erin'spired, just to whet your appetite. Frankly, we'd encourage you to sit down and binge-watch the whole batch. They're all available right here on HGTV.com. And keep watching as we roll out more webisodes each week throughout the current season of Home Town.
Erin'spired: Nostalgic and Playful on a Tight Budget
The first installment of the new series of Erin'spired is connected with Home Town's season premiere episode titled "From Los Angeles to Laurel" featuring Hollywood TV actor Richard Jones and his wife Nancy. The couple, newcomers to Laurel, purchase a run-down Craftsman cottage in a distressed part of town and lovingly restore it with help from Ben and Erin. Their main objective: to rescue a deserving home while investing in a community and helping spark revitalization of a neighborhood. "What brings us to Laurel," says Nancy, "is a desire to be part of the restoration that Ben and Erin have started here."
Homeowners Richard and Nancy Jones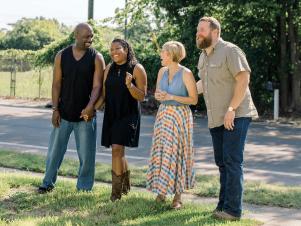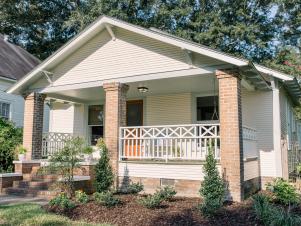 The homeowners' strategy is to upgrade the home on a modest budget so that a local family can lease the home and eventually own it. Fortunately, working within a tight budget is within Erin's comfort zone, and where she feels she, Ben and the team can really shine. It's a project that all comes together with that distinctive Home Town flair. Maybe you've seen the episode; Maybe you've taken this renovation's photo tour. Now complete the picture — with the Erin'spired chapter that offers background on how this particular renovation came to fruition.
Erin'spired: Saving Great-Grandma's Tiny House
This Erin'spired installment draws on the Home Town episode titled "The Littlest House." In the episode, Erin and Ben remake a long-vacant property to create a country cottage that, though small, is a welcoming retreat with built-in history and family connections. They take on a special project for Rena Register, a Laurel native and small-business owner who has an opportunity to restore the long-vacant home that had belonged to her great-grandmother. But it's a piece of Rena's childhood and her history, and Erin and Ben are determined to help her save it. "If a person were a flower, that'd be Rena," says Erin. "She's a daisy."
Her grandmother's house, built in 1948, is now badly deteriorated. It's also tiny, with a total interior of only around 650 square feet. (Erin describes it as Laurel's "OG tiny house.") Though rescuing it initially seems beyond hope, the "littlest house in Laurel" is eventually transformed into a cozy cottage with a red metal roof, two porches and classic Americana style.
Rena's house looks like a little illustration from a children's book now ... It just felt picture-perfect.
Erin Napier
Rena's Living Room, After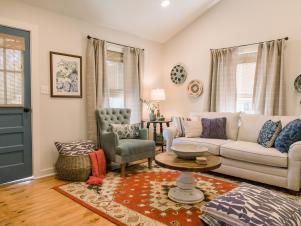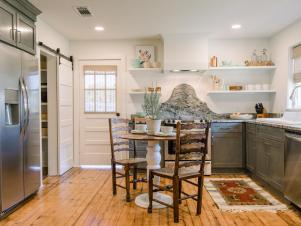 Despite its rustic setting and history, Erin is determined to take Rena's personal style into account, and to avoid the temptation to give it a look that's too "precious" or countryfied in a cliché sense. She wants to imbue it with a more refined look. As she often does, Erin draws inspiration for the interior palette from a particular found object, artifact or feature she comes across — in this case a vintage style comforter with a nature-inspired pattern of green, rust and blue.
A tiny vintage refrigerator left behind in the house gets restored, painted in bright pistachio green and put into working order as a "second fridge" on the side porch. Not to mention, as part of the "renovation," the entire house gets lifted off its foundation and transported to an entirely new location on the property. It's now tucked away in a beautiful grove of pecan trees. (See the photo gallery: "The Littlest House in Laurel.")
Erin'spired: Adding Personality to a Plain Ranch House
In the Home Town episode "The Church House," the Napiers take a short trip down the road to Ellisville, Mississippi. There they help local minister Charlie Turner and his wife Melissa reimagine and reinvent their current home, transforming it to better accommodate their family while incorporating novel as well as classic stylistic elements. The couple and their five kids had been living in the clergy home provided to them by Charlie's church. The bland and ordinary ranch-style house is functional, but stylistically it's far from the Turners' dream home. Erin and Ben help them change that.
"I love that we're taking a house that is just without a face or a personality or an identity and giving it one," said Erin. "It's a matter of where we can add visual interest to the exterior of a house that currently has absolutely none." The plain brick exterior gets painted bright white, and dated metal porch columns get replaced with unstained wood. The natural tone of wood adds warmth against the new white backdrop, and the home's exterior goes from a plain suburban ranch to a California-style variation on the ranch home – one that's much more inviting and visually arresting.
These are just some samples. Keep tuning in on Monday nights for new episodes of Home Town (16 all-new episodes this season!), then check 'Home Town Central' at HGTV.com for "the rest of the picture" with HGTV's Erin'spired.