HGTV's Erin Napier Reveals Her Interior Design Process in the New Digital Series, 'Erin'spired'
Erin introduces us to her design team and design process for each home featured in season three of 'Home Town.
Have you been missing Home Town's Ben and Erin Napier since the second season ended last March? So have we but season 3 is right around the corner (Jan 14!). In the meantime, we've got a lagniappe for you that just might hold you over — and that we think you'll enjoy. It's just the first in what will be a new and ongoing digital series conceived as a behind-the-scenes (and behind-the-design) companion piece to Home Town.
Intrigued? Here's the deal. If you're a fan of Home Town, it likely has struck you how much thought, caring and TLC Erin Napier puts into each and every one of the home renovations she and husband Ben undertake in their quintessentially Southern town of Laurel, Mississippi. Hearing the two of them talk, you can just sense the underlying dedication.
And as highlighted in the final reveals of the finished homes, Erin is ever a thoughtful and articulate advocate of good design and quality craftsmanship — and she continually emphasizes a respect for the history of the homes being restored and for their context within the community. It's about aesthetics and artistic sensibilities, but it's also about roots — and Erin has a knack for describing those things in enlightening but accessible terms.
In fact, hearing Erin talk through the renovations and the custom touches she employs, we're often left wanting to hear just a bit more. And that is the genesis of Erin'spired. Please do continue, Ms. Napier.
We think you'll see what we mean in the first installment titled "Radiating Design." In the premiere of Home Town's third season, Erin and Ben help the Watts family who are moving to Laurel with their three kids and a substantial (for Laurel) all-in budget of $300,000. After getting to know the family, and their needs and design preferences, Erin and Ben help them fashion a newly renovated home with Spanish design influences and a kitchen that's an absolute star attraction. "When you're a stranger in a strange place, you need to have something that is your soft landing, your comfort," says Erin, "and I hope that the house is going to be that for them."
In the Erin'spired segment that accompanies that episode, viewers get a peek behind the scenes as Erin strategizes with designers Amanda and Blake, playing on the home's generally European feel but refining and updating it with key enhancements — among them a spectacular kitchen nook with brick surround and Spanish tile accent. It's those carefully thought-out features that serve as the grounding and inspiration for the home's overall aesthetic, personality and color palette.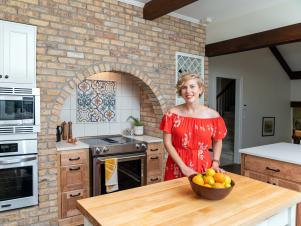 Todd Douglas/ Getty Images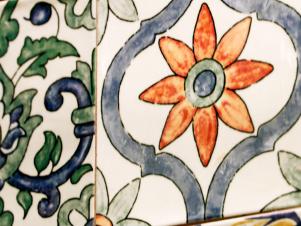 As seen on Home Town, Ben and Erin Napier (R) have completely renovated Cory and Toy Watts kitchen with new cabinets, appliances, paint and a custom island built by Ben Napier. The existing brick arch has been refreshed with new cabinetry, appliances and a tiled backsplash. Erin Napier also created a custom clay serving dish as a gift for the Watts kitchen. (portrait)
Casual elegance is so right for this house.
Erin Napier
Check out the first chapter of the new digital series Erin'spired, and keep checking back at Home Town Central for new installments to be added each week. And be on the lookout for a second new digi-series featuring the equally inspired – and woodcrafty – Ben Napier, set in his wood shop at Scotsman Co. Keep watching. There's lots more in store.