8 Questions for the Winner of Ellen's Design Challenge
Furniture designer and season two champ Vivian Beer lets HGTV Magazine in on the hush-hush secrets you didn't get to see on TV.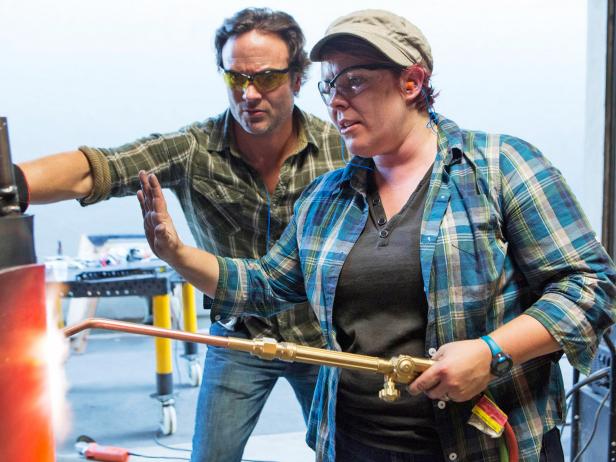 Vivian Beer During Ellens Design Challenge Finals
HGTV Magazine introduces you to the winner of Ellen's Design Challenge, Vivian Beer. During the finals, designer Vivian Beers (right) signals carpenter Matt Blashaw (left) to wait before using clamps as she uses a torch in the forge to heat and shape a piece of cut metal that she will use to make the legs of her signature table, as seen on Ellen's Design Challenge.
Was being a welder and a metalsmith an advantage?
It helped to have a lot of hands-on experience going in. I have made everything from a steel-and-concrete chair to an aluminum bench. Plus I knew how to take a piece from concept to completion, though I'd usually spend a year working on that piece.
Each episode shows you building a piece of furniture in 72 hours. But didn't you have more time?
We actually had less. That 72 hours includes filming and judging, so we didn't get full workdays. To stay focused, Matt Blashaw — he was my carpenter — and I would pretend it was always the final five minutes. All the time we're building, we're thinking There's only five minutes left! I also drank tons of iced coffee because it was a 110° heat wave — and I was welding.
Where did you live during filming?
In a hotel across from the Burbank, CA, airport. I ate the same few dinners via room service or at the hotel restaurant almost every night.
What was the hardest challenge?
Building the dining room table almost sent me home. I made a mash-up table with a traditional wood top and modern metal legs. Not good!
Which piece was the most fun to build?
The sectional couch. It was enormous, had a built-in shelf, and was the first piece of upholstered furniture I ever designed. And it won me the challenge! It was so much work, but I had a vision for it, and I would not give it up.
Any injuries?
Only sleep deprivation.
Is Ellen funny in real life?
Definitely! She's also very sneaky. She'd appear on set when you least expected it, like the time she drove in on an airport baggage handler's mini tractor.
You won $100,000! What's next for you?
I might start a group studio for artists where I live, in New England; put a down payment on a property; or buy some new equipment. Or all three!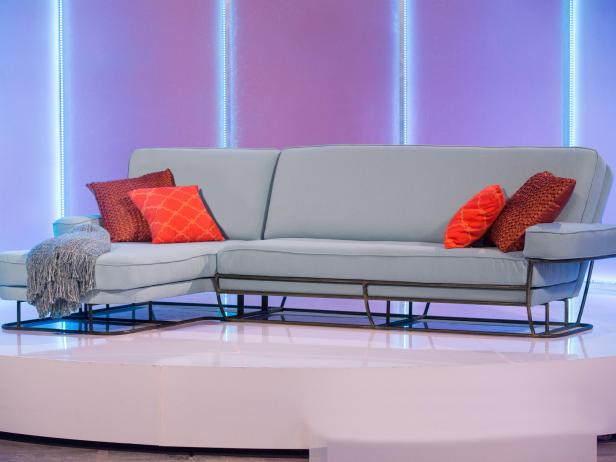 Blue Sectional Designed by Vivian Beer
HGTV Magazine introduces you to the winner of Ellen's Design Challenge, Vivian Beer. The monumental sectional that won Vivian the sofa challenge.