Ellen's Design Challenge: Meet the Season One Contestants
On Ellen DeGeneres' first-ever competition show, six furniture makers battle to bring home a $100,000 prize. HGTV Magazine gives you a sneak peek.
Six hopeful designers (see their bios on the opposite page) head to Los Angeles to compete against one another—and the clock—in a series of furniture-making challenges. With the stopwatch ticking, they usually have less than 48 hours to construct a piece that wows the judges, or they risk elimination. Helping them out: HGTV handymen Chip Wade, Jeff Devlin, and Matt Muenster as their on-call carpenters, and some witty weigh-ins from Ellen, who drops by for look-sees. The last designer standing wins the grand prize—and lifetime bragging rights.
Ellen's Design Challenge
The contestants face a surprise twist on their very first day.
Stephanie Diani / Getty Images
The contestants face a surprise twist on their very first day.
You're gonna be on the edge of your seat with every episode. And these people make seats, so if that doesn't blow your mind, I don't know what will.
Ellen DeGeneres
Jose Gaspar de Jesus, Los Angeles, CA
Backstory: Obsessed with Legos as a kid, this native Venezuelan earned a degree in industrial design before launching his line of Art Deco–influenced furniture in 2009. His best-seller: a walnut bar cart with tilting sides that make it look tipsy.
Why he'll win: "I'm a leader. I think big, I take chances, and I won't do something you've seen before."
Katie Stout, Brooklyn, NY
Backstory: Katie started making one-off furniture, like a side table in the shape of a cow's udder, in college. Now a full-time furniture designer, she's crafting paper pulp tables, cartoon-bright wool chairs, and eyeball-shaped rugs in her basement studio in Brooklyn.
Why she'll win: "The show plays to my strengths. I'm a procrastinator, so I'm great at doing things last-minute."
Tim McClellan, Durango, CO
Backstory: At 14, this self-taught designer won his school's home-ec. prize for his top-notch sewing and cooking skills. Seven years later, Tim founded his own furniture company, selling Western-style pieces he handcrafts from reclaimed wood.
Why he'll win: "Because I'm old. I have experience. Also, I can make something out of nothing."
Carley Eisenberg, Asheville, NC
Backstory: A blacksmith with a master's degree in furniture design, Carley opened her one-woman forge in 2013, fashioning everything from hooks to trowels. She also creates quirky pieces based on fairy tales, like a menacing steel rocking chair à la the Big Bad Wolf.
Why she'll win: "I'm unique. Being a blacksmith is a dwindling art. It has prepped me to work super hard."
Mark Moskovitz, Yarmouth, ME
Backstory: Since 2005, the rustic-industrial furniture crafted by this award-winning designer has been featured in museums and magazines, and on you-want-this design lists. His most buzzed-about piece: a log chest of drawers resembling a stack of firewood.
Why he'll win: "I can step out of my comfort zone and not just repeat designs that have worked in the past."
Leslie Shapiro Joyal, Los Angeles, CA
Backstory: Interior designer Leslie added furniture designer to her résumé in 1994. Her solid wood pieces—simple maple bookcases, minimalist birch dining tables—are inspired by American Shaker, Japanese, and midcentury modern designs.
Why she'll win: "I've survived a cerebral hemorrhage! I always come out fighting when it's sink or swim."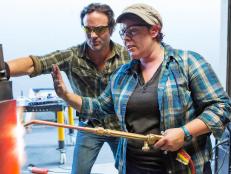 Furniture designer and season two champ Vivian Beer lets HGTV Magazine in on the hush-hush secrets you didn't get to see on TV.