Eclectic, Glamorous Living Room
Designer Troy Beasley creates a sophisticated living space, complete with two distinct seating areas and a stunning bar, perfect for entertaining.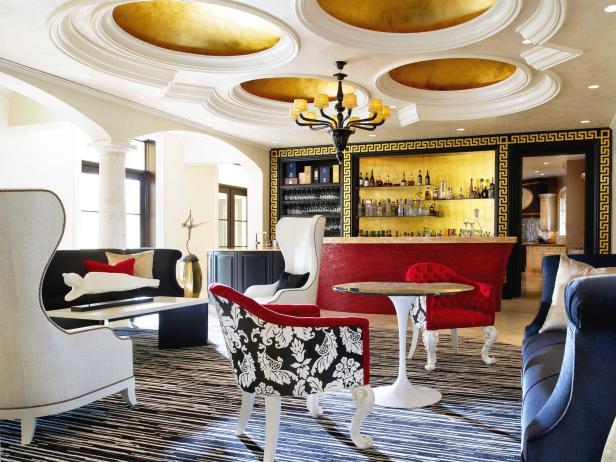 Dramatic Eclectic Great Room With Round Recessed Ceiling
Designer Troy Beasley brings a mixture of dramatic furniture and lush fabrics to enhance the beautiful architectural details of the living space. Striking gold accents, like the round tray ceiling and bar backsplash, give this great room a glamorous, Hollywood regency look. Tufted, upholstered seating in a variety of styles is arranged to create a cozy, conversational atmosphere.
Designer Troy Beasley of Beasley & Henley Interior Design mixes bold colors and glamorous gold leafing with a combination of traditional and contemporary furniture for a cool, eclectic entertaining space.
We spoke with Troy to find out how he tackled the design challenges and incorporated the clients' goals into this project.
Describe the homeowner's wish list.
The homeowner wanted a living room space that is set for entertaining. The space needed to be luxurious but fun and very high end.
Each of the two areas of the room needed to function independently for smaller gatherings.
What were the homeowner's design problems?
The single-largest issue to address was the time constraints. He wanted everything completed quickly, but the materials selected and the custom nature of the project dictated a longer than desired time frame to finish the work. Custom ceiling details, gold leafing, onyx bar top, seams in the curved bar and the specialty lighting all took time to prepare and install correctly.
How does the end result match up with your original vision?
This project turned out as expected. Despite the client's desire to move the project along quickly, he let us do our job as we needed to and it all worked perfectly.
What are the "hidden gems"?
The gold leaf is enhanced by lighting, while the bar back is concave and reflects the lights. We chose red tile because it was so different and the client really liked the color. The white chairs are crocodile-embossed leather, adding a cool texture to contrast the sleek styling of the chairs.