Artistic Living Room Update
Designer Paisley McDonald infused this living area with pops of color and funky wall art to give an otherwise traditional design an eclectic spin.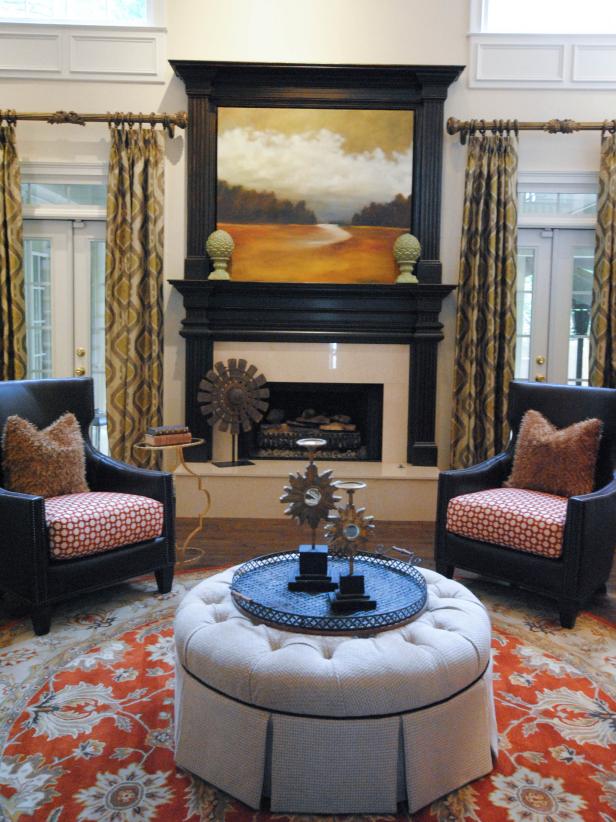 Living Room With Black Mantle and Dual French Doors
Designer Paisley McDonald paired a wide range of textures, colors and patterns to achieve an eclectic look in this living room. A black mantle makes a centered statement while colorful curtains add symmetry in front of the windows.
These Georgia home owners asked Paisley McDonald to give their living room a remodel that had an evident designer's touch. The end result is an elegant living area that pairs classic pieces, like leather arm chairs and a wooden credenza, with pops of artistic flair.
What were the main items on the family's wish list?
The family desired a living room that looked like a designer put it together. They wanted a room you wouldn't see at the neighbor's house. They also desired a space that was comfortable to entertain in –– where they could lounge with a drink or comfortably talk to their kids.
What was the single largest challenge you wanted to address for this client?
The biggest issue in this room was the existing rug was square and very neutral. The problem with the square rug was that everything surrounding it was rounded (rounded back chairs, round chandelier, round configuration of chair placement, etc.). The square rug threw off the harmony of the entire room. It was also very plain and did not provide any depth, color or pattern. The rug is one of the most important parts of a room as it sets the backdrop and tone for everything else. It's like a canvas to an artist's masterpiece.
What was your biggest obstacle in this space?
My biggest obstacle was getting rid of all the brown –– brown leather chairs, brown floors, green/brown mantle, brown credenza. I had to infuse color into the space so that the space became inviting and had its own personality.
How does the end result match up with your original vision for the space?
The space actually turned out better than we expected. Sometimes, I have a vision in my head and it turns out better in person than I can present or communicate to the client.
What surprised you the most about the project?
This project reinforced my instinct as a designer to "go with my gut." I love my client, though she had a really hard time adjusting to the idea of a round rug since she had lived with square for so long. I encouraged her to trust me and at the end of the day my persistence paid off.
What are the hidden gems in your plan?
I subtly used a medallion motif that is on the face of the credenza, throughout the room. You'll notice the motif is in the end tables and drapery pattern as well. Another hidden gem is I turned all of the leather chairs into a fabric/leather combination. I chose a vibrant fabric and structured pattern so not to make them look overly traditional, but give the all brown chairs a pop of pizzazz.
Lastly, I wanted the room to have dimension, so I used a shaggy fabric and custom-made throw pillows for each chair. I also used "Boom" wall sculptures in varying sizes to stick out from the wall and provide not only visual interest, but a conversation piece. Dimension is really important to incorporate into a room and can be achieved with specific items or by color. I believe we successfully used both.