Eclectic Pink Living Room
Designer Jennifer Jones played on soft pinks and eclectic style to create these beautiful living and dining spaces.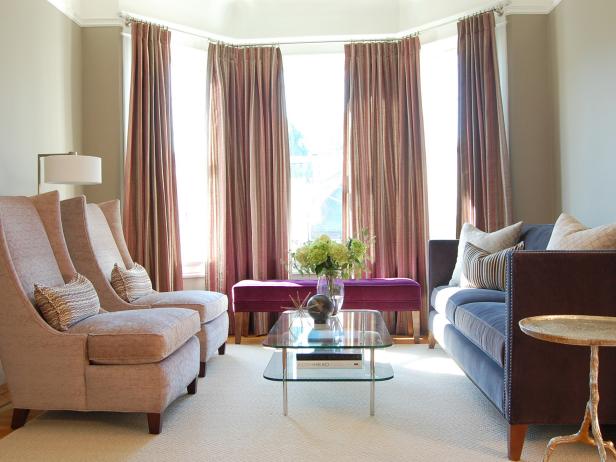 Eclectic Pink Living Room
Designer Jennifer Jones played on soft pinks and eclectic style to create this beautiful living space.
After discovering that her clients were seeking unique living and dining spaces, designer Jennifer Jones used a mix of classic design style and modern touches to create an eclectic space. The end result is not only stunning, but includes the perfect hint of a romantic vibe.
What were the main items on the owners' wish list for redesigning this space?
Our clients, Ron and Sean, had just moved back to San Francisco after a few years in London. They wanted a space that reflected their eclectic and worldly aesthetic. We achieved this by mixing classic, traditional upholstery with midcentury-modern lighting and case goods.
What was the single-largest issue you wanted to address for the owners?
We wanted to create a stylish and comfortable entertaining space that provided as much seating as possible in a tight San Francisco Victorian. Since the dining and living room are connected, we needed the two spaces to feel cohesive but not match-y. We achieved this by sprinkling lilac, navy and taupe throughout the apartment.
What was your biggest obstacle in this space?
I think the biggest challenge was coming up with a design concept that incorporated both of their tastes and that fit in with the architecture of their home. While they loved so many design styles, from art deco to midcentury modern, we knew that we had to narrow the focus for a successful outcome.
How does the end result match up with your original vision for the space?
The end result turned out better than I could have expected. The clients had great taste and were willing to take some risks, especially when it came to combining colors. It was a collaborative effort that really paid off.
What surprised you the most about this project?
This project proved that a home can be as much fun as your clients. It inspired me to encourage more clients to take risks with color and mixing design styles.
What are the hidden gems in your plan?
The metallic wallpaper with a flying bird motif was one of my favorite elements in the dining room. The manufacturer, Cole & Son, is our go-to source for whimsical and offbeat wallpapers. The custom drapes in the living room make such a statement and illustrate how well window treatments can create drama and add softness to a space.