Sophisticated, Glamorous Bedroom That a Little Princess Can Grow Into
Interior designer Karen Wolf combined metallic finishes with a soft but strong color palette to create a sophisticated glam look for a young girl.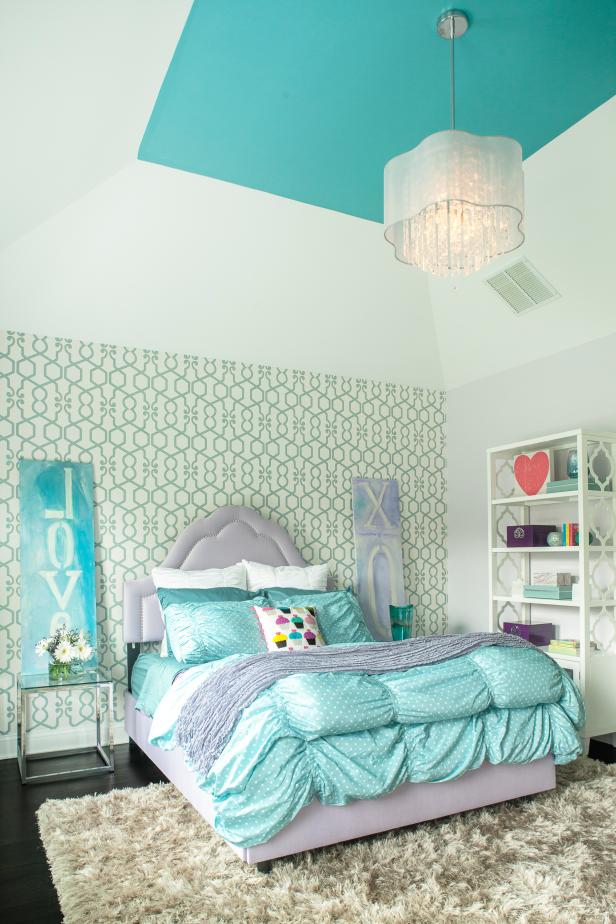 Glamorous Girl's Bedroom With Patterned Accent Wall
A graphic accent wall serves as the backdrop for a lavender upholstered bed in this girl's bedroom. Layered bedding and a flokati rug add texture to the space.
Photographer: Christian Garibaldi
What were the main items on your client's wish list for the remodeling/redesign of their space?
Moving to a new home is a scary prospect for a child. Some of the most important rooms I work on for my young clients are their children's spaces. A child's room needs to be special and personal—as well as a place where the child will feel safe and comfortable.
Sophia, a sweet little princess, was moving to a new house and into a "big girl" bed. We designed her room around her sweet personality, with soft lilacs and watery blues to create a calm and sophisticated space that will grow with her through time. We added touches of metallics for "little girl bling" and strong color on the ceiling to help ground the room.
What were your main objectives and goals?
We wanted to incorporate unique, never-seen-before wallpaper patterns with a soft, but strong, palette. We were going for a "sophisticated glam" feeling.
What improvements and changes make this room unique to your client?
The home was empty prior to the renovation, so the room was not being used. However, the little girl was going from a crib to a bed. We chose soft fabrics, rugs and colors so that the little girl felt safe and nurtured in her new space. We omitted bedside lamps, which might cause problems for a toddler learning to get in and out of bed.

What was your biggest obstacle, and how did you address it?
My biggest challenge was balancing the strong design and graphic orientation of the husband—who liked bright, bold colors—with the softer colors that the wife preferred. This room reflects a perfect blend of both of their personalities as well as the little girl's smart and sweet persona. Sometimes design is a negotiation that can produce a beautiful outcome when all parties are flexible and willing to collaborate to create a special space.


What was the inspiration for this project?
A sophisticated, glam adult's room in purple inspired the client. She wanted a room with a strong, pretty feel that Sophia could grow into. The vibe of the space she liked was more serious, so we brought down the intensity of colors and softened the shapes of the furniture and lines in the room. I added champagne metallic accents (window treatment, light fixture and rug) to make the room glow.
Was there a specific piece of furniture, fabric, color, texture or piece of art that was essential to bringing the design together?
Yes, the wallpaper. Clarke and Clarke, Augustus Mineral.


What is your favorite feature, element or detail of the room?
I especially like the combination of the colors and femininity of the room. My favorite feature is the custom artwork, "XO" and "LOVE," that I commissioned a local artist to paint.

What was your process of pulling the fun wallpaper, painted ceiling, chandelier and shag rug together to create a playful, but sophisticated look for this young girl's bedroom?
The client and I started with a tear sheet of an adult room that she liked. We discussed the priorities of the space and color palette. Purple was the main color that had to be incorporated into the space. I searched high and low for a sophisticated but sweet purple wallpaper that would define the room but found nothing that I liked. I had to guide them to the teal paper, which they felt was a departure from the original vision.
I convinced them to use lilac with the teal, which also was a challenge. Then I tried to show them how you need a neutral to let the colors play off each other. This may seem like common knowledge to those in the design world, but these clients needed quite a bit of basic design information before we could execute their vision. Once we all fell in love with the Clarke and Clarke paper, I worked on the rug next. After that, the rest of the room came together easily.
We found the gorgeous Cynthia Rowley bedding at Home Goods; it makes the room even more delicious. Since the ceiling was high, we painted it a darker shade than the wallpaper color (Benjamin Moore Peacock Blue) to lower the height and create a sense of intimacy. Without the metallics, the room would feel flat. The champagne accents enable the room to balance and glow.

What makes this project uniquely yours? How did you integrate your own style into the project?
My goal is to create homes that are inviting, relatable and comfortable for most people. I usually achieve this with palette, form, product, shape and layout. I consider my designs to be approachable but not generic. Most of the items I source are just different enough to be considered fresh and relevant—but not too far off the beaten track to be intimidating.
My design style uses what I call "natural bling." I use natural fibers and metallics in almost every project I create. The clients then guide the application of different tones, colors and contrasting elements to varying degrees. The level to which these elements are used is what makes each project so unique and different.
I'm well known for color nuances, where I find the right balance of colors. I strive to use the right levels, tones, and placement of each color. I also strive to be a good listener. The better you can read your client, the better the design will be.
What are the strategies that led to the overall success of your design?
Always spend time on artwork. Art is so vital to a room. I spend hours, days, sometimes months looking for the perfect pieces of art.
Customization is crucial in today's mass market world. Even one custom element in the room can elevate the room from the ordinary. In Sophia's room, I had a designer from Etsy create a custom mirror to go over the dresser.
Window treatments are the "second rug" in the room. Be sure to account for them in your budget.
Rugs can be challenging but are worth the effort. It's difficult to determine color and texture from online showrooms, but vendors like Rugs USA and Overstock offer easy ways to obtain samples and make returns.
Paint color is vitally important. I paint swatches, sometimes more than three colors, because color and hue can make or break a room.
I almost never do custom bedding. The key is in the layering of the components, not in a custom duvet. You may have to purchase from three or four sources to find the right pieces but there is usually no need for custom bedding in most cases.
When it comes to lighting, either go big or go home. A too-small light fixtures can be a really big design mistake. If you're unsure, go up a size.
Recessed lights may seem less attractive, but the can really help light a room properly. In the older homes that I work in, some clients skip the recessed lights and then regret the decision later.
Use a pop of color somewhere fun—behind a bookshelf, on a ceiling, on the trim, or on a door. I usually tie the color back to the room through accents so it doesn't seem to be "coming out of nowhere." You may want to calm down the color pop with a "neutral" tone.
Bring on the bling! Small hints of metallics add large punch. You'll need to balance it out, though, with a sisal, natural fiber, linen or other flat, earthier element.