Historic Bohemian Dining Room
Designer Naomi Stein rescues a style-starved dining room and turns it into a posh and practical space.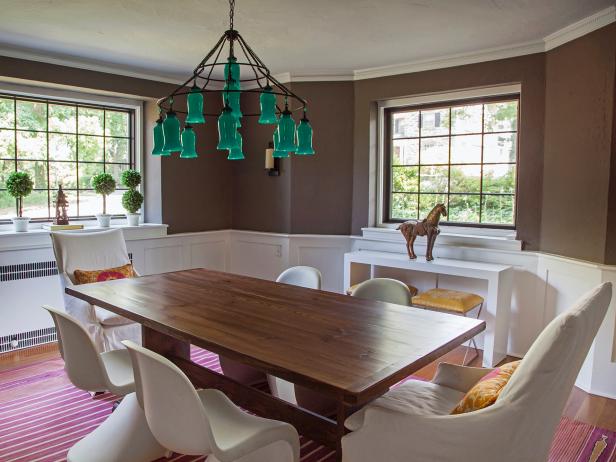 Dining Room With a Bohemian Touch
The contrast between the white wainscoting and rich walls is crisp and modern. The turquoise chandelier adds bohemian flair to the dining room.
There comes a time when parents of small, messy children hunger once again for a stylish home. Naomi Stein of Design Manifest fulfilled the desire of a young family who yearned for a dining room that was sensible yet chic. Paying homage to the century-old dwelling, Naomi first wrapped the room in traditional wainscoting and furnished it with a blend of modern and country pieces.
Naomi shares how the mixture of traditional and modern elements brings the room to life.
How does the design strike that balance?
We chose furnishings for their looks and functionality. Iconic Panton chairs, for example, can be wiped down. The table is already rustic so no need for a tablecloth. And the cotton rug can be cleaned fairly easily.
What was on the homeowners' wish list?
In keeping with their 100-year-old house, my clients wanted a dining room that felt somewhat traditional and formal, but they also wanted it to reflect their modern sensibilities.
They desired a kid-friendly space for everyday meals that could also be the setting for a sophisticated holiday party.
What was the biggest design challenge?
The bumpy plaster walls. My clients did not want to eat up the budget skim-coating them, so we masked the issue with wainscoting. The crisp white wainscoting on the bottom half balances out the brown-gray walls and adds that traditional element my clients were craving.
What lessons did you learn?
Wainscoting isn't very expensive and makes a huge impact in a room. Also, modern accessories mix so well with traditional elements. We purposely mixed a few styles and as a result the space feels layered and collected.
What is the hidden gem in the space?
It's a small thing, but painting the window mullions dark really makes them pop and resemble iron windows which is fitting for an old home.