Dark Room, Furnishings Transformed Into Bright, Coastal-Style Design
Designer Lori Rourk took a dark space with dated furniture and created her own coastal-inspired retreat with distinct living areas, white accents, smart pops of color and shiplap-covered walls for a space that's uniquely hers.
Calm, Coastal Living Room
Instead of buying all-new furniture to create a calm coastal environment in her living room, designer Lori Rourk transformed her existing furniture. "All of this furniture in its existing state was very dark and gloomy. I loved the lines of all of these pieces, so instead of buying new, I would recreate my vision to be light and airy," Rourk says.
What did you want for your home?
Since this was my own personal space, I had the luxury of making a wish list for myself and understanding exactly how I wanted the space to feel. My vision for the space was to really lighten it up, open it up, and create lots of different textures and layers throughout the room. I wanted to create a sense of calm mixed with a coastal feel, so that I could always be close to the beach here in Texas. I wanted it to really be a place that I could get inspired for my clients each time I entered it.
What did you want to accomplish?
I had a lot of existing furniture already, but it was all very dark and gloomy. I loved the pieces themselves, so I decided to repurpose them to be light and airy, rather than buy all-new furniture. I wanted to create a light, bright, organic and coastal space for myself and my guests, somewhere that would really inspire me.
How did you give the room a larger, more open feel?
In order to give this small space a larger, more open feel, I used mostly neutral colors throughout and added a pop of color here and there with different accents. I also separated the space into different areas to make sure that it truly "had it all." By creating these separate areas for sleeping, living and working, it doesn't feel like the space is missing anything and allows it to function better.
What makes this space unique to you?
Coastal Vignette With Mirror and Seashells
Designer Lori Rourk transformed a once-tired antique record player into a chic focal point by adding blown glass knobs and refinishing the wood. Inexpensive coastal accessories finish off the look and bring a real sense of character.
Before, this space was very dark and gloomy. It made it hard for me to get inspired and wasn't somewhere I wanted my guests to stay when they came to visit. To improve the space, I redid most items, such as putting in wall-to-wall seagrass carpet, adding the shiplap walls, painting existing furniture white, reupholstering existing furniture in an organic linen, and adding new lighting, a new desk and new accessories. Overall, I took most of what I already had and made it light, bright, organic and coastal. I'm originally from Georgia, and I moved to Texas from Florida, so I really feel at home and inspired with my coastal chic look. The style is my own personal unique style and most of the items in the room were already mine, so this space is very unique to me.
What was your biggest obstacle?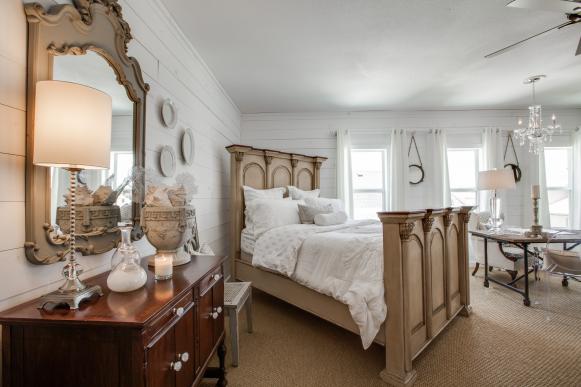 Small Studio Bedroom with Coastal Vibe
A former old-world bed was transformed into a coastal focal point simply by changing its surroundings. "I never dreamed that it would work in this environment," says designer Lori Rourk. "Once I placed it in the room, it became a focal point and was an unexpected delight."
The most challenging thing about this project was trying to fit all of my needs into this one space. I wanted a guest room, a living room and a studio. In order to achieve all of this, I had to separate the space out and add elements to make it appear larger than it actually is. I found pieces that all worked together and turned it into the perfect space for my needs.
What inspired this project?
The inspiration for this project came from a few different places. I had an old French photo that inspired the setup on one of the walls. I wanted to try and re-create the look at a cheaper cost. Several of the items I used reminded me of old coastal homes, and there were many antique items that I bought or previously owned and repurposed. It all came together in a coastal chic style.
What do the elegant light fixtures add to the space?
I believe the elegant light fixtures in this space help to create different "rooms." They also add sophistication and elegance to help create a beautiful room. They serve as inspiration when I am working in here and make a beautiful accent if I have guests staying here.
What are you proudest of?
My favorite thing about this space is that you would never be able to tell that it was once a lackluster, dark space. It's completely transformed. It's light, bright, airy and organic, reminding me of a beachy oasis and helping me become easily inspired. I love so many different elements in this space, but one of my favorites is the acrylic-leg bench. I love the modern feel of an acrylic-leg bench, but they're oftentimes very expensive. I found this one at HomeGoods for the deal of a lifetime. The candlestick on top of it costs more than it does, but I love mixing high- and low-end items, especially when no one can tell which is which.
What do you feel the shiplap wall brings to the space?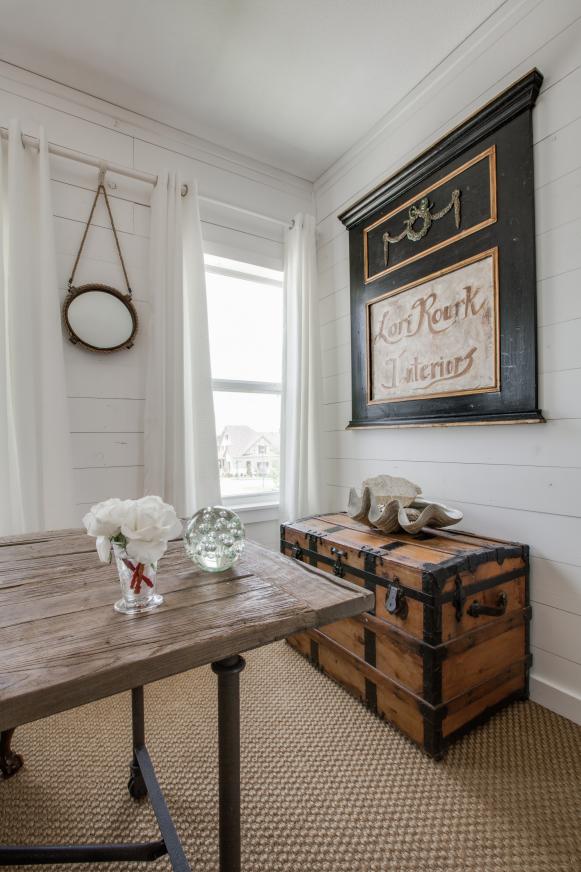 Rustic Studio Workspace
This small studio workspace uses a mix of different types of materials for an interesting texture. Old and new looks create an overall creative aesthetic while the black helps anchor the space.
I think the shiplap walls really tie the whole space together to give it the coastal chic feel. Since they are painted white, they help to open up the space and make it feel more organic. They also add simple texture to the room. It really makes you feel as if you're on the beach somewhere.
How did you integrate your style into this space?
For each of my projects, I like to add a bit of a twist to whichever style my client likes. I enjoy mixing old and new elements in a room to create a visually interesting and "elegantly chic" style. For this specific project, I added several more modern and elegant pieces to this otherwise coastal room to give it a more modern, coastal chic feel.
What added color and texture to this space?
I kept the space pretty neutral to allow for a more open and organic feel. I added color to the room with several different accent pieces. For example, I added some pink in the flowers, and some blues and greens in the bar cart. I really wanted to create different textures and layers in the space, so I re-covered several items and brought in many new items as well. I believe the main elements that add texture are the shiplap walls, the seagrass carpet, the bearskin rug, the acrylic chair and the tufted velvet acrylic-leg bench. There are so many more textures throughout the space, but these are some of my favorites.
What "hidden gems" are in your design?
I think one of the best parts of designing this space was that I wasn't sure if a lot of the items in the room were going to work out. I wanted to change the look of several of the items, and there were several that I didn't think were going to work at all. When I added them to the design, however, they each brought so much to the space, whether it was depth, tradition or an anchor, that they had to stay the way they were. Being able to adjust your original plan makes a huge difference in the success of a design and the changes I made created an even better space than I had originally imagined.