Warm, Coastal-Inspired Yard Draws Minnesota Family and Community Together
See how senior designer Heather Grossmann of Mom's Design Build uses coastal hues and versatile outdoor features to create a relaxing, family-oriented space for the Mpls. St. Paul Magazine's 2015 Showcase Home.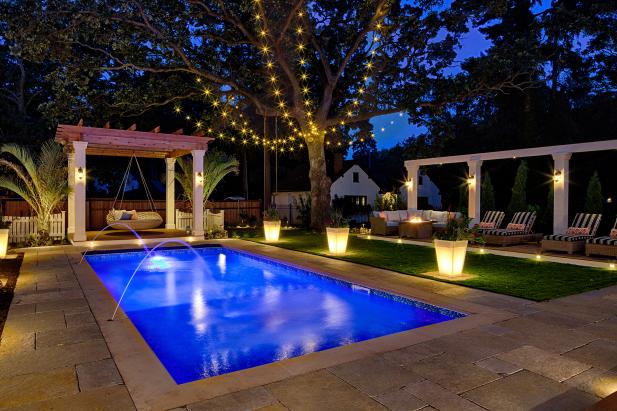 Pool and Outdoor Space with Lighting
Lighting can make a huge difference to the look of an outside space. Bistro lights in the oak tree, illuminated containers and landscape lights help create a romantic and fun atmosphere. The pergola was designed to have decorative privacy screens in between the posts and is lit with decorative sconces.
Selected to design the exterior spaces of the Mpls. St. Paul Magazine's 2015 Showcase Home, Mom's Design Build senior designer Heather Grossmann drew on the homeowners' strong sense of family and community to create a warm, coastal-inspired backyard.
"The owners, Mark and Susan Lacek, are just amazing people," says Jim Sweeney, founder and senior designer of Mom's Design Build. "They have two teenage daughters who are very active, so they wanted this to be a spot where they could spend time with the girls, as well as entertain."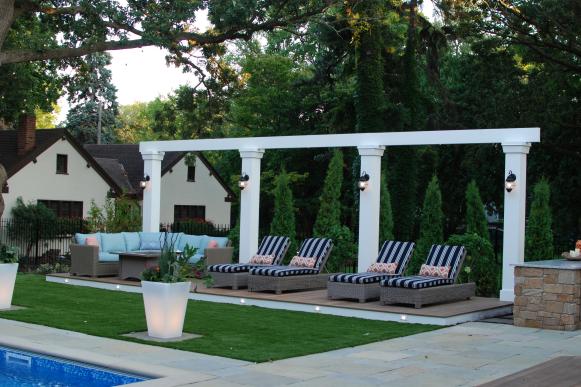 Raised Lounging Deck and Tumbling Turf
Wooden deck overlooks synthetic turf.
Steve Silverman Imaging
Wooden deck overlooks synthetic turf.
With just two months until the opening of the Showcase Home, Grossmann needed to quickly and efficiently transform the Laceks' outdoor space into a retreat for family gatherings. Because the yard had been stripped bare from construction, she began by introducing synthetic turf to the setting.
Spanning between the pool and deck, the artificial grass revives the stark yard with vivid color and texture and serves as a drainage field and tumbling space for the Laceks' gymnast daughters. When they're not practicing backflips on the in-ground trampoline, the girls have plenty of room to perfect their cartwheels on the turf.
"It's great for entertaining, too," Grossmann notes. "If you're throwing a party and your guests are wearing heels, they won't sink into the dirt."
Steve Silverman Imaging
Deck features fire pit, sectional.
Versatility was key in designing the deck as well. Where lounge chairs give the parents room to relax and supervise their girls, the fire pit and weatherproof sectional invite guests to sit and converse, even during the winter.
Teal, coral and splashes of yellow pop on the furniture, which Grossmann used to enliven the backyard and achieve the warm, coastal-modern aesthetic the Laceks desired.
"They wanted a beach house in the middle of the city," she explains.
Steve Silverman Imaging
Pergola with view of deck, patio. 
Although the nearest beach is many miles outside of Minneapolis, those coastal hues evoke the relaxing nature of the ocean. That tranquil tone was especially important to Mark and Susan, who devote their time away from home to serving families through their nonprofit, Faith's Lodge.
Established in memory of the Laceks' first child, Faith's Lodge is a peaceful escape that gives parents a safe space to grieve and connect with couples in similar situations. With this cause close to their hearts, Mark and Susan needed their own space where they could rest and recharge.
Thus, Grossmann added an iron fence and a row of hedges behind the deck to provide some privacy without shutting out the neighbors.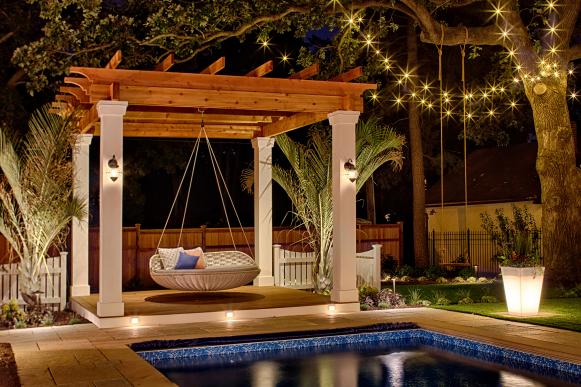 Pool Area with Swing Bed, Pergola and Lighting
Pegola includes swing bed, palm trees and gentle lighting. 
Steve Silverman Imaging
Pegola includes swing bed, palm trees and gentle lighting. 
Tropical plants and a swinging bed enhance that calming environment. Anchored on either end of the pergola, two palm trees pair with the swing to create the Laceks' own private, poolside cabana.
The designer notes that quality lighting is also essential to maintaining that alluring atmosphere.

"It's so important in Minnesota, especially in the winter, because the days are so much shorter and darker," she says. "I think having those lights really makes a backyard come to life."
The bistro lights strung across the oak tree and planters with LEDs turn the backyard into a stunning showcase, which the Laceks can enjoy from inside the home or from their back patio.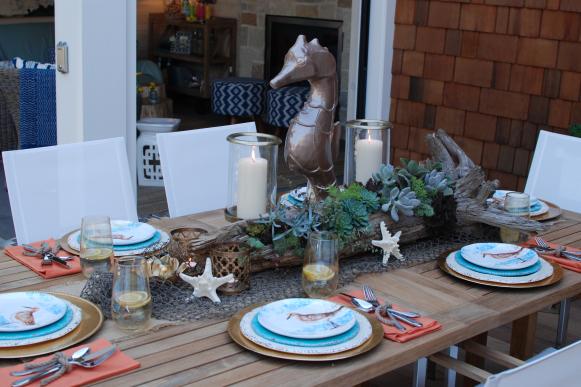 Coastal-Inspired Outdoor Dining Table
Teak wood dining table with six sling chairs. 
Steve Silverman Imaging
Teak wood dining table with six sling chairs. 
With limestone tile that connects from the indoor-outdoor kitchen and a teak table with six sling chairs, the patio becomes a natural extension of the home by making space for family-style dinners. Accents in coral and teal tie the yard together for a look that's coastal and cohesive.
While the designers agree that participating in the 2015 Showcase Home was an honor in and of itself, they insist that the most rewarding part of the project was getting to know the Laceks.
"It was a privilege for us to work with them, to give them this incredible space that works so beautifully for their needs," says Sweeney. "It's a special place for a special family."