Bachelorette Bungalow Inspired by Hermes
Kerrie Kelly and team designed this timeless space for a bachelorette looking to have a realxing Napa Valley getaway.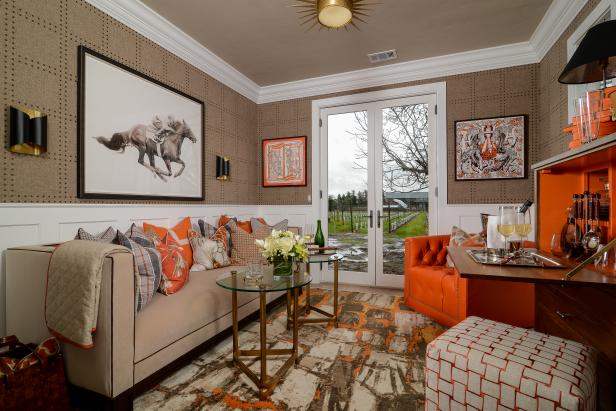 Midcentury Modern Living Room is Comfortable, Sophisticated
Accessorized with bright orange Hermes scarves and equestrian-inspired art, this sophisticated living space evokes a chic, masculine vibe. A velvet-covered tete-a-tete pairs with a tufted leather armchair and chic glass coffee tables for a cozy yet refined space.
What were the main items on your client's wish list?
Our client expressed that she would like for us to create a place to escape from the world. She also wanted her home to be a respite for herself or guests filled with her favorite elements. Also, she desired a view of the lush Napa Valley vineyards.
What improvements did you make to the home?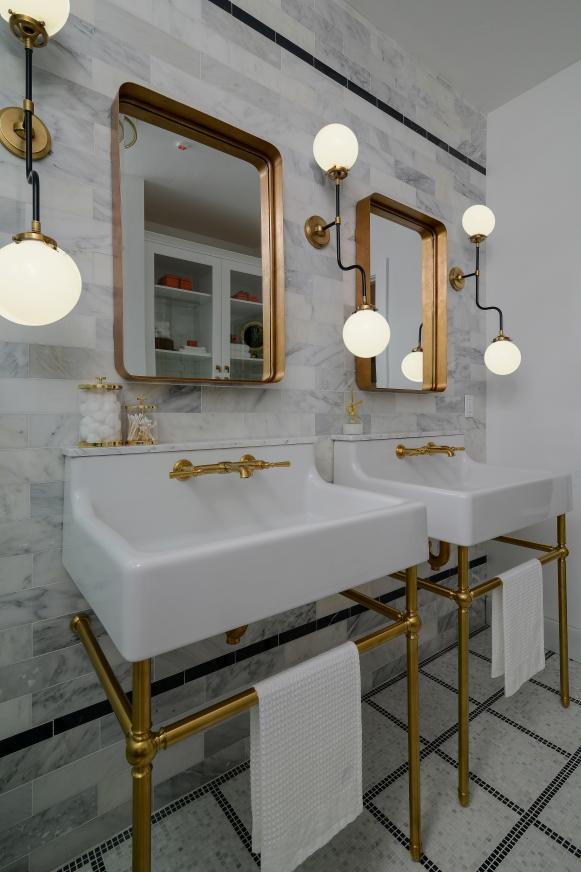 Marble-Clad Master Bathroom
Elegant white vanities feature open, gold bases and gold faucets, bringing metallic charm to the master bathroom. Brass sconces surround the deep-set mirrors for a little Art Deco inspiration.
Our client was a bachelorette and the home had to suit her needs and those of her guests. We renovated the closet to accommodate all of her favorite clothes, shoes, accessories, and more, making sure that each piece had its own stylish storage solution. We also took a sledgehammer to the bathroom, completely gutting it and putting a unique Art Deco spin on the space with glamorous touches for mega-sophistication.
What was your biggest obstacle in the redesign of this home?
Remodels rarely go as planned, and this project was no exception. Our contractor was behind schedule, due to permitting that he couldn't avoid, so our team had to wait until all documents were in place to get inside the home. Once approved, we sprang into action installing the suite in 24-hours and the bathroom in just three days. We were able to pull off a very fast installation, just in time for the homeowner's much-anticipated housewarming party.
What inspired the style of this home?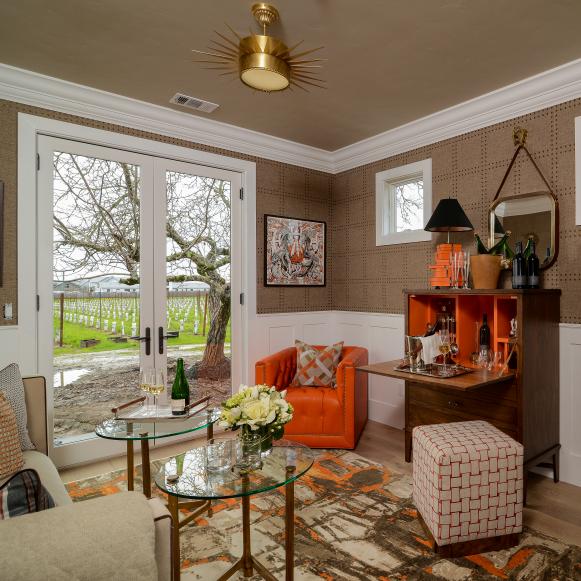 Midcentury Modern Living Room is Sophisticated, Masculine
An abstract rug brings style underfoot, while sleek yet comfortable furniture pairs with glass coffee tables and a chic bar. Glass French doors bring in natural light and overlook the California vineyard.
The homeowner's eye drifted toward travel and fashion—two categories we can definitely appreciate! Though feminine, she had a toughness to her personality that called for strong design elements like dark woods, mixed metals, and shots of tangerine.
What's the trick to picking the right color palette?
Our client is inspired by Hermes' timeless style, and so were we. We borrowed ideas from the fashion house's thoughtful packaging in orange and chocolate and framed our favorite Hermes scarves to dot the walls. A layer of 42nd Street Design custom furniture rounded out the look to provide a loungey effect.
How did you go about selecting the standout design pieces?
Once our design team determined the color palette, the rest of the look fell into place. We always kept our client's personality front of mind when selecting everything, from wallpaper to sconces. The overall design is deeply rooted in classic style, but we knew that we wanted to reflect the homeowner's fast-paced, fashion-forward lifestyle too.
What custom design elements did you add to the home?
Our team added all of the wainscoting and molding, as we believed it necessary to communicate the design. The light fixtures and bathroom sinks are quality reproductions by DXV, who we can always rely on for some of the most glamorous pieces in the industry. The textured wallpaper is from Phillip Jeffries, setting the tone for the entire space. The secretary-turned-bar is a piece I designed for my furniture line, 42nd Street Design. Its versatility made perfect sense for this space—we customized the interior and exterior, hardware, and finishes to make a bold design statement.
Is there a story behind the equestrian artwork?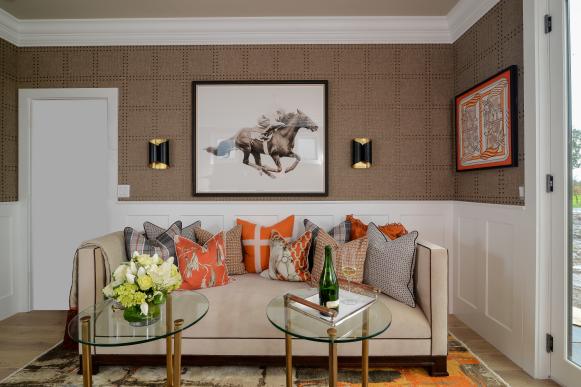 Midcentury Modern Living Space With Masculine Charm
Textured wallpaper with nailhead detail pairs with bright white wainscoting to create a sophisticated, masculine, midcentury modern space. A streamlined, neutral sofa is topped with cozy pillows that bring texture and pattern to the room. Glass-top coffee tables lend an airy quality to the space.
The beautiful equestrian artwork was provided by our good friends and industry partner, Silver Trident Winery, in Napa Valley. Once we walked the space for the first time, we saw that a special statement piece was needed, and knew just the people to call. The art ended up complementing the home, the homeowner, and the entire Napa property.
What makes this project uniquely yours?
Something our team always looks to incorporate is livability—the idea that anyone that enters the home can be comfortable, welcomed, and enjoy the space. So, while this Napa Valley suite is beautiful, it is also highly-functional and perfect for all visitors—the new mom and baby, grandparents, or someone with low-mobility.
What are the "hidden gems" that really made a big difference this design?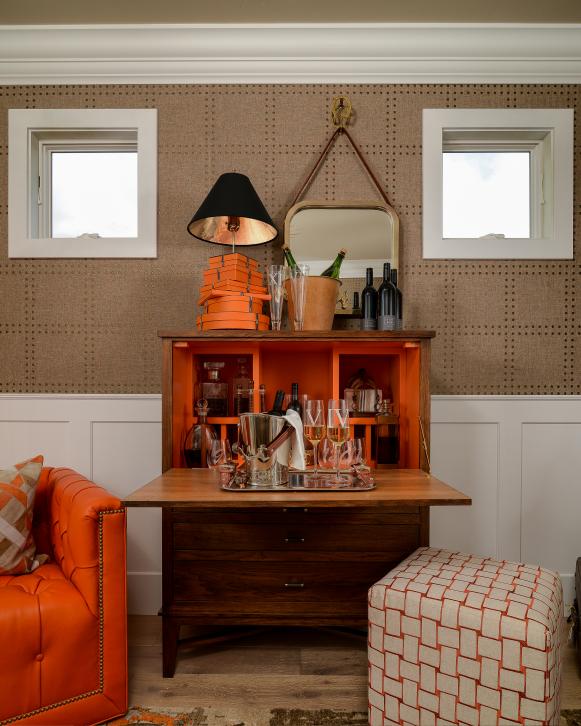 Chic Bar in Masculine Living Space
A bright orange interior makes a statement in the secretary-turned-bar. Textured wallpaper with nailhead detail brings masculine style to the living room.
The not-so-hidden-gem that we played up was the idea that while the space is small, that doesn't mean it can't be high on style. We knew we wanted to pack in all that we could without looking too overdone. We wanted to perfectly balance fashion and function by using pieces of furniture that are typically thought of as one way and then spinning it and using it a different way, like the secretary-turned-bar.