Exterior Showcases Sculptural Details
Landscape designer Katharine Webster discusses how she designs a front yard to showcase art.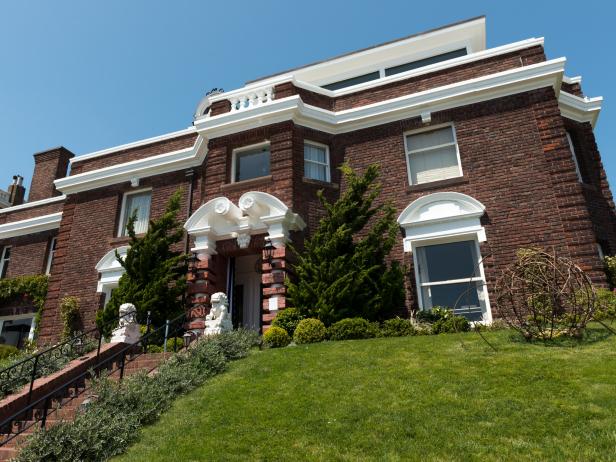 Large Traditional Brick Home
This brick home has traditional elements that give the structure curb appeal. Ornate white details above the front door draw the eye toward the center and contrast boldly with the rich brick facade.
Katharine Webster views every project as an opportunity to design landscape architectural solutions, and the 2013 San Francisco Decorator Showcase was no exception.
We caught up with Webster to see how she tackled the exterior landscaping of this historic home.
Describe the homeowners' wish list.
Our firm was invited to create a sculptural element for the front yard of the Showcase. The homeowners had requested that no real changes be made to the garden therefore the solution had to be striking and significant but also moveable and easy to disassemble. The rolling lawn reminded us of a place where children might play. Fanciful, modern, proportional and kinetic – these were the ideas that inspired 'Tumble'.
Tell us about the sculptures.
We designed five sculptural spheres of various sizes that appear to roll across the front lawn. Constructed of bent rebar, and wrapped in old wild grapevines, these dynamic three-dimensional pieces add playful movement and life to the traditional landscape providing a modern contrast to the Manor home.
What were your favorite design elements?
The most striking garden design elements – the five 'Tumble' spheres of various sizes- in the front yard are visible both day and night. Focal lighting highlights the design to create a sculptural presence that is striking 24 hours a day. The interior of the spheres are lit from within. We love that this garden has as much a presence at midnight as it does at midday, equally pleasing to homeowner as to passerby.