Cozy Dining and Living Rooms
Designer Jil Sonia McDonald mixed funky patterns with unique pieces to create these comfortable and eclectic dining and living rooms.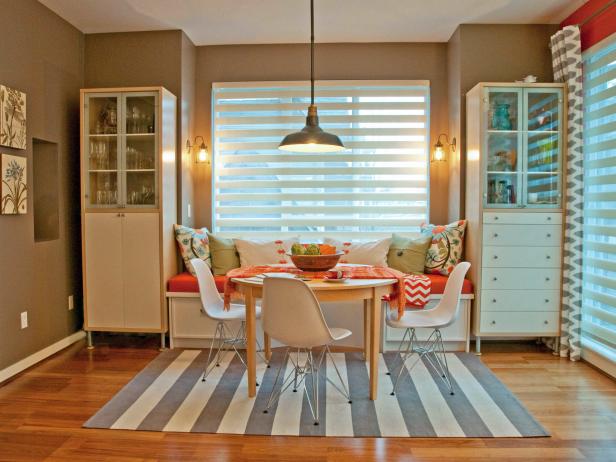 Eclectic Dining Room With Gray and White Striped Rug
This designer dining room features understated grays with vibrant patterns to create a dining room that is not only eclectic but inviting.
When it came to creating more storage and seating for her client, designer Jil Sonia McDonald included shelving and a bench seat in her overall concept for this eclectic dining room. The bonus? The bench seat not only serves as a place to store items out of sight, but also a comfortable spot for curling up with a cup of tea on a relaxing morning. McDonald incorporated an equally inviting design in the living room, making the transition from room to room an easy one.
What were the main items on the owner's wish list for the design of this space?
I wanted to create a cozy nook, full of color and comfort. A place where my client could curl up in the sunshine with her morning coffee and a place that she could entertain at night.
What was the single-largest issue you wanted to address for the owner?
The client wanted more storage, more seating and a way to incorporate her existing round Scandinavian table. We took measurements of the tall appliances, glass vases, etc., and crafted the customized bench to ensure they would hold all of the goodies. I even designed the window seat to have built-in storage, which is accessible by removing the large orange cushion pad and accessing the hidden trapdoor.
What was your biggest obstacle in this space?
My client is European and has exquisite taste. She really wanted a clean, contemporary look, which meant having thin detail trim at the sides of the drawer fronts. This was very difficult to do, but the superior craftsmen at Old World Kitchens in Chilliwack, British Columbia, constructed the cabinet in such a way that it was strong and sturdy while still giving us the slim trim detail that we wanted.
How does the end result match up with your original vision for the space?
A large part of my design is planning, checking and double-checking. I had every detail planned, arranged and crafted ahead of time, so things went smoothly and no part of the plan was altered.
What surprised you the most about this project?
I love color, but have never used such a bright orange in any of my designs before. Since this bright tangerine was my client's favorite color, I featured it prominently (in the bench pad and on the walls) and used a softer, warm gray on the walls and a gray-and-white striped area rug to allow the orange to shine.
What are the hidden gems in your plan?
The inspiration for the color scheme started with the colorful Maharini linen print fabric full of orange, turquoise and green. I had pillows made up in this fabric and selected other colorful pillows to accent and work with that initial fabric. I wanted to incorporate orange onto the white pillows, so I sourced orange "frogs" to act as both accents and a way to close the pillows.
The hardware, sconces and metal pendant lighting are from Restoration Hardware. To me, the bit of shine on the hardware is like jewelry on the cabinetry.