Beautiful Backyard Landscaping and Pool
For homeowners who didn't simply want a pool in their backyard, designer Janice Parker created a one-of-a-kind outdoor space that complements the surroundings and still has everything the homeowners wanted.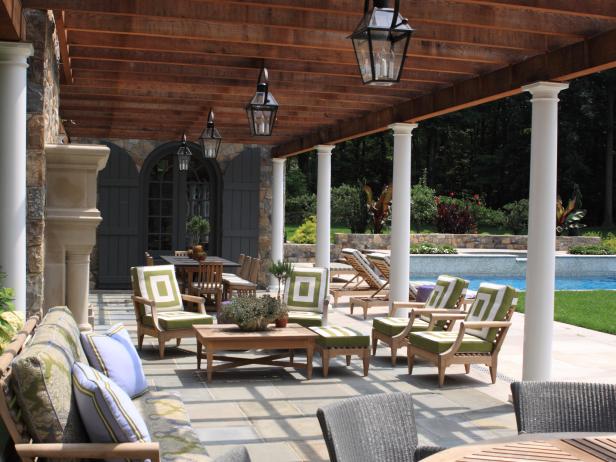 Mediterranean Outdoor Space With Pergola and Lantern Lighting
Photo courtesy of Neil Landino
Scripps Networks
Photo courtesy of Neil Landino
A backyard pool is always nice, but these homeowners had something more in mind. Thanks to designer Janice Parker, their backyard became a stunning Mediterranean paradise, complete with a gorgeous pool, pergola and outdoor kitchen.
Describe the homeowners' wish list.
The owners were clear that they did not just want a backyard with a pool in it. This was the opportunity to create an integrated landscape design that was not possible at their previous residence. The entire design team was striving for an integration of the house and landscape with ample space to accommodate a growing family.
What was the biggest issue the design addressed?
The balance of openness and privacy in a residential setting was very important to both the client and the design team. Creating beauty in nature is a big responsibility. You have to be mindful of the site and still create a great design. Our job is to execute creative problem-solving in the natural environment.

Backyard Makeover With Pool, Pergola and Outdoor Kitchen
See All Photos
What lessons did you learn from this project?
A commitment to proven design concepts of balance, symmetry, axial relationships and respect for the site can create a successful year-round landscape while providing interest and excitement for a young family. One of the beauties of this project was that we were able to create different spaces based upon the lighting. Created to serve multiple functions, each section (of the loggia) was able to evoke a different feeling.
How did the end result match your original vision?
A strong initial concept, a forward-thinking client and a sophisticated design team elevated the fit and finish to the sublime.
Describe an obstacle in the space.
Janice Parker Landscape Design roots its practice in a three-tier model which focuses on connecting clients with their land in an inspiring way. The paradigm blends the homeowners' needs with the architecture of a site and a chosen aesthetic. In doing so, Parker collaborates with nature and expresses a larger vision, which draws clients to spend time in the outdoor environments created for them.
What are the hidden gems that make a big difference?
Beyond the standing pool structure, Parker celebrated the original roots of the property and pushed back the existing trees to aid in privacy. Capturing major impact from seemingly small design elements is the gift of a thoughtful design process. A low stone wall, a subtle adjustment in elevation, or a unique plant, tile or paint color can combine to make a space sing. Parker inserted large hedgerows of limelight hydrangeas and numerous flowering plants, and strategically selected plants that would be in bloom during the warmer seasons for the family to appreciate while outdoors.