Midcentury-Modern Living Room
Designer Hillary Thomas mixed eclectic furnishings with a neutral color palette to give the living room a cool, contemporary feeling.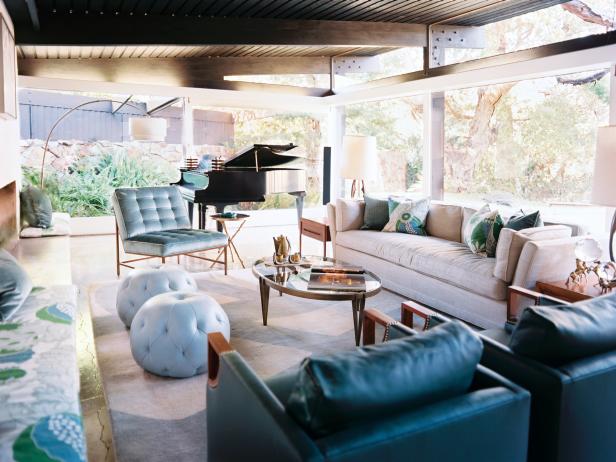 Eclectic Living Room With Large Windows
Designer Hillary Thomas mixes mid-century modern and contemporary furnishings for an eclectic, relaxed look. The homeowner wanted the space to feel more feminine, so Thomas also brings in soft blues, relaxed leathers, tufting and floral fabrics.
For this Los Angeles home, designer Hillary Thomas infuses a minimalist living space with a soft, feminine vibe, while still reflecting the home's original architecture.
The room is designed with all-glass walls that make the outdoors part of the space, so a clean, neutral color scheme with accents of blue is used to enhance the open, relaxed atmosphere.
Hillary shares with us how she worked with the home's existing design, while creating a room that evokes the homeowner's own style.
Describe the homeowner's wish list.
The client was really hoping to brighten up the space by de-cluttering and using more cheerful tones and fabrics. Since the house is so midcentury modern, she also wanted to make it feel more feminine.
What were the homeowner's design problems?
The biggest issue I wanted to address was lightening up the space by painting all the walls in the house a creamy white and contrasting with dark ebony woodwork. The existing colors were too dark and didn't make sense in the space, so I wanted to use a more focused color palette.
What was your biggest obstacle in this space?
One of the biggest challenges about working with a midcentury-modern house with all-glass walls is making it feminine and cozy while still honoring the original architecture.
How does the end result match up with your original vision?
Actually, my original vision was carried throughout the whole project with very few issues. The client really trusted me and recognized the vision I had for the space and let me go for it.
What lessons did you learn?
Since I had never really done midcentury before, it was a real lesson in scale. It made me step out of my comfort zone, using more streamlined furniture and creating a more modern aesthetic.
What are the "hidden gems"?
I initially fell in love with the detail of the Christopher Farr fabric I used on the bench by the fireplace, which really inspired the overall scheme. And, of course, the finishing touches are all the vintage finds scattered throughout which all came from my shop.