Former Office Space Becomes Penthouse Focused on Fun
Slide into this fun, personality-filled penthouse designed by Ghislaine Vinas and architect David Hotson that features a floating loft and multilevel slide.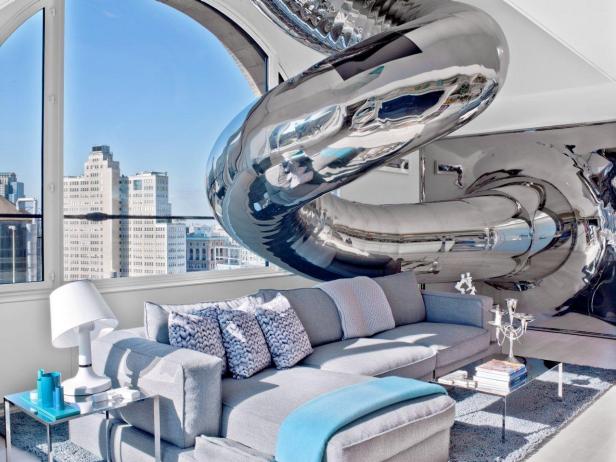 Contemporary Living Room With Great View
This one-of-a-kind living room boasts a stunning gray sectional, large arched window and unbelievable views.
Ghislaine Viñas Interior Design
With a playground-style slide, bold accent colors and unconventional architecture, one thing is clear about this penthouse: it's not meant to be taken too seriously.
Interior designer Ghislaine Vinas and architect David Hotson spent four years turning this former office space into a vibrant home that reflected their clients' laid-back personalities.
The team never had a specific look that they were trying to achieve. Instead, they aimed for a particular feel.
"I wanted the client's sense of humor and easygoing attitude to come though in the feel of the apartment," Vinas said. "I think our approach for the interiors was playful and cheeky."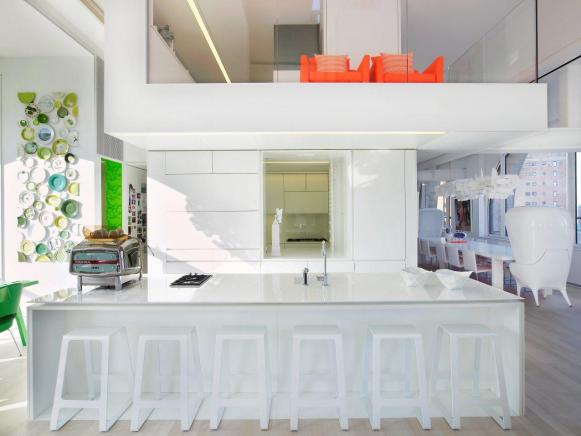 Sleek Modern Kitchen With Island
This sleek modern home makes the most of space with a spacious island with seating for six and a fabulous second story with glass walls, which make the kitchen feel even larger.
Ghislaine Viñas Interior Design
Because of the home's layout, multiple rooms are visible from any given spot. This means that every room in the home has to work together.
"Design for the rooms started with a color selection so we could figure out a color story throughout the apartment," Vinas says.
With a pure white backdrop, Vinas introduced texture and and colorful accents to add the energizing attitude the couple wanted for their home. Each space packs its own punch of color with all of the looks culminating in one statement-making fabric located in a floating loft in the center of the home.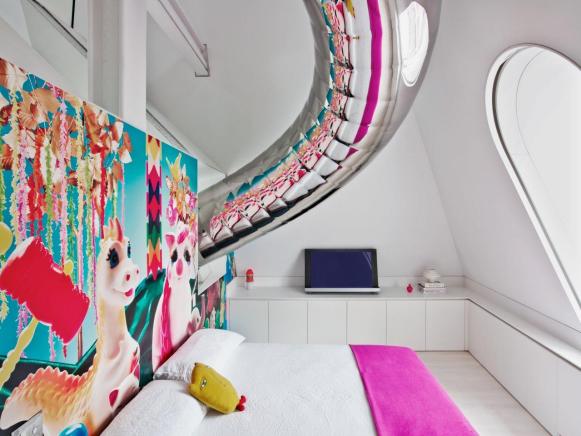 Girl's Bedroom With Slide
This modern white bedroom keeps it fun with an indoor slide and colorful artwork which serves as a one-of-a-kind headboard.
Ghislaine Viñas Interior Design
"The crazy floral fabric in the floating nest area is actually the unifying fabric that ties the colors together in various areas of the home," Vinas says.
Color isn't the only thing that makes this home so interesting. The structural components work together to create a one-of-a-kind space with the floating nest area, a continuous slide and hidden crawl spaces for the couples' cats.
Hotson's creative architecture made the floating nest area possible. Positioned over the formal living room with a connecting hallway to a guest bedroom, the nest serves as a getaway with just enough room to sit down on a small sectional.
"I was very influenced and impressed with (Hotson's) vision and loved that I could inject my own sort of craziness within these parameters," Vinas says adding that the space ended up being a "reaction to the architecture" paired with a working knowledge of the couple's lifestyle.