How to Clean Your Luggage
Travel is a dirty business. Here our experts break down three of the most common forms of luggage and how to clean them all.
Keep in mind: Price and stock could change after publish date, and we may make money from these affiliate links.
Travel can take a toll on your workhorse luggage. Find out how to clean a suitcase, a backpack and other travel essentials when your luggage gets grubby.
If you're traveling this year, there's a good chance you're using a roller bag to ferry belongings to your destination. Far and away the most popular form of luggage, the ubiquitous roller bag comes in many forms — soft, hard and hybrid shells — but almost all of them require some regular maintenance on the bottom end.
Roller bag wheels and bearings collect dirt over time, reducing their performance and slowly eroding the bag's basic functionality. To clean them, you'll need to remove the wheels and push out the bearings. Typically, this can be done using a screwdriver.
Once extracted, clean the bearings using a cloth. Do not put water on the bearings or they may rust! Once clean, re-lubricate the bearings using an oil. (Some people use sewing machine oil, but fishing reel oil may be more readily available, as it's located in almost every sporting goods store.)
While the wheels are off, take the opportunity to clean them separately with a cloth and soapy water before drying them and popping the bearings back in.

Most roller bags use a soft, synthetic material on the interior. This can be cleaned using warm soapy water and a soft brush or sponge. Toothbrushes and baking soda are a great hack for removing tough stains in hard to reach places.
Be sure to dry your bag and store it in a space free from humidity.
Backpacks arguably take the most abuse among all travel luggage, and hardcore hikers aren't the only people making use of them in recent years. Backpacks are often crammed into overhead bins in an effort to avoid checking bags, but are just as likely to wind up trekking through muddy forests and bleached by the alpine sun. Rips, tears and general dirtiness are the most common afflictions for these warriors of the carry-on world.
Often crafted from synthetic materials like nylon, it's best to avoid washing backpacks until they are in desperate need. When you do wash your backpack, avoid washing machines at all costs. Harsh soaps and chemicals can often harm the advanced materials used for modern backpacks. Instead, hand wash dirty areas with warm water and a mild soap, using a soft brush or a sponge. Nikwax Tech Wash is a popular solvent among backpackers, as it's designed for water repellent, breathable fabrics.
If your backpack has a rip or tear, check the warranty. Often, companies will repair damaged packs at a little or no cost. Fjällräven, Osprey, Patagonia and REI are just a few of the top backpack manufacturers that offer lifetime guarantees on products.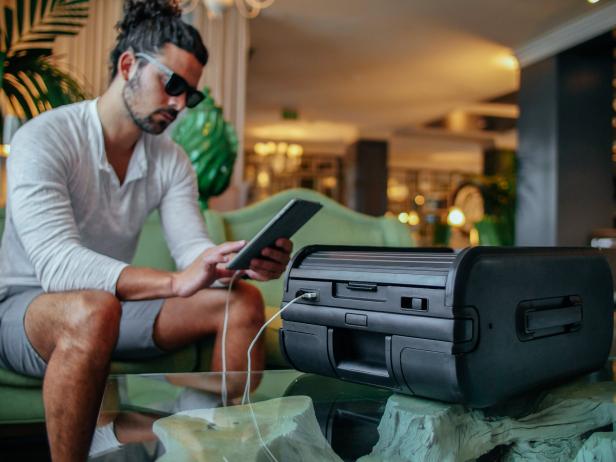 Trunkster
Available in June 2016, The Trunkster will be sold as both luggage and carry on. The bag has a zipperless design, and is water resistant, as well as drop and impact resistant -- a bonus for travelers who have had their belongings damaged by careless luggage attendants. Business travelers will appreciate the built-in battery pack, and the bag also features a digital scale (so you'll never be over the weight limit on flights) and an optional location tracking device, so you'll never deal with lost luggage headaches.
You might get away with dipping a backpack in a warm sink and scrubbing it, but the same can't be said for most suitcases. To clean the venerable veteran of checked bags, you'll want to gather a few supplies: a vacuum, a bowl (for storing removable liners and pockets), baking soda, a soft brush, a hair drier and a towel. If your suitcase contains leather, you'll also want a leather cleaner.
The cleaning process is straightforward. Ensure that your suitcase is empty and place all of its removable liners and pockets into your bowl. Then, vacuum out crumbs and dirt from the suitcase. Gently scrub the liner with warm water and a mild soap. Tackle tough stains with baking soda and a toothbrush. Then dry the interior out with a towel and hair drier.

Aluminum exteriors can be cleaned using the same water and soap combination you've used on the interior, while leather suitcases can usually be spiffied up with a leather cleaner. (Popular luggage makers like Tumi even sell their own leather cleaner.)

Before use or returning your suitcase to storage, be sure to completely air dry the interior to avoid mold and funky smells.

Follow these steps and your luggage will continue to keep your clean clothes in peak condition on your next trip.