Options for Affordable Waterfront Living
How to find a bargain in pricey communities without drowning in debt.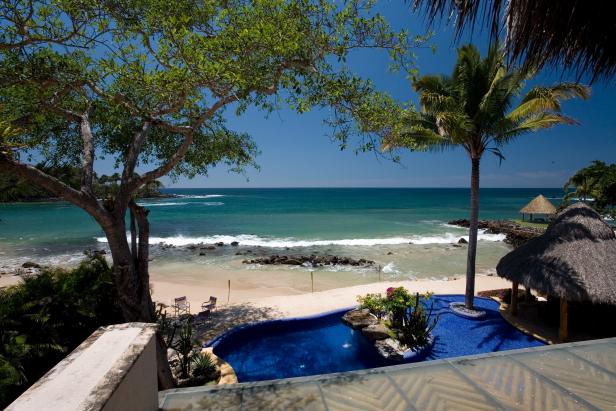 Beach and Pool: Beach Villa Beauty in Puerto Vallarta, Mexico
From the beautiful dark blue pool, it feels as though you could reach out and touch the waves as they splash up on the beach below.
P.V. Realty, S.A. de C.V., a member of Luxury Portfolio International
Even with recent dips in real estate prices, the cost of living on the water can make you gasp. But there are ways to own a place in waterfront communities without spending your kids' inheritance. These ideas are guaranteed to put you in flip-flops and a bathing suit for less.


Check out neighborhoods you might have once considered too pricey. One example can be found in Cape Coral, Fla., according to Denise Monahan of Seacoast Cottage Company Inc. in Fort Myers Beach, Fla. Monahan says the area features "hundreds of manmade canals, many with direct, unobstructed access to the Gulf of Mexico." Prices there surged in 2004, but they have recently come back down.
Tip: Talk to area residents for leads on homes coming onto the market.
Buy a street or two away from the water. South Carolina Realtor and broker Sharon Simmons says, "Buy an interior lot that has a great view; the cost difference can often be hundreds of thousands of dollars in our area." Second-row beach and lake homes drop dramatically in price, yet usually are only a few extra steps to the water, and there's a plus to buying a little farther back: They may fare better when a big storm hits in terms of erosion.
Tip: Make sure when you buy that you have guaranteed water access.
Go condo. Condos are traditionally good buys because developers can put more of them on a smaller amount of property, giving their investment a bigger payoff and passing some of the savings along to the buyers.
Tip: Don't fail to factor in usual maintenance and homeowners association fees, if applicable, when you calculate your payments.
Consider a duplex. Duplexes are particularly popular at the beach and are a great way to land a freestanding home at a lower price.
Tip: If you have the bucks, buy both sides and rent out the other one for extra income.
Take your time and really look around. After a year of searching, Emma Allen, who owns a home on Lake Gaston near Charlotte, N.C., snapped up a place that sits down an out-of-the-way dirt road. Allen says she and her husband would never have found it without regularly scouting the area.
Tip: Be patient and don't forget to look for houses up for sale as part of an estate.
Don't pass on older places or handyman specials. True, that 1970s-style kitchen with the harvest gold and avocado teakettle wallpaper may give you nightmares, but you can use that as a negotiating point with the owners.
Tip: Hedge your bet with a home warranty that's renewable each year and offers protection from many of the pitfalls that come with buying a place that's past its prime.
Buy something constructed with nontraditional materials. Denise Monahan of Fort Myers (Fla.) Seacoast Cottage Company Inc. says Structural Insulated Panels (SIPs) are a great alternative to wood or concrete block. "It offers a huge savings when building in the islands," Monahan says. Using material like SIPs, which are pre-cut, easier to transport and reduce waste, can translate into lower home prices.
Tip: Before you purchase any home, check whether it is built to present safety codes.
Slip over the border. If you can swing it, some great bargains can be had in other countries, particularly in Latin America and the Caribbean islands. Geoff Landry of Nomad Real Estate Group handles real estate sales for Banyan Tree Mayakoba, on Mexico's Riviera Maya, and says many expat enclaves offer close proximity to golf courses. "That tends to add value," he says, making your resale value higher. Other places popular with those who seek laid-back waterfront living for less are Costa Rica, the Dominican Republic and Panama.
Tip: Know the real estate laws of the country before you buy so you don't find yourself with something you can't sell down the road.
If you crave living near water, there's something for almost every budget. You can take that to the bank as you kick back and watch the sun slip beneath the lake, river or ocean outside your door.