Turn a Beach Bucket Into a Wine Keg
Entertain this summer by turning a plastic beach bucket into a wine keg. Because wine not?
We're sorry, there seems to be an issue playing this video. Please refresh the page or try again in a moment. If you continue to have issues, please contact us here.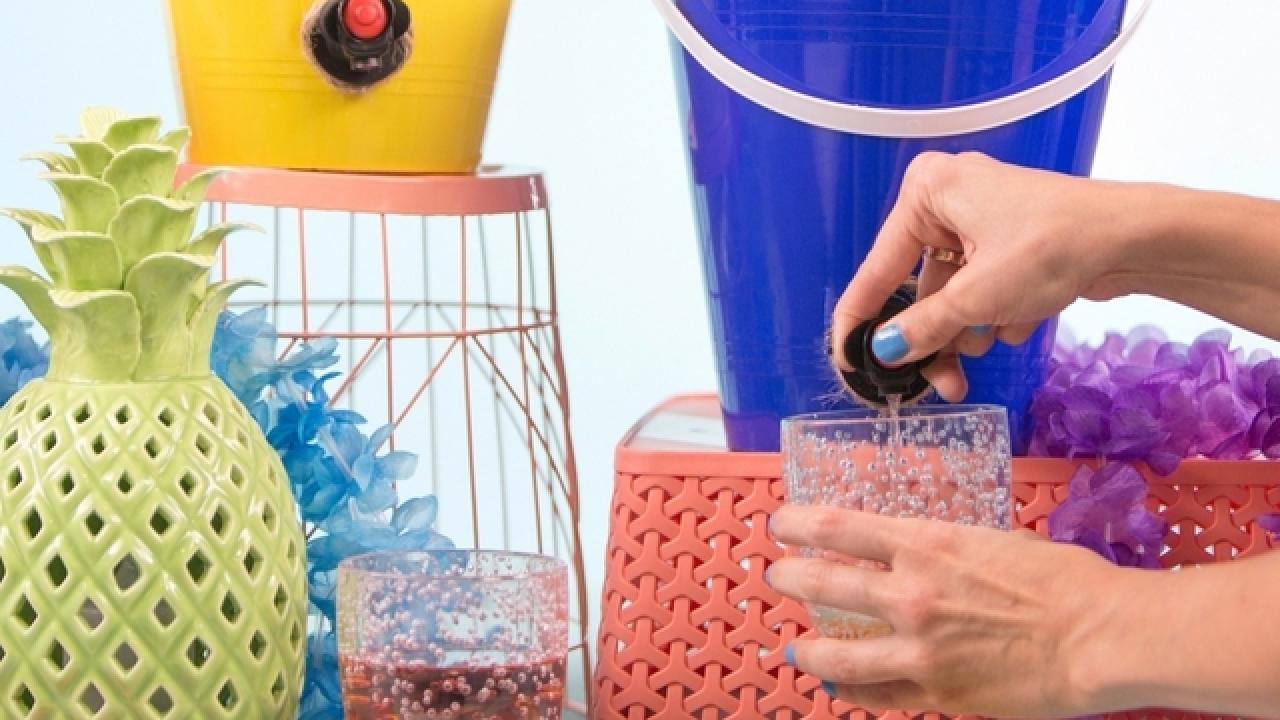 plastic sand bucket and shovel
boxed wine
ruler
marker
utility knife
twine
thick cardboard
pen
scissors
decoupage glue
foam paintbrush
sand
seashells and/or other embellishments
hot glue gun and sticks
scrapbook paper
mini wood dowels or toothpicks
double-stick tape
Remove the bag of wine from the box. Measure the tap horizontally and vertically (approx. 1.5") with a ruler. Draw the horizontal and vertical measurements in a cross shape on the sand bucket in the desired position with a marker. Connect the ends to create a circle.
Carefully and slowly cut out the circle with a utility knife.
Hide the rough edges of the circle with twine by hot gluing it around the opening. Cut off excess twine.
Turn the bucket upside down onto thick cardboard or foam board. Trace a circle around the bucket with a pen. Measure 1/4 inches inside the traced circle, and cut out with scissors or a utility knife. This will be the keg's lid.
Apply a layer of decoupage glue onto the cardboard lid with a foam paintbrush (Image 1). Use the shovel to pour sand on top (Image 2). Shake off excess, and let dry — about 10 minutes. Apply another layer of glue and sand, and let dry (Image 3).
Place the shovel in the desired position on the cardboard lid, and draw a line from one end of the shovel to the other (Image 1). Carefully cut along the line with a utility knife (Image 2). Next, poke a hole in the cardboard circle with the utility knife where you want the wine label positioned.
Hot glue seashells and other beach-themed accessories on the cardboard lid until you get the desired look.
Place the bag of wine inside the bucket, and slip the tap through the opening. Place cardboard lid on top.
Insert the shovel into the pre-cut slit on the lid, and secure with hot glue. This will be the keg's handle.
Cut patterned scrapbook paper in a rectangular shape. Fold in half and cut a triangle in the open ends to create a flag shape. Write the wine's name on the label (Get punny! We went with Crab-ernet, Chardonn-waves and Rosé Sky). Apply double-stick tape to the inside crease of the paper, and place the top of a mini dowel or toothpick on the tape to act as the flag's pole. Apply a dot of hot glue to the bottom of the pole, and insert into the pre-cut hole in the cardboard lid.